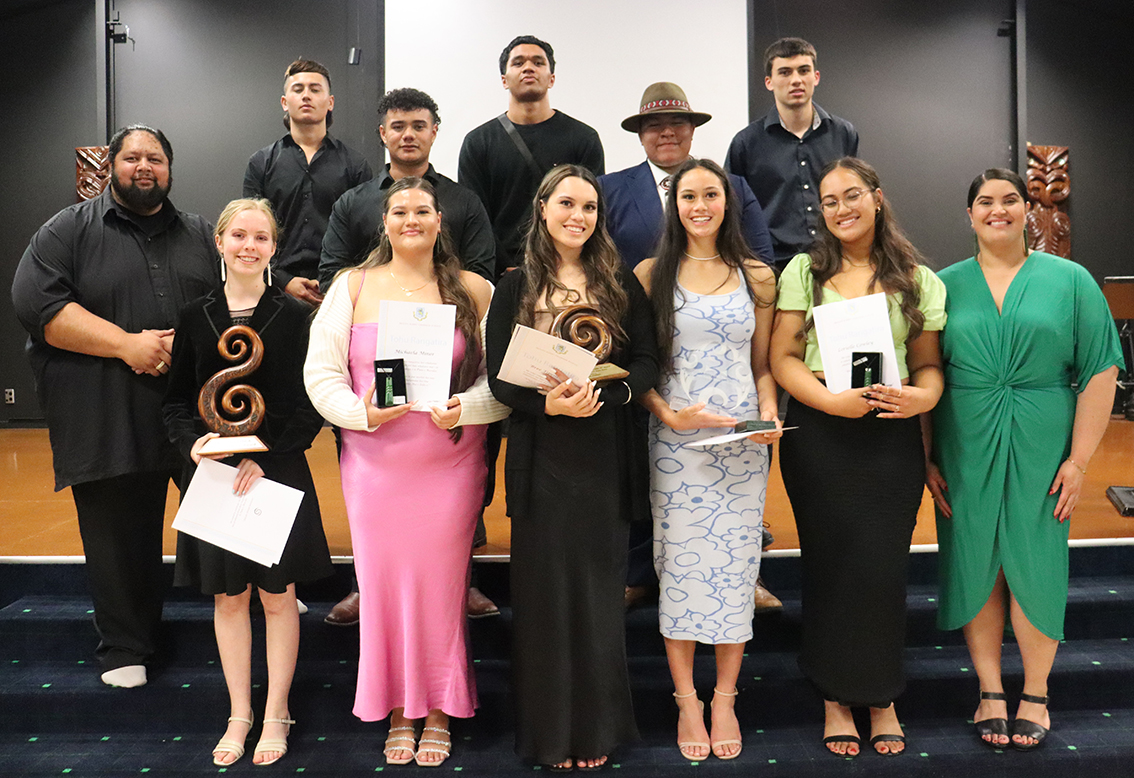 Te Puna o Wairaka was finally able to celebrate its top students and send its Year 13 Leavers off in style at its awards dinner on November 7 after last year's event was held online due to Covid.
The awards dinner at Te Mahurehure Marae was MC'ed by Puna students Waimarie Tawera and Stuart Renata, and featured Albertian Lincoln Savage as guest speaker.
Mr Savage, who worked as a high school teacher for many years, was introduced by HOF Te Puna o Wairaka Waimirirangi Paul, who had been one of his students.
He spoke on the theme of the whakataukī 'He manako te koura i kore ai' ('A crayfish won't jump in your net, just because you wish it in there').  He said hard work, determination and dedication at MAGS had helped him to become a Deputy Head Prefect, an athletics champion, a swimming champion and captain of the 1st XV. He had also helped to set up kapa haka at MAGS by approaching the Headmaster at the time – Greg Taylor – about the need for such a group and then following through when he got permission.
He said that whakataukī had served him well throughout life, and it was one that Te Puna students could use as their mantra.
Deputy Head Boy Isaiah Nin and Michaela Minor spoke on behalf of the Year 13 Leavers and expressed their gratitude to the Puna whānau and to Whaea Miri and Matua Peter Walters for all their care and dedication.
A special moment on the night was the presentation of artworks to Whaea Miri and Matua Peter by the Year 13 Leavers. The prints were of works by Buck Loy Nin, the grandfather of Isaiah Nin. Matua Pete received 'The Māori Totem' and Whaea Miri received 'The First Arrivals'. When it came to the awards, Aleisha Roulston won the Top Senior Academic Award, while Jackson Absolum-Leuluso'o was named All-Round Top Senior Student.
Isaiah Nin won the "Manu Tute" Award For Services to Puna and the wider community, while Bree Tipene received the "He toka tū" Award For Contribution to Kapa Haka.
Sasha Tobin was All-Round Top Junior Girl, and the All-Round Top Junior Boy was Jarom Rowell. The Top Junior Academic Award went to Kingston Ballantyne.
The award for Top Senior Māori Language Orator went to Hokioramai Dunn, and Awanui Hope was named Top Junior Māori Language Orator.
When it came to sports achievement, Gabreyl Tahitahi won the top junior award and Dani Ah Chee-Wilson the top senior award.