Tēnā koe! Nau mai, haere mai ki tēnei whārangi mo te tari reo Māori.
Te Puna o Wairaka is a Maori whanau unit at Mount Albert Grammar School. Maori student members of the unit come together each day in Form Classes featuring a mix of year levels to support each other in their language and culture, then disperse to their various subjects with their fellow MAGS students.
The Māori Language Department is a core part of Te Puna o Wairaka. Within this Department we teach Te Reo Māori, Te Reo Rangatira, Māori Performing Arts, as well as kapa haka in general, while maintaining a focus on educating our students about tikanga Māori within appropriate contexts.
We have a variety of students across all year levels with varying levels of fluency and knowledge of te reo, from beginners through to fluent speakers. All our courses can be studied from Year 9 through to Year 13, with all Levels of NCEA assessment, including Scholarship Te Reo Māori and Te Reo Rangatira. Each of these subjects are University Approved subjects, except for Māori Performing Arts, however there is an opportunity to offer some Dance Standards (which is a University Approved subject) through kapa haka.
Te Reo Māori is the indigenous language of this country, so it is important that our students learn te reo as it is an integral part of their identity as a citizen of this country. Learning about te reo and tikanga Māori will also help our students develop their bilingualism and as a result will give them a greater appreciation and awareness of other cultures, which is important in today's society – an ever-changing, rich tapestry of multiculturalism! Furthermore, having a greater knowledge of te reo and tikanga Māori will give our students an advantage ahead of many others in their future studies and chosen career paths.
Studying Te Reo, Tikanga and Māori Performing Arts can lead to a wide range of job opportunities and career pathways. The skills gained from studying these subjects will supplement any career pathway that our students choose, whether it be medicine, law, the arts, education, business, commerce, engineering, architecture, or any other pursuit as a means to give back to their families, wider communities and cultures in general.
In our Department, we strongly believe in the sentiments of the whakataukī (proverb) listed below, which talks of the many opportunities that all knowledge, including knowledge of te reo and tikanga, can provide our students.
'Ko te manu e kai i te miro, nōnā te ngahere. Ko te manu e kai i te mātauranga, nōnā te ao!'
'The bird that eats the miro berry, the forest is theirs. The bird that eats knowledge, the world is theirs!'
Ms Waimirirangi Paul
Head of Te Puna o Wairaka
[email protected]
Te Puna o Wairaka Prizegiving Dinner 2019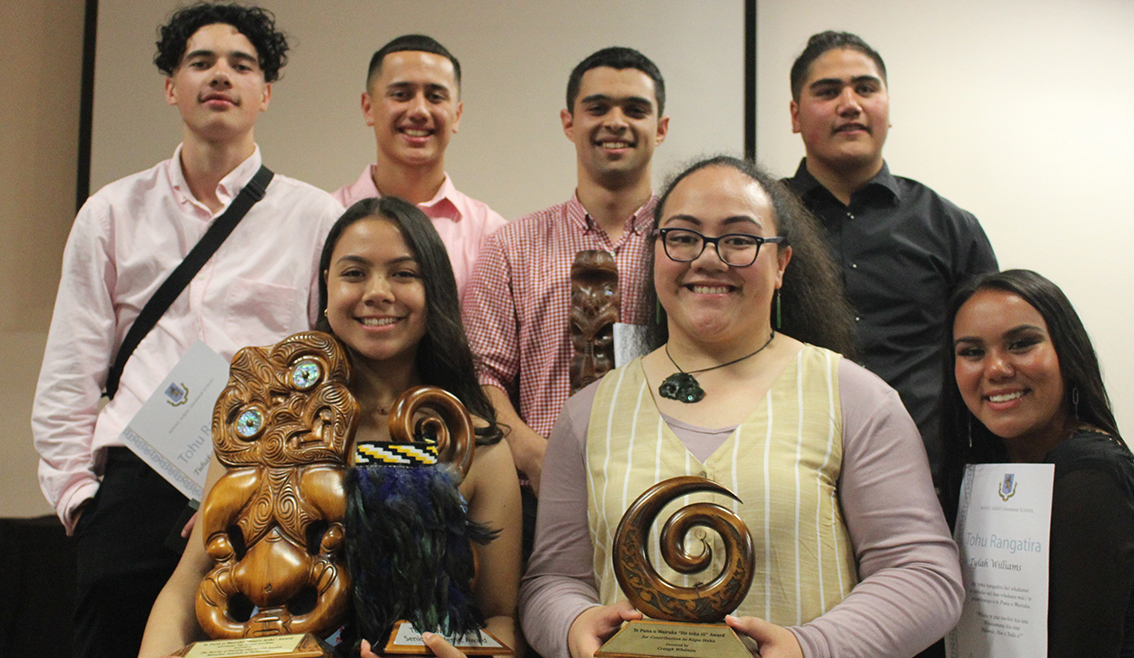 Te Puna o Wairaka bid a fond farewell to its Year 13 Leavers and celebrated its top students at a special dinner on Monday, November 4 at Te Mahurehure Marae.
There was also a formal hand-over of the kaitātaki wahine (female leader) and kaitātaki tāne (male leader) for the Kapa Haka group in 2020. The sounds of waiata and haka rang out as this year's leaders Assina Te Paa-Kolio and Kisepi Ma'afu Roberts handed over the 'mauri' in the form of a patu and taiaha to the two new leaders: Charlotte Mann and Niua Pomare-Khanna.
Year 13 Leavers were also presented with pounamu but not before teachers Whaea Waimirirangi Paul and Matua Peter Walters had some fun at their expense, revealing the nicknames they had given the Leavers and the reasons for them.
Headmaster Patrick Drumm was the first speaker on the night – MC'ed by Year 12 students Niua Pomare-Khanna and Tayla Bamber – and he emphasised the importance of Te Puna in keeping te reo alive, empowering Maori students and maintaining diversity at MAGS.
Junior members of Te Puna performed a haka in tribute to the Year 13s, who performed their own thunderous haka towards the end of proceedings.
When it came to the awards, Abbey-Jean Kaipara won the Top Senior Academic Award and was named All-Round Top Senior Student.
Richard Mann won the "Manu Tute" Award For Services to Puna and the wider community, while Assina Te Paa-Kolio received the "He toka tū" Award For Contribution to Kapa Haka.
Bree Tipene was All-Round Top Junior Girl, and the All-Round Top Junior Boy was Isaiah Nin. The Top Junior Academic Award went to Nikora Morehu.
The award for Top Senior Māori Language Orator went to Niua Pomare-Khanna, and Te Waaka Popata-Henare was named Top Junior Māori Language Orator.
When it came to sports achievement, Princess Elliott won the senior award and Stella-Rose Woodman the junior award.
In possibly their best ever performance, MAGS' Kapa Haka group placed sixth in Division 1 in 2019.
After the cancellation of the last day of Polyfest due to the Christchurch shootings, the rescheduled competition was renamed Te Pou Herenga o Kia Aroha and held on April 6.
Due to the postponement, this year's campaign consisted of nine weeks' worth of training, including Tuesday and Wednesday practices from 3.45pm-9pm, all-day Waitangi Day and six live-ins from 6.30pm Friday through to 1pm on Sunday.
Seventy two students trialled for the group; 50 made the performing team and 15 were reserves.
HoF Te Puna o Wairaka Waimirirangi Paul said, "Overall, we placed sixth out of 13 groups in Division 1, and roughly 52 groups across all three divisions at the competition. We were only five points away from fifth place. This is the best overall aggregate placing MAGS has received, to my knowledge.
"Overall, the comments received from the judges were very positive and some even implied that they thought we would qualify for nationals. However, such is the fate of a competition this tight! The students, wider whānau and us, the tutors, were all extremely proud and happy with the outcome and look forward to next year's campaign."
Earlier in the year, MAGS' Kapa Haka instructors Waimirirangi Paul and Peter Walters became national champions.
Whaea Miri and Matua Peter not only teach Kapa Haka but also take part themselves with their West Auckland-based team, Ngā Tūmanako.
At Te Matatini (the biennial national kapa haka championships) in Wellington in late February, Ngā Tūmanako were crowned Toa Whakaihuwaka (champions) after competing against 46 other teams from all over the country over four days. Their winning performance focused on the revitalisation of te reo.