The MAGS Way was developed in consultation with students, parents and staff to
focus and reflect on the core values of our school community. We expect all
students and staff to abide by these six important values:
The expectations of the MAGS Way are consistently referred to during assemblies, form periods and in school newsletters.
Students know the importance of reflecting the School values in their behaviour.
The tone in the classrooms is respectful, relationships are supportive and students and staff enjoy positive interactions.
Education Review Office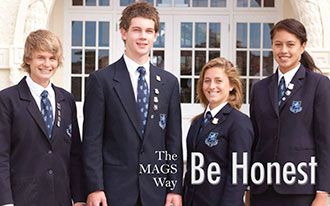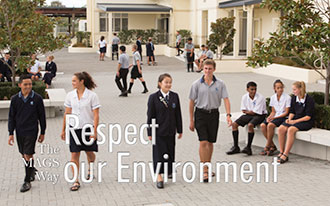 Guiding Principles
The MAGS Way encompasses all individuals in the school community.
The MAGS Way is to guide all daily relationships between all staff and students.
The MAGS Way is based on respect for others and the dignity of the individual.
All individuals in the school have both rights and responsibilities as part of the MAGS Way.
Code of Practice (Staff)
model the values of Mount Albert Grammar School.
respect all students as individuals.
demonstrate the value of education by offering a learning programme that meets the needs of all students.
make sure that students experience success for meeting expected outcomes.
make sure that all consequences are fair and given in a positive manner.
Code of Practice (Students)

show respect for Mount Albert Grammar School.
attempt to the best of their ability all classwork and homework.
respect their own and other people's property.
respect their teachers by following all reasonable instructions that are given to them.
have respect for others which means no violence either verbal or physical to other students or teachers.