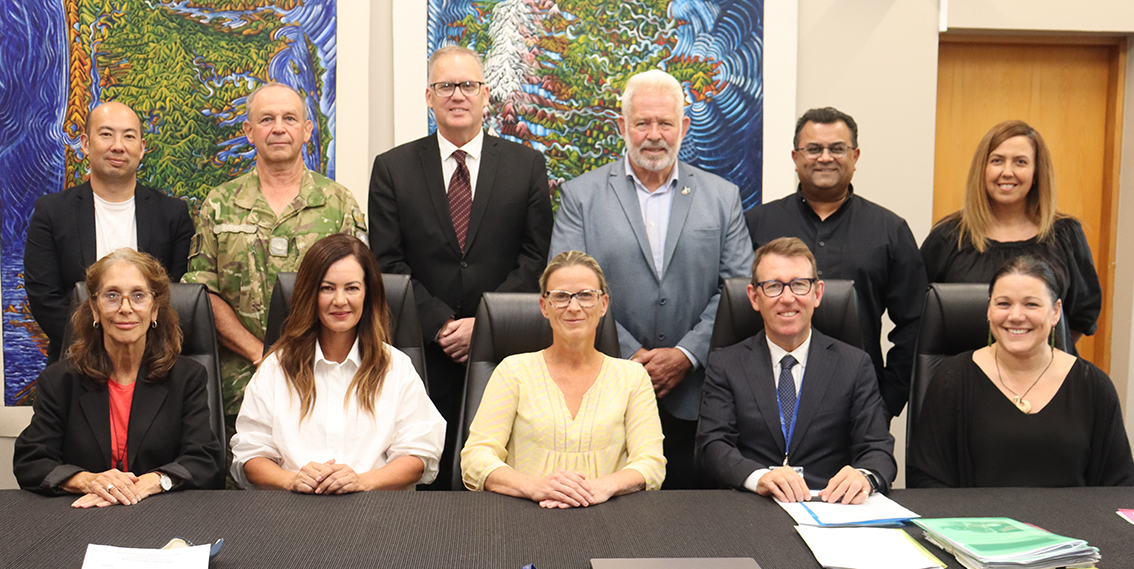 Our Board of Trustees is, back row from left: Alan Holmes (co-opted, Albertians Association), John Liddell (co-opted, MAGS Foundation, Finance Committee), Paul Moon (Parent Representative, Discipline Committee Chair), Greg Moyle (Parent Representative, Finance Committee Chair), Raj Bhika (Parent Representative, Property Committee Chair, Health and Safety Committee), Luann Tapu (Parent Representative, Education and Property committees).
Front row, from left: Jacqui Cesan (Staff Representative, Education and Property committees), LeeAnn Yare (Parent Representative, Finance and Property committees), Catherine Murphy (Parent Representative, Presiding Member, Finance Committee), Patrick Drumm (ex-officio, Finance Committee), Melissa Absolum (Parent Representative, Education Committee Chair).
Elected representatives' 2022 nominee statements
I am the Presiding Member of the Board of Trustees and the proud parent of three past and one current MAGS students (as well as being the daughter of a MAGS old boy) and have spent the last three years contributing in every way I possibly can to the school while on the board.
I have previously been the Finance Committee Chair as well as a member of the Property and Discipline committees. I have had the privilege, along with the rest of the current Board, of supporting Patrick Drumm and his Senior Leadership Team over the past 3 years – probably the hardest years in the school's history in navigating COVID to ensure the students' education and wellbeing were at the heart of all decisions made.
Some of the key achievements during this time that I am proud of include being involved in welcoming our first female boarders with the opening of Centennial House in Lloyd Ave, the building and opening of the new science block, the ongoing annual increase in improvements in NCEA results across all groups within the school, and the review of the schools strategic 10-year plan in our Centennial Year.
I am looking forward to being more involved in helping bring to life some of the planned projects and ongoing improvements that that have been proposed with the passion I have brought to the school over the past three years. When I am not involved in the school's activities, I am being busy with my family and immersing myself in my passion for cooking. I work full-time as a senior manager in the corporate sector.
I am the deputy Chairperson of the Board of Trustees and have been a Trustee for the past 24 years.
My association with MAGS spans the last 50 years, as I was a pupil at the school from 1968-1972; and a past president of the Albertians Association; an Albertian of the Year in 2007; and made a member of the MAGS Hall of Distinction in 2012.
My older children, Daniel and Rachel, were both pupils at MAGS; and my younger children, Eva and Luke are currently attending MAGS and are in years 12 and 10 respectively.
Since I have been on the Board, MAGS has continued to grow and prosper to become the school of choice in our area.
During this time, we have benefitted by having excellent principals in Greg Taylor, Dale Burden and, currently, Patrick Drumm; a strong management team; and motivated, competent teachers.
The glue that holds this together is a stable team of dedicated Trustees on the Board of Trustees. I am committed to working alongside my fellow Trustees to ensure that the unique culture of MAGS is maintained, our students receive an education second to none, and the school is properly resourced in property and equipment to achieve this.
The new science block is now completed, and construction has started for new teaching facilities with the 20-classroom Nairn Building in front of the science block.
Plans are also underway for a 28-classroom complex above the grandstand adjacent to the pool carpark. Further teaching facilities are planned for the school farm, and progress has been made on the long-anticipated performing arts auditorium.
In addition, we have a new staffroom, new cricket facilities, a new pedestrian entrance from Alberton Ave, and we recently opened Centennial House, our girls' hostel.
Outside my involvement with MAGS, I am a self-employed Certified Financial Adviser with qualifications in both law and accounting.
In 2016 I was co-opted onto the MAGS Board and have since been active on the board as the Property Chairperson.
For the betterment of our school community, I can apply my six years of Board experience at MAGS, 15 years of experience from being Chairperson on the Board at Mt Roskill Primary School, and a further six years of contribution to the Mt Roskill Intermediate School Board.
I am a third generation NZ-born Indian and I am also a very proud MAGS old boy.
I am happily married and have three children. My three children all graduated from MAGS and are now attending the University of Auckland studying Law, Property and Engineering.
After leaving MAGS in the early 90s, I gained multiple qualifications including a Diploma of Architecture, Bachelor of Construction Management and finally a Bachelor of Quantity Surveying. I am currently working for C3 Construction on various commercial projects in Auckland.
MAGS is currently experiencing increased demand for classrooms and other educational facilities due to the ever-increasing roll growth in the last few years. I believe I can use my 28 years of experience in the construction industry to continue providing guidance on the current and future property and infrastructure developments at the school.
I believe that I bring a unique background and previous school board experience to ask the right questions and make informed decisions to help your child excel in the four pillars at MAGS encompassing academics, sporting, arts and community service.
Students, staff, finance, property and employment matters are amongst the biggest governance responsibilities that the Board of Trustees hold. I believe my 27 years of combined experience on various school boards and the extensive range of skills and experience I have in construction project management will help me contribute and make informed decisions for the benefit of every student at the school and community at large.
I am a Professor of History at Auckland University of Technology, where I have taught for the past 30 years.
I am a Fellow of the Royal Historical Society at University College, London, and am an Officer of the New Zealand Order of Merit. In addition to my university role, I sit on several not-for-profit boards and foundations, and have extensive governance experience.
It has been a privilege for me to serve as a parent representative on the MAGS Board of Trustees since 2004, and to have been Chairman of the Discipline Committee for the past 14 years. Discipline matters are critical to the character of any school, and we have ensured that a 'firm but fair' approach is applied, prioritising the safety of students.
I have had three children go through MAGS, and the fourth one is currently in Year 10. My wife, Milica, is an Assistant Principal.
Having taught in the tertiary sector for three decades, I have a great deal of insight into what MAGS students will need when they undertake the next stage of their education, and I am committed to working with the rest of the Board and the school's management to ensure that academic standards are being constantly enhanced, and that the school offers every student the opportunity to perform to the best of their abilities.
I believe that one of the current Board's greatest achievements has been to oversee the steady ascent in academic standards at the school.
MAGS has a well-deserved reputation as one of the country's premier schools, and the current Board has worked particularly well with the school to bolster this standing.
There are several important matters in the school's development that the Board will be involved with in near future, and I welcome the opportunity to continue to play a role in this process.
Ngati Mutunga te iwi Wharekauri te maunga Tokomaru te waka Awa Patiki te awa Whakamaharatanga te Marae Kia Ora, Ko Melissa Absolum toku ingoa.
My partner Paul Leuluso'o and I have four children together. Our oldest is currently attending Mount Albert Grammar School (MAGS) and is a Year 13 Prefect.
Our next child will start at MAGS soon.
The MAGS staff and community have been instrumental in shaping our son and we are so proud of the young man he is becoming.
I have previous BOT experience, having served on the Papatoetoe North board as Deputy Chair. At present I am part of the MAGS Rūnanga.
My experience and expertise extend across the education sector. I am Deputy Principal at Māngere East School and have been teaching for nearly 20 years in Aotearoa, with two years spent living and teaching in England.
As service is a big part of my life, I have had many years serving on a variety of committees. One of my passions is in the Arts and all things Māori.
As part of the Auckland Choral scene, I am a member of two choirs, one local and one national, Voices New Zealand Chamber Choir.
My interest in being on the board revolves around supporting the schools my children attend. I am motivated, organised, efficient, a mentor and a collaborator. I am a strong advocate for setting up positive experiences and having high expectations for all our students. I believe it is important that all students get the best education possible and learn how to strive for excellence.
I am passionate about seeing our young people do well, as they are the future of our great country, Aotearoa. Being elected to the board is a great opportunity for me to join a team that wants to make a valuable and positive contribution to ensuring Mount Albert Grammar continues to be the quality school that it is, not just for my children, but for all students who attend now and in the future.
Nāku noa, nā.
Tālofa, my name is Luann Tapu, born in Auckland (Ngāti Whātua Ōrākei), married to Sonny Tapu of Samoan descent (Satuiatua) and we have two sons: Kuresa, who completed his final year at MAGS in 2021, and Dante Tapula'aia who is currently in Year 11.
I have over 20 years' experience in media sales and marketing, negotiating with Senior Management representing independent and corporate media brands. I have more than 10 years' experience in advisory and board roles that include grant and funding applications for our Māori and Pasifika youth.
I am currently involved in several projects within the school, including Komiti Faufautua Fundraising Sub Komiti, which enables us to activate ongoing projects and programmes such as developing a quit vaping campaign, Pasifika mentoring and leadership initiatives, calculator programme to support our students in mathematics, Centennial mask fundraising initiative that will support the Centennial Pasifika Dinner and End of Year Student Pasifika Dinner, and I advocated and participated in the parent "Fight the Good Fight" mentoring programme.
I have a sound understanding of the nature and challenges within MAGS Pasifika Initiatives, and support the Pasifika Health Science HSA Programme, and SIAPO, a cultural inclusiveness and identity/support mentor class.
I am passionate about working with our Māori and Pasifika parents to better meet the needs of our students to reach their full potential.
I am married to Glen, and we have lived in the Eden/Albert area for the past 20 years, and both our sons currently attend MAGS in Year 9 and Year 10, and as a family we believe in contributing and being well-connected with our school and community.
My professional career and community involvement has been full and varied, and I believe I have the skills, commitment and fresh perspective to complement the MAGS board.
As an international airline pilot for the past 28 years where only 6% worldwide are female, I am trusted with the utmost levels of responsibility, deliver technical skills with attention to detail, am a practical problem solver with an ability to lead and be part of a team.
Outside of aviation, my interests have resulted in work with national and international leading media titles, freelance television presenting, becoming a small business owner and experience in social media.
My contribution to voluntary work within my community has included being an event lead on the Balmoral School PTA assisting with large-scale fundraising events in both event management, extensive voluntary sports management at Auckland Normal Intermediate, being an ambassador for several charities including the NZ Breast Cancer Foundation, and volunteering within local sports bodies across social media, team management, and holding an executive board level position where I was awarded the Elizabeth Anderson Cup for promoting junior rugby over two consecutive years.
I currently manage the MAGS 15A rugby team and you'll often find me helping out with many different sporting codes at MAGS, which I enjoy as an avenue to connect with our students directly.
I am a people person armed with a can-do attitude, and I look forward to bringing a high level of motivation and modern thinking to the MAGS board.
Staff Representative: Jacqui Cesan