Sports Prizegiving Dinner 2018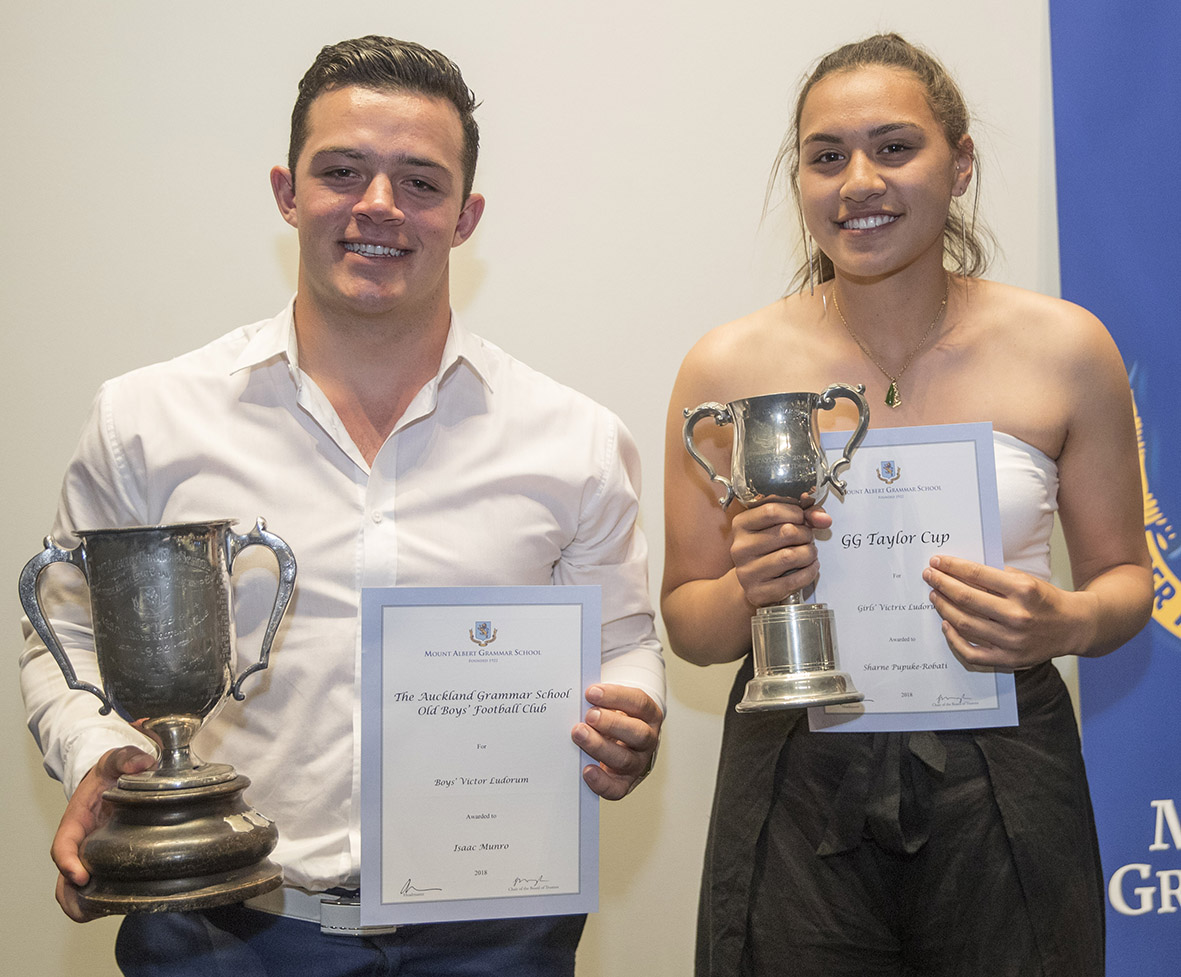 Isaac Munro and Sharne Pupuke-Robati were named Victor Ludorum and Victorix Ludorum respectively at the MAGS Sports Dinner on October 24 at Alexandra Park function centre.
High achievers were presented with their Blue Caps (Auckland representatives) and Black Caps (NZ representatives) as well as the school's top sports prizes.
The event was MC'ed by Deputy Principal Tom Murdoch and kicked off with a song from Premier Netballer Latonya Lole.
Headmaster Patrick Drumm told the large crowd that while sporting success was to be celebrated, it was only part of the journey at MAGS.
Guest speaker on the night was Cameron Calkoen, who was born with cerebral palsy and was told his biggest challenges in life would be walking and talking.
He forged a career as a champion athlete and an inspirational speaker, as well as being an entrepreneur, a fundraising dynamo for charities and an ambassador for the disabled.
He told the assembled guests that his athletics and professional career began just by "turning up", and that was the way to get ahead in life: turn up and give it your best shot.
When it came to the big awards, Sharne was named Victorix Ludorum. She is captain of the Girls Premier Basketball team that won the AKSS Basketball title, and came seventh at NZSS Basketball, where she also made the Tournament Team. She also played for NZ U17 Basketball.
She is the Premier Netball shooter in the team that was recently crowned National Champions, and that came third in the AKSS competition.
She was part of the MAGS Girls Rugby Sevens team that won the AKSS competition, and she is a Tania Dalton Scholarship Recipient.
Isaac, who was named Victor Ludorum, is a member of the Boys' Softball team that won the Auckland school competition, and won the New Zealand Schools Championship for a sixth year in a row. He is a member of the 2nd XV Rugby team that placed second in the Auckland competition. He is the top skier at MAGS, and is a member of the Premier Water Polo team that competed at NZSS.
Team of the Year was the National Champion Premier Netball side, while swimming sensation Brearna Crawford won the award for Outstanding Achievement in Sport (Girls) and Premier Softballer Floyd Nola won the equivalent award for Boys. The pair are pictured above.
Orienteering champion Liam Thompson was the inaugural recipient of the Service to MAGS Sport award for sacrificing his chances in a race to help a competitor who had become lost.
List of Black Caps here, Blue Caps here, and prizewinners here
Sports Prizegiving Dinner 2017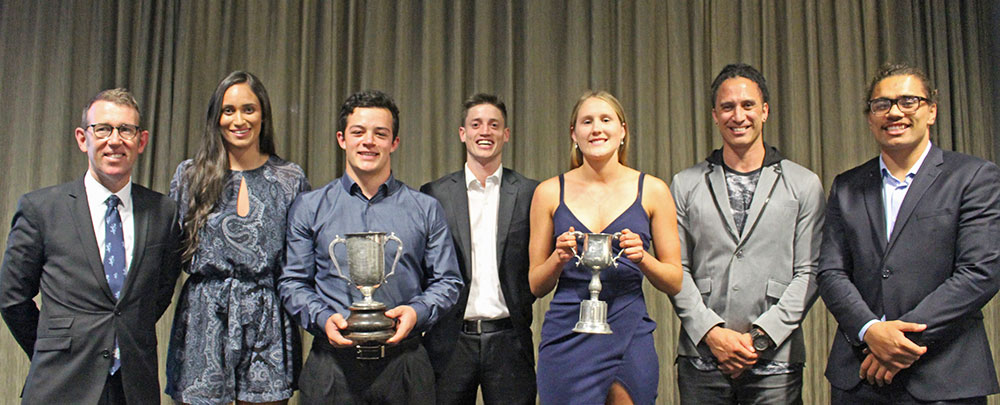 Victor Ludorum Isaac Munro and Victrix Ludorum Maddy Gordon with Headmaster Patrick Drumm and Guests of Honour Taylah Hodson-Tomokino, Kyle Harris, Karl Te Nana and Isaiah Papali'i.
Maddy Gordon was named Victrix Ludorum and Isaac Munro Victor Ludorum, at the 2017  Sports Prizegiving Dinner at Alexandra Park on Wednesday, 25 October.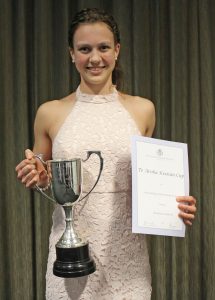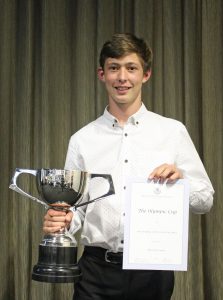 The Team of the Year was Premier Boys Softball, and the boys' and girls' awards for Outstanding Achievement in Sport were presented to Orienteer Mitchell Cooper (left) and Swimmer Brearna Crawford (right).
Maddy received her award for excellence in Athletics, Netball, Swimming, Volleyball and Cross-Country. She was also the joint winner of Senior Girls Athletics Champion with Grace Jale. Isaac Munro was named Victor Ludorum for his success with the Premier Boys Softball Team, winning the top Skiing award, and excellence in Swimming, Waterpolo and Rugby.
The Premier Boys Softball won the NZSS title for the fifth consecutive year this year. Mitchell Cooper represented New Zealand at the World Orienteering Championships in Italy and came 6th. Brearna Crawford, still only in Year 10, has won multiple Gold medals in a number of Swimming competitions in New Zealand and Australia, while setting new Auckland and New Zealand records.
Guests of honour were Albertians Kyle Harrris, Taylah Hodson-Tomokino and Isaiah Papali'i, who were interviewed as a panel on stage by Commonwealth Games gold medallist and MAGS parent Karl Te Nana.