Sports Awards Evening 2020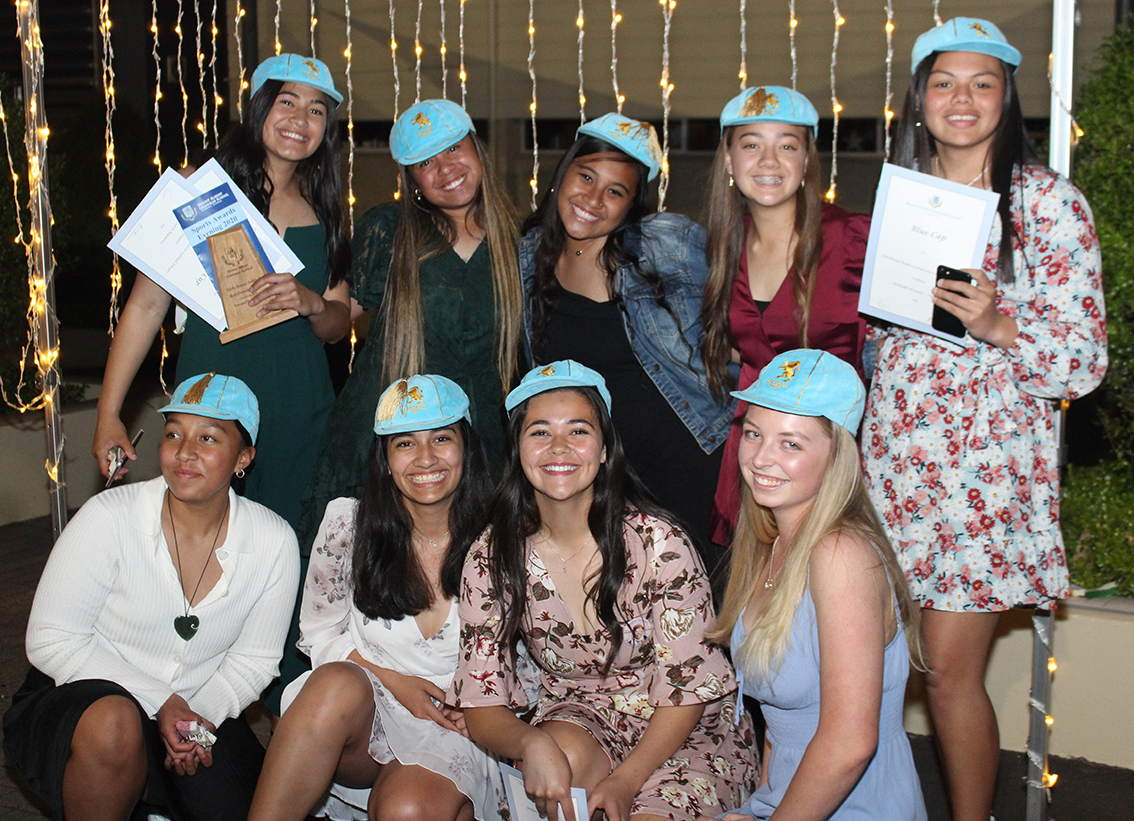 The importance of sport at MAGS was celebrated just as much as sporting achievement at the Sports Awards Evening 2020 held on October 21 in the FW Gamble Hall.
Headmaster Patrick Drumm said that with the school year disrupted by lockdowns, training for and playing sport had helped students maintain discipline and get back into routines – something that should help them in their upcoming exams.
For the second year running Latonya Lole was named Victrix Ludorum while Andre Pickering was named Victor Ludorum.
Latonya is the Athletics Captain and Senior Champion, the Premier Netball Captain, part of the AKSS Rugby 7s Condors team, and MAGS Mixed Touch co-captain, who are AKSS Champions.
Andre is a member of the Boys 1st XI Hockey team, plays in the Boys Lacrosse team and 3rd XI Football, and is the top skier at MAGS, an AKSS Snowboarding medalist, and attended NISS for skiing and snowboarding.
The Squash Boys Premiers (Max Conder, Jae Kwan, Tarin Love, Riley McCracken, Mason Smales and Captain Jack Conder) were awarded the Headmaster's Cup for Team of the Year after defending their national title.
The Te Aroha Keenan Cup for Outstanding Individual Achievement for girls was once again awarded to swimmer Brearna Crawford, while cricketer Adi Ashok won the comparable boys' award – the Olympic Cup.
Brearna is an Auckland Champs Gold medalist, a National Age Group record holder in 100m & 200m Breaststroke, and 50m and 100m Butterfly Auckland Record holder, and NZ Open Record holder in 100m Breaststroke.
Adi is the 1st XI Cricket Captain, played for the NZ U19 Cricket team, was named AKSS Cricket Players Player of the year 2020, and is MAGS Best All Rounder.
Guest speaker and Albertian Sir Bryan Williams set the tone for the evening with an entertaining speech about how important sport had been in his life as he went from joint Victor Ludorum at MAGS in his final year of 1967, to being named in the All Blacks in 1970, and going on to be a rugby coach and administrator.
Sir Bryan, who played 38 test matches for the All Blacks,  said the discipline and determination he had learned in the course of being a top rugby player and athletics champion at MAGS helped him with his studies and to stick at a law degree through tough times. He said he was grateful to MAGS for all he had learned and went on to achieve, and loved giving back to the school. In recognition of that, in 2017 MAGS' No. 1 rugby field was named the Sir BG Williams Field.
At the conclusion of his speech, Sir Bryan was presented with the first MAGS Centenary hoodie and received a huge round of applause.
The night also saw the awarding of Blue Caps to MAGS' Auckland representatives and Black Caps to MAGS' NZ representatives. Nine students were also recognised as Elite Premiers for representing MAGS at Premier level for each of their five years at school: Monica Kelly (Basketball), Adi Ashok (Cricket), Jayden Dahya (Hockey), Mitchell Cooper (Orienteering), Luca Eastwood (Orienteering), Jydee Leonard (Orienteering), Aidan Skinner (Orienteering), Mikayla Cross (softball), Jack Conder (Squash).
You can see a full list of Blue Caps, Black Caps and individual sports award winners here
Sports Prizegiving Dinner 2019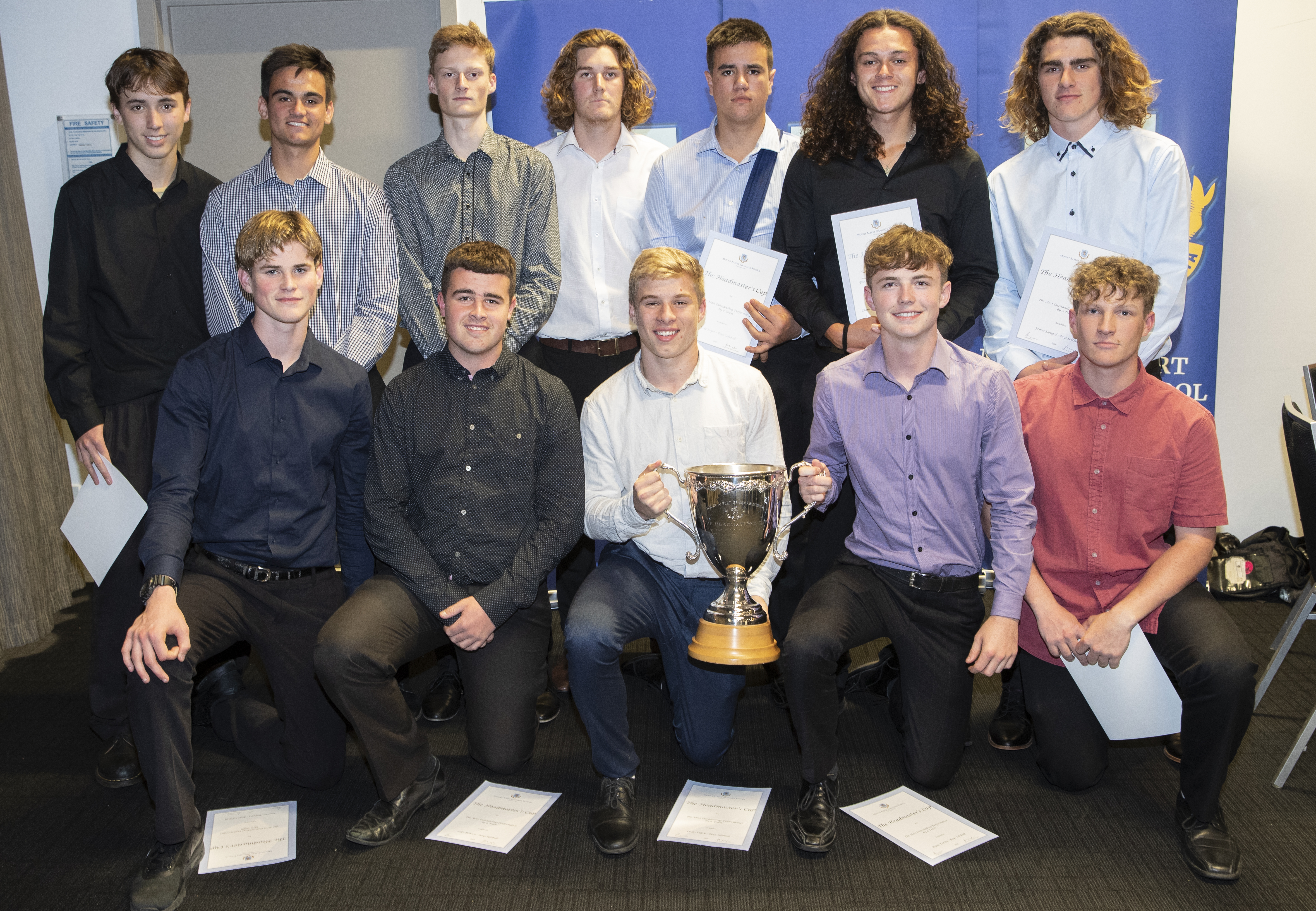 An outstanding year of success in the sporting sphere was celebrated at the Sports Awards Dinner 2019 at Alexandra Park on October 23, with world champion kayaker Lisa Carrington as guest speaker.
Latonya Lole and Lachlan Pearce were named Victrix Ludorum and Victor Ludorum respectively, while the NZ champion Softball Boys Premiers (pictured above) were awarded the Headmaster's Cup for Team of the Year.
The Te Aroha Keenan Cup for Outstanding Individual Achievement for girls was awarded to swimmer Brearna Crawford while basketballer Nate Wilson won the comparable boys' award – the Olympic Cup.
Fencer Charlie Bioletti won the Service to MAGS Sport Cup for offering his opponent a rematch when he discovered he had been wrongly awarded victory.
The night also saw the awarding of Blue Caps to MAGS' Auckland representatives and Black Caps to MAGS' NZ representatives. Six students were also recognised as Elite Premiers for representing MAGS at Premier level for each of their five years at school: Rikki Fiatau (Basketball), Zane Harrison (Lacrosse), Jack Norris (Lacrosse), Eva Williams (Swimming), Dylan Moon (Touch ) and Moanekah Va'ai (Touch).
Lachlan was named Victor Ludorum as Captain of the MAGSRow team and Co-captain of the First XI. He also played MAGS Football and was a member of the Maadi 8 to make the A final.
Latonya Lole was named Victrix Ludorum having represented MAGS in three Premier sports this year. She is Co-captain of the Athletics and Premier Netball teams, and was a member of the Premier Girls Touch Team. She was named Auckland Netball Premier Player of the Year and was selected to represent New Zealand against England for New Zealand Secondary Schools.
The Premier Boys Softball team won Team of the Year for finishing first in NZ Secondary Schools, winning the national title in a longer format competition than seen in previous years. This is the seventh consecutive year that MAGS has won this national title. They also finished 1st in AKSS and 1st in the AKSS One-Day Tournament.
Brearna Crawford won the Te Aroha Keenan Cup after breaking every Auckland age group swimming record she has attempted and collecting an amazing 46 Gold medals, 19 NZ Age Group records and two NZ Open Records. Brearna also represented New Zealand at the Junior Worlds meet in Budapest and was a member of the first MAGS team to win a NZSS title.
Nate Wilson won the Olympic Cup for his achievements in Basketball. He was an influential member of the Premier Boys team that finished 3rd at the New Zealand Secondary Schools competition this year and was also named in the tournament team. Nate played in the Auckland U19 team who were runners-up in the New Zealand U19 National tournament and was named in the tournament team. Nate represented New Zealand this year as a member of the Junior Tall Blacks who competed in China and has received the MAGS Most Outstanding Basketball Award this year.
You can see a full list of  prizewinners here
Sports Prizegiving Dinner 2018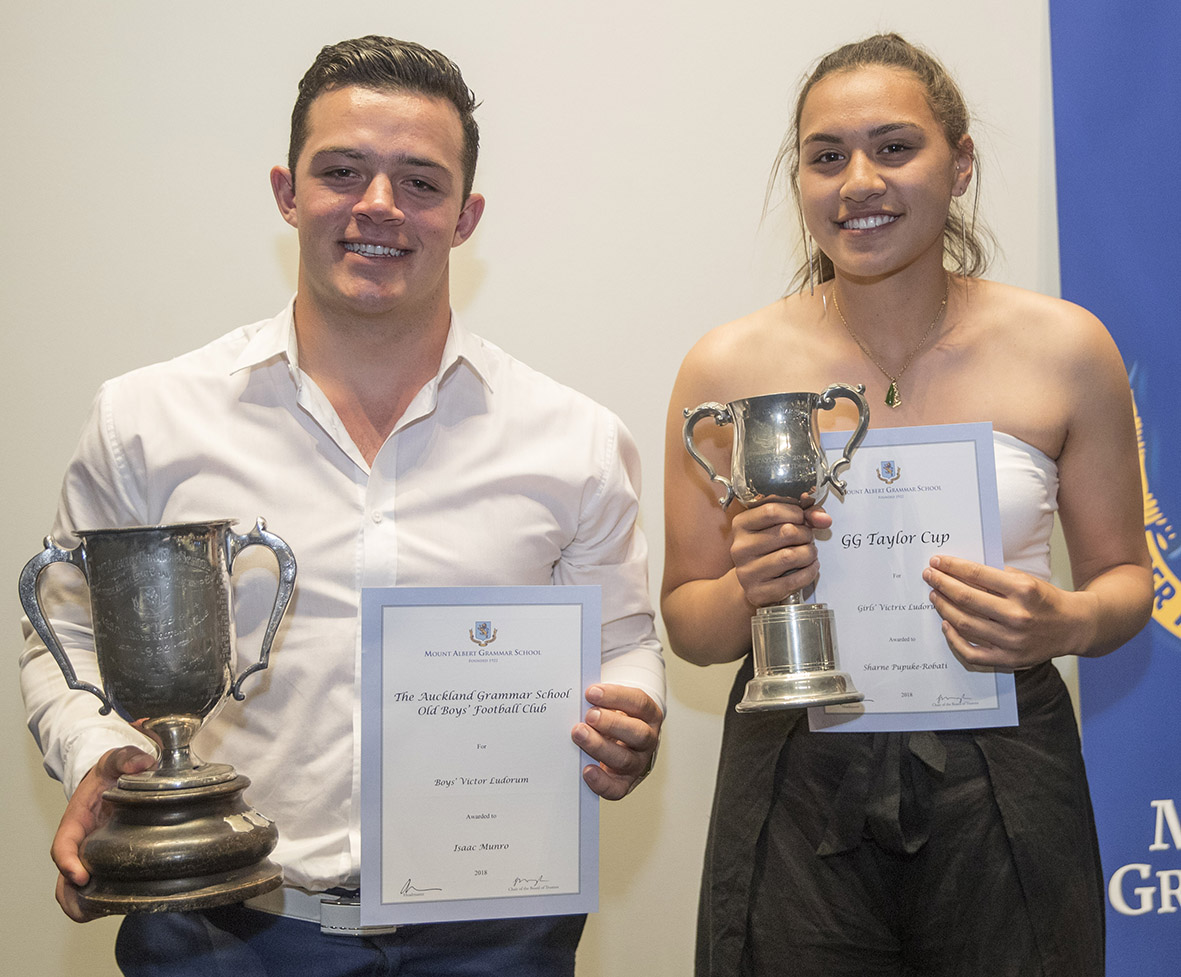 Isaac Munro and Sharne Pupuke-Robati were named Victor Ludorum and Victorix Ludorum respectively at the MAGS Sports Dinner on October 24 at Alexandra Park function centre.
High achievers were presented with their Blue Caps (Auckland representatives) and Black Caps (NZ representatives) as well as the school's top sports prizes.
The event was MC'ed by Deputy Principal Tom Murdoch and kicked off with a song from Premier Netballer Latonya Lole.
Headmaster Patrick Drumm told the large crowd that while sporting success was to be celebrated, it was only part of the journey at MAGS.
Guest speaker on the night was Cameron Calkoen, who was born with cerebral palsy and was told his biggest challenges in life would be walking and talking.
He forged a career as a champion athlete and an inspirational speaker, as well as being an entrepreneur, a fundraising dynamo for charities and an ambassador for the disabled.
He told the assembled guests that his athletics and professional career began just by "turning up", and that was the way to get ahead in life: turn up and give it your best shot.
When it came to the big awards, Sharne was named Victorix Ludorum. She is captain of the Girls Premier Basketball team that won the AKSS Basketball title, and came seventh at NZSS Basketball, where she also made the Tournament Team. She also played for NZ U17 Basketball.
She is the Premier Netball shooter in the team that was recently crowned National Champions, and that came third in the AKSS competition.
She was part of the MAGS Girls Rugby Sevens team that won the AKSS competition, and she is a Tania Dalton Scholarship Recipient.
Isaac, who was named Victor Ludorum, is a member of the Boys' Softball team that won the Auckland school competition, and won the New Zealand Schools Championship for a sixth year in a row. He is a member of the 2nd XV Rugby team that placed second in the Auckland competition. He is the top skier at MAGS, and is a member of the Premier Water Polo team that competed at NZSS.
Team of the Year was the National Champion Premier Netball side, while swimming sensation Brearna Crawford won the award for Outstanding Achievement in Sport (Girls) and Premier Softballer Floyd Nola won the equivalent award for Boys.
Orienteering champion Liam Thompson was the inaugural recipient of the Service to MAGS Sport award for sacrificing his chances in a race to help a competitor who had become lost.
List of Black Caps here, Blue Caps here, and prizewinners here
Sports Prizegiving Dinner 2017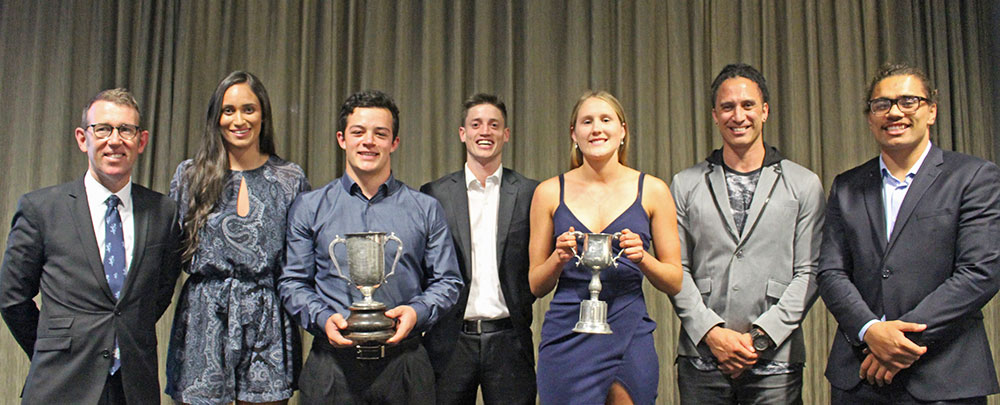 Victor Ludorum Isaac Munro and Victrix Ludorum Maddy Gordon with Headmaster Patrick Drumm and Guests of Honour Taylah Hodson-Tomokino, Kyle Harris, Karl Te Nana and Isaiah Papali'i.
Maddy Gordon was named Victrix Ludorum and Isaac Munro Victor Ludorum, at the 2017  Sports Prizegiving Dinner at Alexandra Park on Wednesday, 25 October.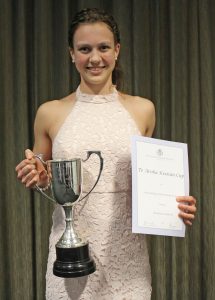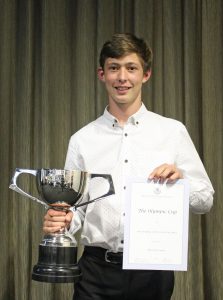 The Team of the Year was Premier Boys Softball, and the boys' and girls' awards for Outstanding Achievement in Sport were presented to Orienteer Mitchell Cooper (left) and Swimmer Brearna Crawford (right).
Maddy received her award for excellence in Athletics, Netball, Swimming, Volleyball and Cross-Country. She was also the joint winner of Senior Girls Athletics Champion with Grace Jale. Isaac Munro was named Victor Ludorum for his success with the Premier Boys Softball Team, winning the top Skiing award, and excellence in Swimming, Waterpolo and Rugby.
The Premier Boys Softball won the NZSS title for the fifth consecutive year this year. Mitchell Cooper represented New Zealand at the World Orienteering Championships in Italy and came 6th. Brearna Crawford, still only in Year 10, has won multiple Gold medals in a number of Swimming competitions in New Zealand and Australia, while setting new Auckland and New Zealand records.
Guests of honour were Albertians Kyle Harrris, Taylah Hodson-Tomokino and Isaiah Papali'i, who were interviewed as a panel on stage by Commonwealth Games gold medallist and MAGS parent Karl Te Nana.