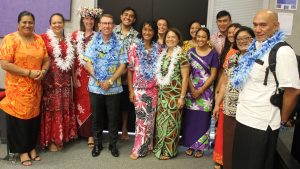 The purpose of this network is to work beside the school's initiatives with a focus on our Pasifika students' learnings and outcomes.
We work beside the  Senior Leadership Team and wit the guidance of Ms Va Anisi and Mr Danny Liuliu Afoa and are actively supported by Headmaster Mr Patrick Drumm. Our role is to support any initiative that sits within these great teachers' portfolios and to facilitate, drive, support and implement best practice for our students for the betterment of their future beyond MAGS.
Our network's two main areas of focus are:
* Building and strengthening relationships
* Acquiring information
Our role is:
* To advocate on behalf of our Pasifika parents and students
* Empower students, teachers and parents through engagement and staying connected
* Support our parents through communication or information sharing of all things MAGS
* To build a Knowledge Hub for our Pasifika parents and students
We are here to support all Pasifika parents as we aim to ensure that our students leave school with the highest qualifications possible, giving them the potential for even better career opportunities than we have had. We encourage you to join us – get on board our Vaka as we paddle and build a map for our children's success in years to come.
We leave you with this – Proverbs 22:6
Train up a child in the way he should go; even when he is old he will not depart from it.
Faafetai ma ia manuia.
If you would like to join the network or just find out more about it, please contact MAGS' Pasifika Liaison Officers:
Ms Va Anisi or Mr Danny Liuliu Afoa
vanisi@mags.school.nz  or dafoa@mags.school.nz
Phone 09 846 2044 x 8184
| | |
| --- | --- |
| Ms Va Anisi | Mr Danny Liuliu Afoa |
| ph 09 846 2044 x 8184 | Ph 09 846 2044 x 8184 |
| vanisi@mags.school.nz | dafoa@mags.school.nz |
Every Tuesday and Wednesday, 3.15pm-4.45pm in the Library.
Supervised by teachers and Year 13 mentors, and tutors are there to help with most subjects, in particular Maths, English and the Sciences.