Objectives of Komiti Faufautua
To provide recommendations to MAGS' Board of Trustees
To create, facilitate and review Pasifika Initiatives
To engage with Pasifika Student representation (student voice)
Communicaiton with the Pasifika Parents Network representation (Community Stakeholder) to help with facilitation of Pasifika Initiatives.

A Brief History
Komiti Faufautua was founded in term three of 2018 and the inaugural members were Va Anisi, Lemauga Sosene, Dr David Schaaf, Junior Tonu'u, Lance Mulu, Winston, Elizabeth Ah-Kuoi, Sarah Hayes. The drive to create Komiti Faufautua was to implement a Pasifika working group comprised of parents, students and staff. The aim of this group was to discuss and then request Pasifika Initiatives that would improve and enhance the experience of Pasifika Parents and Students attending MAGS.
You can read more about Komiti Faufautua and the people behind it here
Health Sciences Academy (HSA) – A collaboration between MAGS and Counties Manukau District Health Board (DMDHB). The purpose of the HSA to create a mentor class where all students are Pasifika and foresee an interest with the Health Sector post MAGS. The Mentor of this class will be a Science teacher and we will begin with a year 11 group in 2021. Plans past 2021 are to see the creation of and sustainability of further HSA's a year 12 & 13.
Pasifika Mentor class – Akin to the framework currently utilized within the Puna area of school there is a desire to create a Mentor class for Pasifika students that has a range of year groups. Thoughts on the composition of this class are being gathered and collated.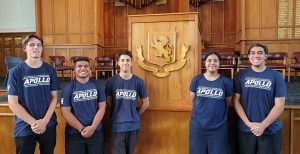 Apollo Engineering Programme (AEP) – Steven Roberts from The University of Auckland (UoA) has created the AEP and it's sole aim is to increase the number of Pasifika and Maori students attending the School of Engineering. The programme takes place across two weeks in the first half of December and successful candidates are then mentored throughout their year 13 and into the first aspect of their University Degrees.
Uni Prep Programme – AUT present this program and it runs between late January to the end of February. Within this program students are exposed to the type of expectations that territory institutions will place them under including completing a level four and level five university paper. The program is operated out of the south campus however in 2020 they will be offering 100 place course at the city campus. Along with this are you AUT are beginning a AUT leadership program that will run from 14 December for four days. The course does not mean that a student has to stay with AUT students are free to make their choice of tertiary institution.