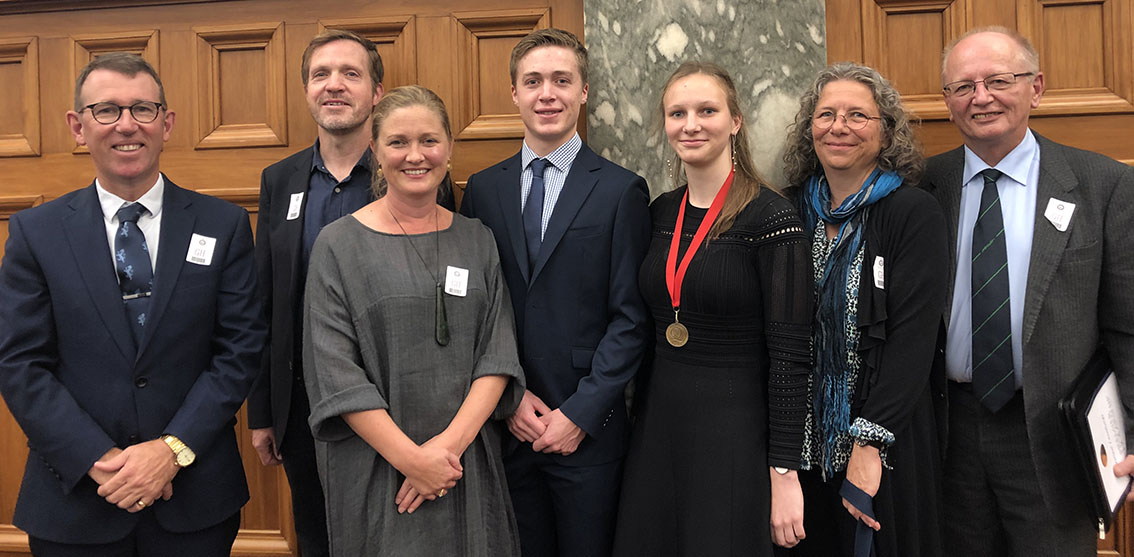 Pictured above: Jonathan De Pledge and Miriam Leonhardt, at centre, with their proud parents alongside – Stephen and Heather, and Beatrix and Rainer, respectively – and Headmaster Patrick Drumm at the Top Scholar Awards in Wellington.
Mount Albert Grammar School had the top female secondary school scholar in the country in 2018 and achieved a record 116 Scholarships .
Miriam Leonhardt, the Girls Dux of 2018, is one of only 11 Premier Scholars in the country in 2018, with the other 10 all being male.
She achieved Scholarships in seven subjects: Biology, Calculus, Chemistry, Earth and Space Science (Outstanding), German, Physics (Outstanding) and Statistics (Outstanding). The last time MAGS had a Premier Scholar was in 2006.
Miriam's name is inscribed on the school Honours Board along with 13 other students who achieved three or more Scholarships in the 2018 NCEA exams.
Also one of the top scholars in the country is Jonathan De Pledge, who had the best mark in Physics and was only one mark shy of being the top scholar in Calculus as well. Jonathan, who was Boys Proxime Accessit in 2018, was named an Outstanding Scholar, along with our 2018 Boys Dux Gary He. To be an Outstanding Scholar, students must achieve three Scholarships including at least two at Outstanding (O) level, or more than three Scholarships including at least one at Outstanding level in the same year. There were only 46 winners of this award nationally in 2018.
Jonathan achieved Scholarships in Calculus (O), Chemistry (O), Earth and Space Science, Physics (O) and Statistics. Gary achieved Scholarships in Calculus, Biology, Chemistry, Physics and Statistics (O).
The other names to go up on the Honours Board (three or more Scholarships) are Anton Aish – Chemistry, Economics, Physics, Statistics; Henry An –Chemistry, Physics, Statistics; Hannah Houghton – Biology, Calculus, Health and Physical Education (O); Anvilly Huang – Calculus, Earth and Space Science, Statistics; Annie Li – Calculus, Japanese, Statistics; Josh Lim –Calculus, Chemistry, Physics; Liam Milbank – Calculus, English, Statistics; Liam Thompson – English (O), Physics, Statistics; Amber Yang –Classical Studies (O), English, History; James You – Calculus, Physics, Statistics; Lucy Zhang – Biology, Chemistry, Earth and Space Science, English, Physics.
Mount Albert Grammar School has again performed alongside the top academic schools in New Zealand after students attained 81 scholarships, and achieved its highest ever pass rate in NCEA Level 3 following the 2017 examinations.
The 81 scholarships included nine at Outstanding level (the top 1% in each subject), the pinnacle of academic achievement for secondary students. Scholarships were attained across 21 subjects, and were spread among 54 students.
Outstanding Scholars
Among the highest achievers were our Boy and Girl Dux of 2017, Lucas Peterson and Harshita Nayyar. Lucas earned four Scholarships (including Outstanding in Calculus), and Harshita earned three Scholarships, while Girl Proxime Accessit Yusi Gao earned two Scholarships.
There were also five more students who earned three Scholarships: Richard Li (Outstanding in Calculus and Physics), Fraser Eade (Outstanding in Biology), Jack Morrow-Zhang (Outstanding in Physics), Sahil Bhatiani and Merry Wu. Students who receive three or more Scholarships are awarded  $2000 per year for up to three years toward their tertiary studies.
Outstanding Scholarships were also awarded to Anton Aish (Statistics), Jonathan De Pledge (Calculus), Zi Huang (Calculus), Miriam Leonhardt (Calculus), Gary He (Calculus), Liam Milbank (Statistics) and Beatrice Santos (Biology).
Mathematics students shone with 24 Scholarships in Calculus (including six  Outstanding) and 12 in Statistics (including two Outstanding). English students received nine Scholarships, and Biology students gained eight Scholarships.
In NCEA, provisional results show 85% of students who sat Level 3 passed, the best ever result by MAGS students.
The Level 2 pass rate of 93% was close to the highest pass rate ever from 2016 of 95%, while  83% of Level 1 students passed.
Headmaster Patrick Drumm said, "The Level 3 results are the best we have ever had and that is supported by strong results from Level 1 and Level 2. These NCEA results have set the bar high for 2018."
MAGS' results are above the national average and outrank other Decile 7 schools, and in many cases higher decile schools.
Lucas Peterson
Four Scholarships
Outstanding in Calculus
Fraser Eade
Three Scholarships
Outstanding in Biology
Richard Li
Three Scholarships
Outstanding in Physics and Calculus
Jack Morrow-Zhang
Three Scholarships
Outstanding in Physics
| | | | |
| --- | --- | --- | --- |
| | MAGS | National Average | |
| NCEA Pass Rates | | | |
| Level 1 | 83.2% | 84.2% | |
| Level 2 | 93.0% | 88.7% | |
| Level 3 | 85.3% | 82.4% | |
| University Entrance | 68.1% | 59.9% | |
| | | | |
| Excellence Endorsements | | | |
| Level 1 | 30.8% | 20.1% | |
| Level 2 | 19.1% | 16.0% | |
| Level 3 | 19.8% | 15.6% | |
| | | | |
Harshita Nayyar
Three Shcolarships
Sahil Bhatiani
Three Scholarships
Merry Wu
Three Scholarships
Anton Aish
Outstanding in Statistics
Jonathan De Pledge
Outstanding in Calculus
Miriam Leonhardt
Outstanding in Calculus
Liam Milbank
Outstanding in Statistics
Beatrice Santos
Outstanding in Biology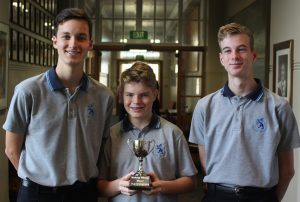 Geography students at MAGS have now won the annual Auckland Geography Teacher's Association Senior Quiz three years in a row.
And they have been joined in the three-peat stakes by the Year 11 Geographers, who took out the Auckland Central section of the Maatangi Whenua Quiz for the third consecutive year.
The Auckland Geography Teacher's Association (AGTA) Senior Quiz was held at St Cuthbert's on Wednesday, 8th August, with 21 teams competing, and the pressure was on MAGS as defending champions.
In the end though, the final tally revealed that not only had the MAGS A team (James Inkson, Hugh Malcolm, Hannah Zwalue, Harrison Zheng, who are pictured above) won by a margin of six points, giving us the trophy for the third year in a row, but also that the MAGS B team (Tom Barrand, Luke Owen, Angus Robinson, Shalin Shah) had held off Takapuna to finish second.
On Tuesday, 14th August, it was the turn of the Year 11 Geographers in the Maatangi Whenua Quiz. This is a National competition with rounds held across the country over the next couple of weeks. The Auckland Central section was again at St Cuthbert's, featuring 16 teams from across the area.
In the end MAGS Team 2 (Aidan Skinner, Ben Batchelor-Cook, Freeman McCall, pictured right) finished 18 points ahead of the rest of the field. The MAGS Team 1 (Samantha Persson, Meadow Simpson, Katie Hadfield) finished 5th.