Welcome to the Junior School
At Mount Albert Grammar School Year 9 and 10 students have the best of both worlds – learning in single-sex classes in a co-educational environment.
Year 9 and 10 classes are single sex and streamed according to academic ability. This is because, at this age, boys and girls have quite different learning needs that are best addressed in single sex classes. Option classes in the Junior school, however, are co-educational as this allows for a more comprehensive choice of Option subjects for students.
In Year 11 classes are generally co-educational and in Years 12 and 13 all classes are co-educational.
This is a unique arrangement and designed to get the best out of both settings at the time when it is most appropriate. Individual Departments modify content and teaching styles to meet the needs of the single sex classes. Students, staff and parents have all commented on the model as ideal.
In addition, our Year 9 students are supported in settling into MAGS by our Year 13 Peer Support Leaders. Each Year 9 class has one or two Leaders assigned. The Year 13s meet their Year 9 charges on their first day at school to help the classmates get to know each other and show them around the campus. The Peer Support Leaders stay in touch with their class throughout the Year 9s' first year to ensure the youngsters feel safe, happy and confident to ask for help if they need it.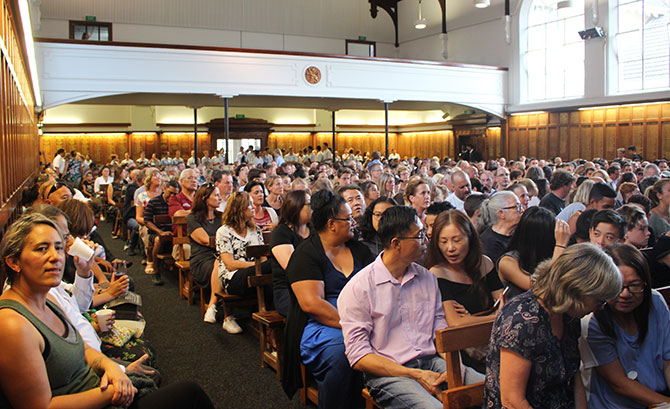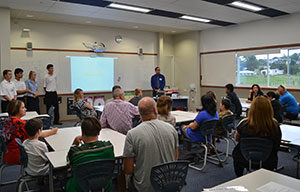 The FW Gamble Hall was full as Year 9 families gathered for the annual information evening on Wednesday, 8 February.
Following drinks and nibbles in the Maurice Hall Atrium, visitors were shown through to the Hall where they were greeted by Headmaster Mr Patrick Drumm.
Mr Drumm noted that the 2017 cohort was special, in that they would finish as Year 13s in the school's 100th year – 2021.
"What a special time to be a student at MAGS," said Mr Drumm. "I urge your children to make the most of the breadth of opportunities we offer, while keeping their academic focus as their priority."
Other speakers were the Associate Principal in charge of Junior Boys, Mr Paul McKinley, and Deputy Principal in charge of Junior Girls, Ms Jo Williams.
Members of the Friends of MAGS parents committee and Co-Chairs of the Fine Art Show sub-committee, Mr Ken Fairgray and Ms Lucille Peters, encouraged parents to get involved in the school's largest annual fundraising event.
Parents then met with their children's Form Teachers in classrooms, who talked about school procedures and answered questions.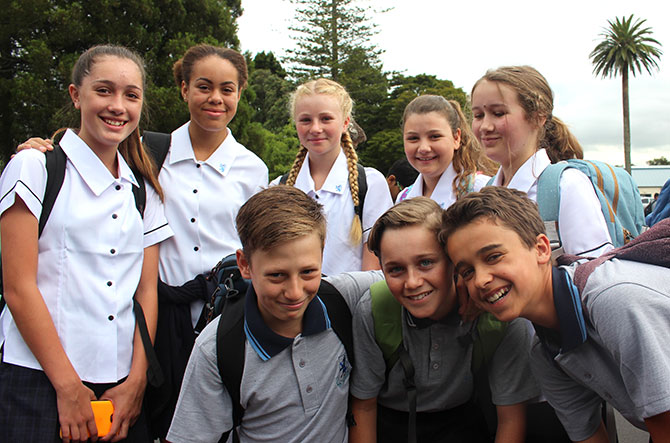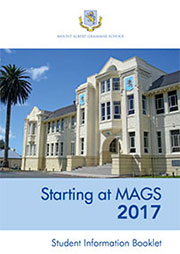 Nearly 600 new Year 9 students were welcomed to Mount Albert Grammar School on Tuesday, 31 January.
The new students had the school to themselves for their first day before students in Years 10-13 arrive on Wednesday. The day began with a powhiri in the FW Gamble Hall and a welcome from Headmaster, Mr Patrick Drumm.
Students were then assigned to their Form Classes, and spent the remainder of the day with their Form Teachers and Year 13 Peer Support Leaders getting to know each other, touring the school and finding out about their timetable and life at MAGS.
During the rest of the week all students took part in the start of the annual Inter-Form Class Competition – a series of games and challenges that runs through the year. They also learned the MAGS Haka, which will be performed at key school events
For information about Starting at MAGS, click here to read and download the booklet with everything you need to know.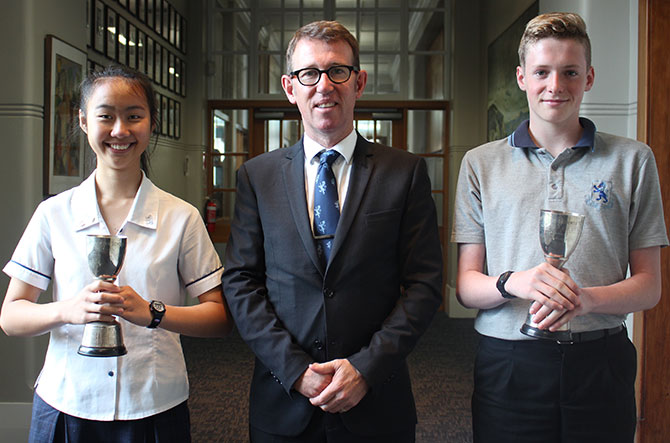 MAGS' top Junior academic, sports and arts students were named at the Year 9 and 10 Prizegiving ceremonies on Tuesday, 6 December.
The Junior Girl Dux and Boy Dux for 2016 are Jamila Chen and Adam Bateman, pictured above with Headmaster Mr Patrick Drumm. Click here for a summary of their academic achievements
The Paul Gardner Cup for Service in the Junior School was presented to Logan Allomes and Jamila Chen for the assistance on numerous committees and with arts groups and sports teams.
The Junior Victor Ludorum is Dylan Moon for achievements in Athletics, Rugby, Rugby Sevens and Touch.
Junior Victrix Ludorum is Moanekah Va'ai for achievements in Basketball, Netball, Touch and Tag.
The Junior Duces Artium are Logan Allomes and Maddi Bencich. Logan has excelled in Drama and was MC of this year's Junior Bytes concert. Maddi has excelled in both Dance and Drama.
The Best All-Round Boy and Girl in Year 10 are Adam Bateman and Takunda Muzondiwa. The Best All-Round Year 9 students are Vaibhav Nayyar and Isla Thompson.
In his speech, Headmaster Mr Patrick Drumm said academic achievement was the ultimate measure by which the school judged its success. It was one of MAGS' "four pillars" – the others being the Arts, Sport and Service – and students were encouraged to become involved in all four areas as their achievements in one gave them the confidence and the work ethic to succeed in others.
"I thank our Junior students for approaching their schooling in such a positive way. You can take confidence from your success so far as you enter the Senior school next year."
Click here for the full list of Year 9 Prizewinners