Internal Assessment Guide for 2023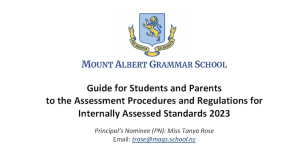 Please click here for the 2023 Assessment Guide, which outlines the rules around Internal Assessments.
You should regularly check your Assessment Calendar for deadlines of upcoming Internal Assessments.
You can also use your Assessment Calendar to plan your own time and set your own reminders of tasks to be completed.
All results of Internal Assessments can be viewed on the KAMAR Portal under Results>Current Year Results.