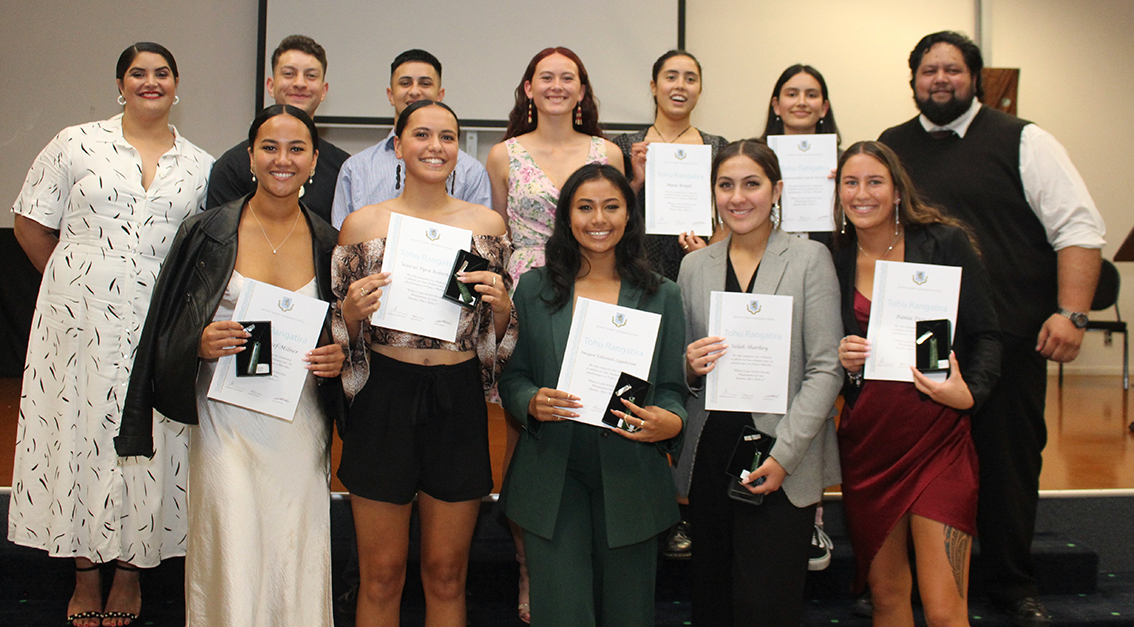 Te Puna o Wairaka celebrated its top students and sent its Year 13 Leavers off into the world with an emotional farewell at the Celebration Dinner on Thursday, November 12 at Te Mahurehure Marae.
Guest speaker Dr Jennifer Martin encouraged the Leavers and Te Puna o Wairaka students to continue their te reo journey, saying it would open up some wonderful opportunities.
Dr Martin, who is a graduate of the kura at West Auckland's Hoani Waititi Marae, went on to graduate from the University of Auckland and gain a PhD with her thesis written entirely in te reo Māori. She is now a Māori studies educator and runs a Māori language consultancy.
She urged the students to pursue their dreams, and not let any naysayers put them off achieving their goals.
As well as haka from the departing and remaining students, the event – MC'ed by students Breanna Waka and Isaiah Nin – featured a song by Albertian and Te Puna alumni Abbey-Jean Kaipara, who was backed by Andre Pickering on guitar.
During his speech, Headmaster Patrick Drumm called Te Puna HOD Waimirirangi Paul on to the stage to pay tribute to her work, which was recognised earlier in the week at Senior Prizegiving with her receiving a CP Liddell Teaching Scholarship.
When it came to the awards, Andre Pickering won the Top Senior Academic Award, was named All-Round Top Senior Student, and Top Sportsperson.
Tayla Bamber won the "Manu Tute" Award For Services to Puna and the wider community, while Niua Pomare-Khanna received the "He toka tū" Award For Contribution to Kapa Haka.
Kobe-Ray Cameron was All-Round Top Junior Girl, and the All-Round Top Junior Boy was Hokioramai Dunn. The Top Junior Academic Award went to Mihimere Hope.
The award for Top Senior Māori Language Orator went to Niua Pomare-Khanna, and Mihimere Hope was named Top Junior Māori Language Orator.
When it came to sports achievement, Waimarie Tawera won the top junior award.
In their farewell speeches, Niua Pomare-Khanna and Tayla Bamber, who both served as Deputy Head Prefects in 2020, paid tribute to Whaea Waimirirangi Paul and Matua Peter Walters for the vast amount of time they invested with their students whether it was in course work or in kapa haka. They both said that Te Puna o Wairaka and MAGS had given them great opportunities academically and culturally.