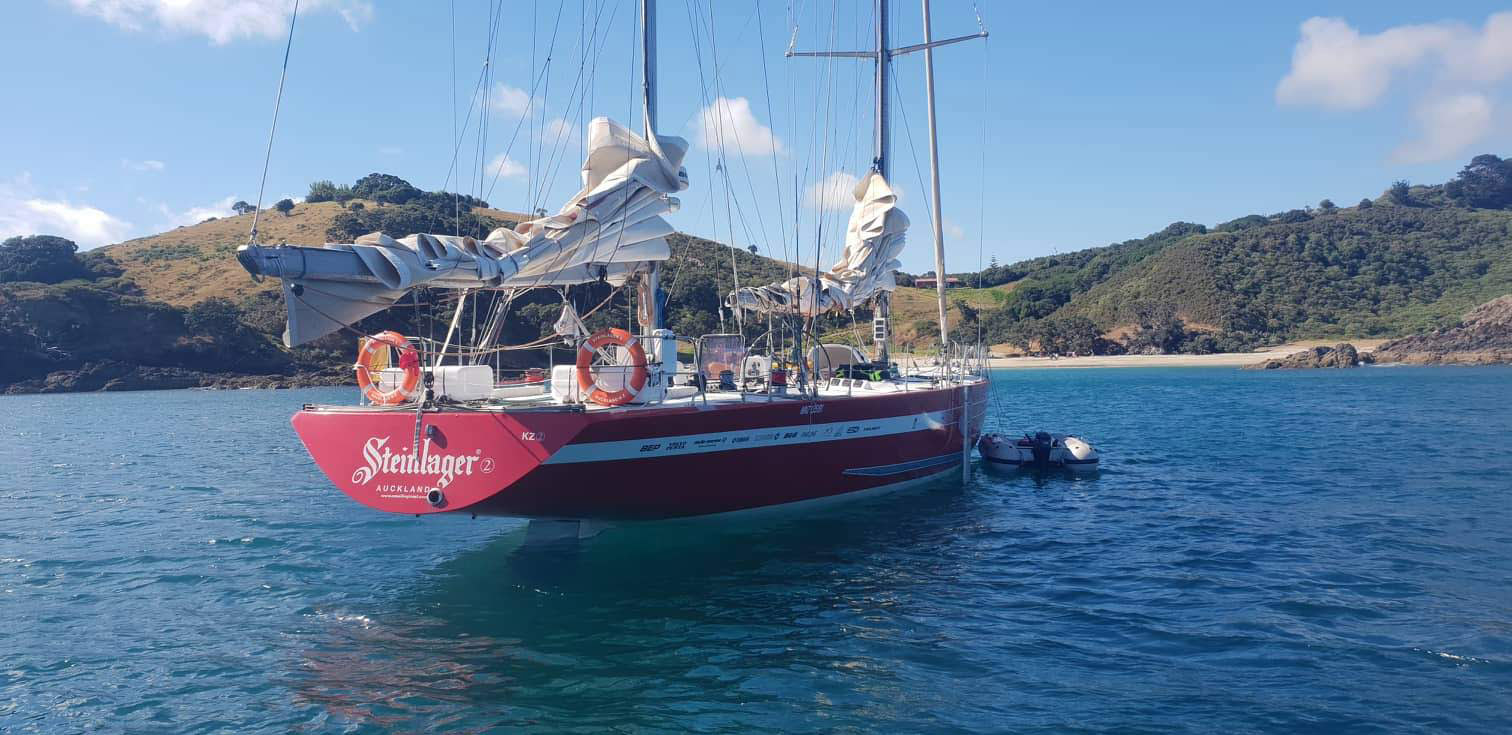 In 2018/19, 48 Mount Albert Grammar school Year 11 Students got the opportunity to follow in the wake of sailing legend Sir Peter Blake on his victorious round-the-world boat Steinlager 2 during a multi-day sailing trip.
The trips saw our students sailing from Auckland Viaduct to Kawau Island, Great Barrier Island, Motutapu, Waiheke and the Coromandel. The vessel ran with the same system in place as the Whitbread Around the World Race, with students working in different roles below deck, above deck and as part of the sailing crew.
Over the four days students learned about sailing chat, rules of the water, basic navigation, weather, parts of the yacht, knots, marine birds, human impact on marine life and goal setting. Students really took on the wise words from Sir Peter: "Giving it a try is much better than sitting back and worrying what people might think if we fail".
Two students, Claudia Woods and Jacob Brain, share their amazing experience below.
Jacob Brain: "On a stunning Auckland day, my fellow students and I headed aboard Steinlager 2 – one of the New Zealand Sailing Trust's iconic yachts. This was going to be my home for the next four days. During these four days on the yacht, I learned the basics of how to sail, including putting up the sails, tying knots and helming the yacht.
We visited many beautiful beaches, including, Motuihe, Cactus Bay and Woody Bay.
The three crew members – Andre, Hamish and Dylan – made the trip amazing.  They were always happy to share their sailing knowledge and cooked awesome food. This trip was a great experience where I learned a lot of new life skills, made new friends and memories that will last for a lifetime.  Definitely a 10/10 from me. I would highly recommend this trip to everyone that has the opportunity to go aboard Steinlager 2."
Claudia Woods: "The four-day Steinlager 2 sailing trip was an amazing experience that has been an awesome opportunity for Year 11 students. Each watch group had a role for the day whether it be below deck, above deck or on sailing watch.
In these roles we learnt many useful skills like prepping food, cleaning, navigating the boat and of course how to sail.
On the first day we spent the day getting used to our watch groups and learning the basics of sailing. This was fun and everyone got involved with the grinders.
We anchored at Cactus Bay and spent the afternoon playing beach games, swimming and, to top it all off, we had dinner watching the sunset.
On the second day my group was on sailing watch, which meant that we spent the day helming the boat. Every morning at 6.30am we had to jump into the water and swim a lap around the boat, which was a challenge, but a great way to start the day.
The highlight of the day was the dolphins that swam by our boat and put on a show, jumping and carving the wake. We also participated in a beach clean-up, which was an awesome opportunity to show off the MAGS way and leaving the beach in a better condition than we found it (two full black rubbish bags!). This was one of the main highlights of the trip because there is nothing more rewarding than volunteering and making a difference to the environment.
The rafting challenge was fun as we had to build the rafts and race from the shore back to the boat. Both teams did a good job making their rafts and made it back to the boat.
On the third day, our group group was working really well as a team after bonding during the last two days. The sailing conditions were also better (20-24 knots) and we experience with the boat leaning up on an angle.
While we were sailing to the Coromandel we had a workshop on knot tying, which allowed lots of people to learn knots that could be used for the boat and also for everyday fixes.
On the final day, we sailed back to Auckland and we had really learnt something because we were working like a well-oiled machine. It was really awesome seeing the city from a different perspective and very peaceful sailing though the usually bustling area. Overall, this was an amazing trip that is well worth doing and the only problem was it definitely wasn't long enough!"