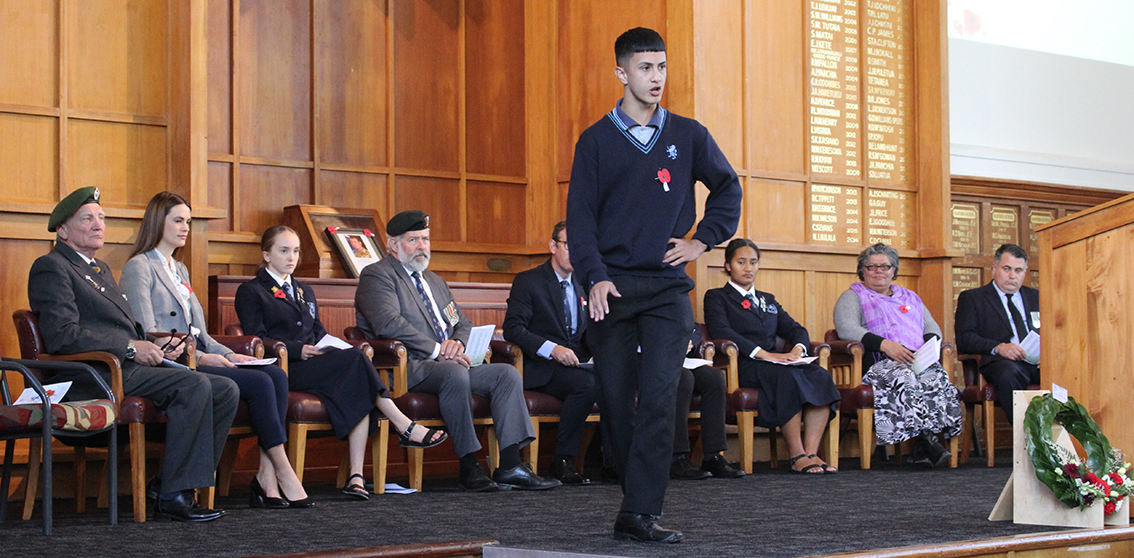 Speeches by three Year 13 History students provided a poignant note to Mount Albert Grammar School's Anzac Service today.
Liam Milbank and Vena-Rose Lennane spoke of their great-grandfathers' experiences in World War I and World War II respectively.
Liam's great-grandfather Private Alexander Lamb died in 1917 from wounds that he sustained at the Battle of Passchendaele, while Vena-Rose's great-grandfather was an army driver who survived campaigns in North Africa, Italy and Palestine.
Another Year 13 History student, Elijah Manu, spoke eloquently about how those sacrifices are still relevant today.
The service was attended by Year 9 students, Headmaster Mr Patrick Drumm, Chairman of the Board of Trustees Mr Greg Moyle, Major John Liddell,  and Albertians Association representatives Mr Ben Stallworthy and Ms Lisa Oakden.  Albertian bagpiper Mr Andrew Wilkie piped dignitaries and Air Training Corps cadets into and from the hall. Attending on behalf of returned servicemen was Mr Bill Ashdown, President of the Pt Chevalier Memorial RSA.
Te Puna o Wairaka performed a welcome haka to dignitaries and sung a waiata following a speech in te reo by student Niua Pomare-Khanna, pictured above.
As at every ANZAC Service, the names of 50 fallen Albertians were read aloud, the Ode of Remembrance was read in English and Maori, and a laying of wreaths was performed during the Last Post and Reveille, played by students Oliver Bulman and Willliam Filimoehala from the mezzanine floor, as the school flag was lowered and raised.
Albertians then attended a lunch at School House, where manager Geoff Moon welcomed guests and spoke about the role of School House.
Headmaster Mr Patrick Drumm gave the main speech, focusing on Service as one of MAGS' Four Pillars.