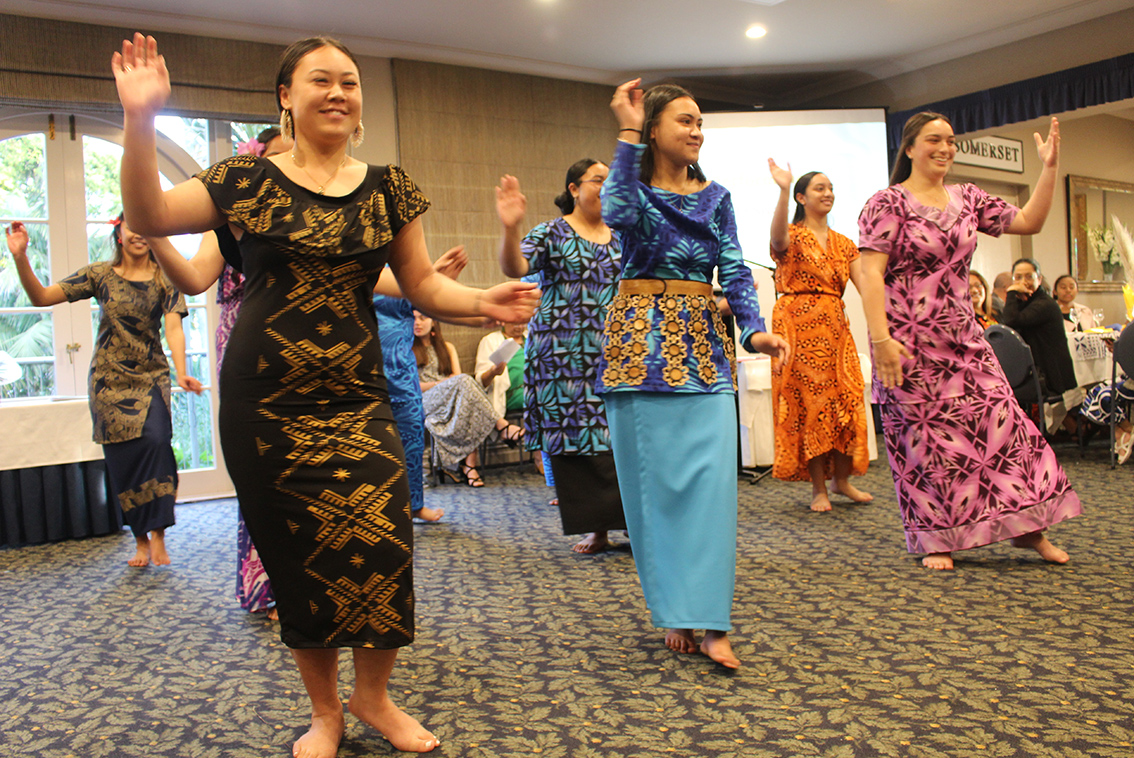 There were a few tears and a lot of laughter as the Pasifika community came together to celebrate the success of MAGS Pasifika students in Academia, Sports, the Performing Arts and Service to Pasifika and the school.
The Pasifika Prizegiving Dinner, on Friday, 25 October at Sorrento in the Park, was MC'ed by Deputy Head Prefects Alyssa Houma and DaRhys Simone, who were also big winners on the night.
Alyssa was named Best All Round Pasifika Student and it was announced on the night she had earned six scholarships.
DaRhys was a co-winner (with Theresa Anisi) of the Ah Kuoi Family Cup for Services to MAGS Pasifika and co-winner (with Tuiaki Fiuloi) of the Tagaloa Peter Su'a Award for Performing Arts, and has earned two scholarships.
Headmaster Patrick Drumm opened proceedings by saying Pasifika students comprised a significant part of the MAGS population and, more importantly, were vital in maintaining the school's much-valued cultural diversity.
The Top Year 13 Pasifika Academic Student was Lovely Pulotu, while Ruby Maoate was named Top Year 12 Pasifika Academic and Best All Round Pasifika Student. Top Year 11 Pasifika Academic and Best All Round Pasifika Students were Leilani Ginnen and Marcus Savelio.
The Year 13 Siva Samoa featured students and staff showing off their dance moves with the latter including Pasifika Liaison Danny Liuliu Afoa, Deputy Principal Corey Todd and Rugby Director Nick Leger.
It preceded the naming of the top sportspeople: Karla Akeli and Josh Leger.
Siana Vagana was a co-winner (with Theresa Anisi) of the Tupuola Apisaloma Taulapiu Cup for Cultural Leadership, and also won the Director of Arts Award for Extra-Curricular Excellence.
Tavita Fa'amausili won the Village Community Trust Award for services to the Pasifika Council, and Maraea Ah Kuoi-Atmore took home the Ulugia-Pua Award for Outstanding Services to Mount Albert Grammar School.
After dinner, Deputy Head Prefects Alyssa Houma and DaRhys Simone  made emotional speeches and farewelled their peers and thanked MAGS' staff and their parents for their guidance and support. They had special words of thanks for MAGS' Pasifika Liaison Mrs Va Anisi, who has helped to keep them on task throughout their years at school.
The Pasifika Leavers' Video gave a hilarious insight into school life, and that was followed by the Year 13 Taualuga, with staff, including Mr Drumm, getting up to dance with the students.
– Additional photos by Pasilika Ulugia-Pua