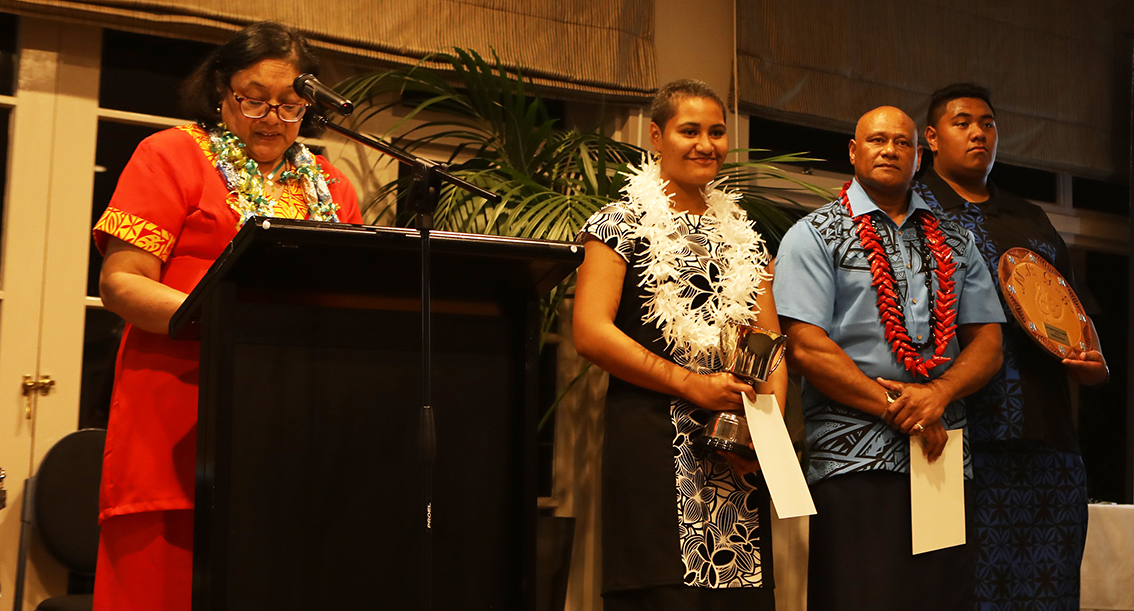 The Pasifika community came together at the annual MAGS Pasifika Dinner to acknowledge and celebrate the success of MAGS Pasifika students in Academia, Sports, the Performing Arts and Service to Pasifika and the school.
The dinner, on Friday, 26 October at Sorrento in the Park, also acknowledged Tupuola Apisaloma Taulapiu for his 26 years of service as Pasifika Liaison to Mount Albert Grammar School. He joined the school in 1992, and since that time, he has worked closely with our Pasifika students, the staff and our Pasifika community.  He has been part of the school's strategic plan in raising academic achievement and ensuring the well-being of our students. He is the first Pasifika person to have been acknowledged for this and he was congratulated and thanked for his ongoing loyalty and support to Pasifika.
There was also thanks to the Pasifika Parents' Network (PPN), under the leadership of Katerina Taumaoe, for their tireless work year-round, fundraising so that our dinner allows us to celebrate the successes and for as many students as possible to attend. Without their support the success of this event would not be possible.
The Best All Round MAGS Pasifika Student for 2018 is MAGS' Deputy Head Girl Rosarina Pillissi (pictured above at centre), who was also named Top Year 13 Pasifika Academic Student and Best All Round. Along with Liam Akeli, she won the Tagaloa Peter Su'a Award for Performing Arts, and Rosarina also won the Ulugia-Pua Award for Outstanding Services to Mount Albert Grammar School.
During the year, Rosarina was also awarded the following scholarships: University of Auckland Pasifika Academic Excellence Scholarship, University of Otago Pasifika Peoples Entrance Scholarship, First Foundation Scholarship and Hi -Well Scholarship.
Top Pasifika Sportswoman and Sportsman awards went to Sharne Pupuke-Robati and Soane Vikena respectively.
Floyd Watch, one of the leaders of MAGS' successful Niuean group at PolyFest, was awarded the Tupuola Apisaloma Taulapiu Cup for Cultural Leadership.
Cyprus Taumaoe won the Ah Kuoi Family Cup for Services to Pasifika.
Other winners were:
Top Year 11 Excellence: Tuiaki Fiuloi, Iosefa Ulugia-Pua and Ronette Va'ai
Top Year 11 Pasifika Academic Student  & Best All Round Pasifia Student: Ronette Va'ai
Top Year 12 Excellence: Maraea Ah Kuoi Atmore, Theresa Anisi, Aka Bloomfield, Alyssa Houma, Hannah Jones, Nathan Su'a Chang and Siana Vagana.
Top Year 12 Pasifika Academic Student & Best All Round Pasifika Student: Aka Bloomfield
Top Year 13 Pasifika Students: Hannah Fale, Porcia Meredith, Rosarina Pillissi, Roselyne Va'ai, Rosemary Tatupu and Elijah Manu.
Tertiary Scholarships: Hannah Fale, University of Otago Pasifika Academic Excellence Scholarship;
Clarke Aiono, University of Otago Performance Entrance Scholarship; Roselyne Va'ai, AUT School Leaver Scholarship KIWA (Maori & Pasifika Student); Grace Twigley, AUT School Leavers Scholarship KIWA (Maori & Pasifika student).