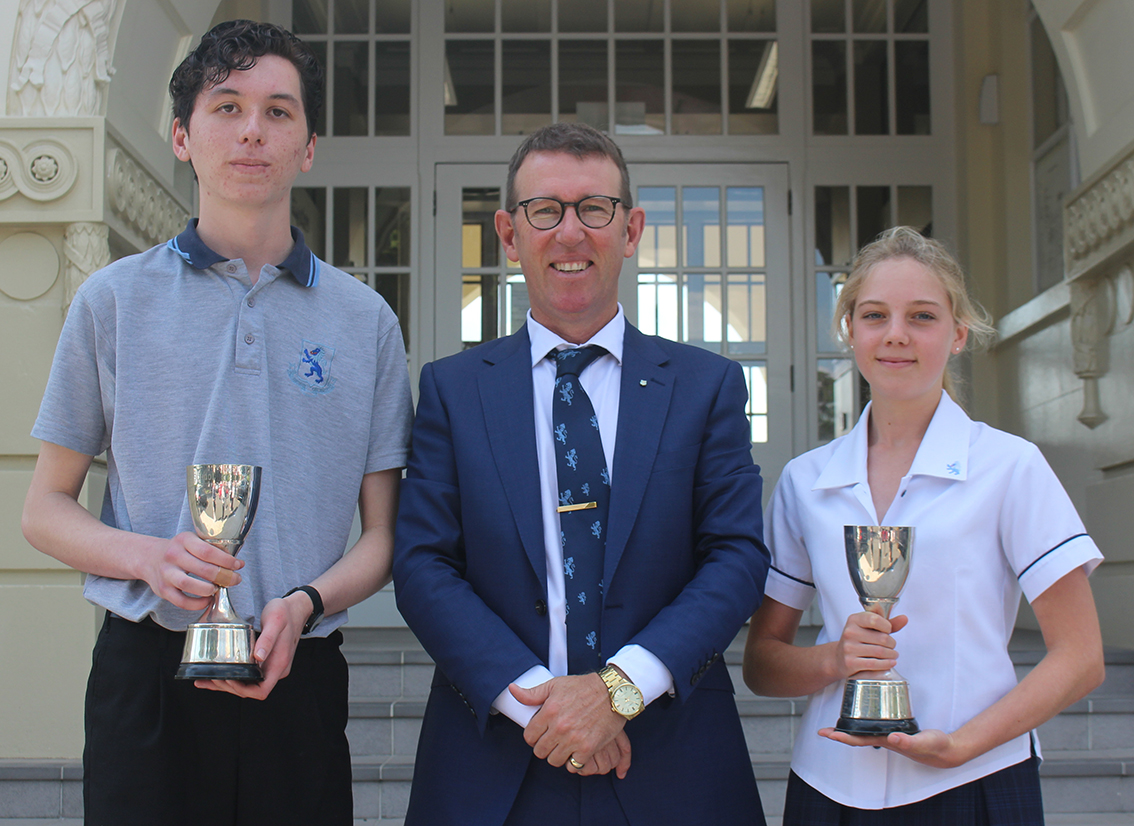 Headmaster Mr Patrick Drumm with the 2019 Junior Boy Dux Sam Mandeno-Clay and Junior Girl Dux Eva Wadsworth.
The school year wrapped up on a high note today with the recipients of MAGS' top Junior academic, sports, arts and service awards for 2019 being celebrated at the Year 9 and 10 Prizegiving ceremonies.
The Junior Girl Dux and Boy Dux for 2019 are Eva Wadsworth and Sam Mandeno-Clay.
At prizegiving, Eva also gained first place in Year 11 Drama, the Junior Librarian Prize and certificates in Global Perspectives and Media Studies.
Sam also received the Des Cole Cup for Excellence in English and certificates of excellence in English, Global Perspectives, Music, Science, Social Studies and Visual Art & Design.
Nishera Gnanendra was named the Best All-Round Girl in Year 10, while Manas Chigurukota won the equivalent Boys' award.
The Paul Gardner Cup for Service in the Junior School was presented to Paige Tyson-Taylor and Kaemon Ah Kuoi-Simich for their involvement in a range of activities.
The Junior Victrix Ludorum was shared by twins Hannah and Natalie Brook with the Victor Ludorum being Ben Skelton.
The Junior Duces Artium are Max Cumberpatch and Lucy Taylor.
The Best All-Round Boy and Girl in Year 9 are Isaiah Fale and Bella Houghton.
The Neville Watson Award for the students who best exemplify the spirit of the school was won by Hokioramai Dunn (in Year 9) and Ella Sutton (in Year 10).
Lorielle Crowley and Jack Millar MC'ed the Year 10 Prizegiving, with a musical interlude from the Junior Boys Choir, who performed Edelweiss, conducted by Kanhaiya Naidu and accompanied by Eric Shen on piano. They repeated the performance in the afternoon for the Year 9 Prizegiving, this time accompanied by choirmaster Terrence Maskell on piano. Tabitha Freeman and Jackson Boswell MC'ed the Year 9 Prizegiving.