Alan Esmond Bollard CNZM, PhD, LLD, FRSNZ (1964-1968)
A former Governor of the Reserve Bank, Dr Alan Bollard was inducted into the Mount Albert Grammar School Hall of Distinction on Wednesday, 18 March.
Dr Bollard is currently executive director of the secretariat of Apec, and returned from his Singapore base for the ceremony. Attending with him were, pictured below from left, his wife Ms Jenny Morel, brother Mr Richard Bollard, who also attended MAGS, sister-in-law Ms Jane Moore and stepmother Mrs Joy Bollard.Dr Bollard attended Mt Albert from 1964 to 1968. He was head librarian in his final year, was awarded a number of scholarships and was Dux of the school. His father, the late Dr Edward Bollard, was also Dux and later inducted into the Hall for Services to Botany – he was President of the Royal Society of New Zealand from 1981 to 1985, and a former Director of Plant Diseases Division, DSIR. Edward and Alan are the only father and son to both be Dux at MAGS and inductees into the Hall of Distinction.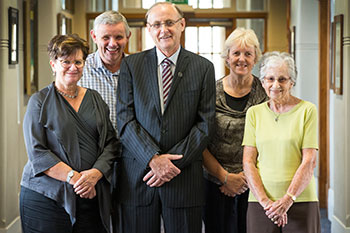 Dr Bollard's citation was read by Mr Peter Thorp, who was Head Boy in Dr Bollard's final year at MAGS and is now Chairman of the MAGS Foundation. Also present were he Chairman of the Board of Trustees, Mr Greg Moyle, President of the Albertians' Association Mr Ben Stallworthy (pictured above with Dr Bollard), Headmaster Mr Dale Burden, Deputy Headmaster Mr Paul McKinley, Director of the MAGS Foundation Mr Tim Kay and former Headmaster Mr Greg Taylor, along with a number of Albertians, some of whom were at school with Dr Bollard.
In his speech to the Year 9 and Year 13 students present, Dr Bollard said they were fortunate to attend a school that prepared them well for the future.
"A lot of the jobs you will do haven't been created yet, and the technology you'll use hasn't been invented yet, but you will be at the forefront of that … in the future there will be two types of workers – those who create technology and those who use it. I advise you to be the ones who create it," said Dr Bollard.
He also paid tribute to the teachers who had inspired him, and encouraged the students to make the most of the teachers who inspired them. "They will help set you on the right path for your future."