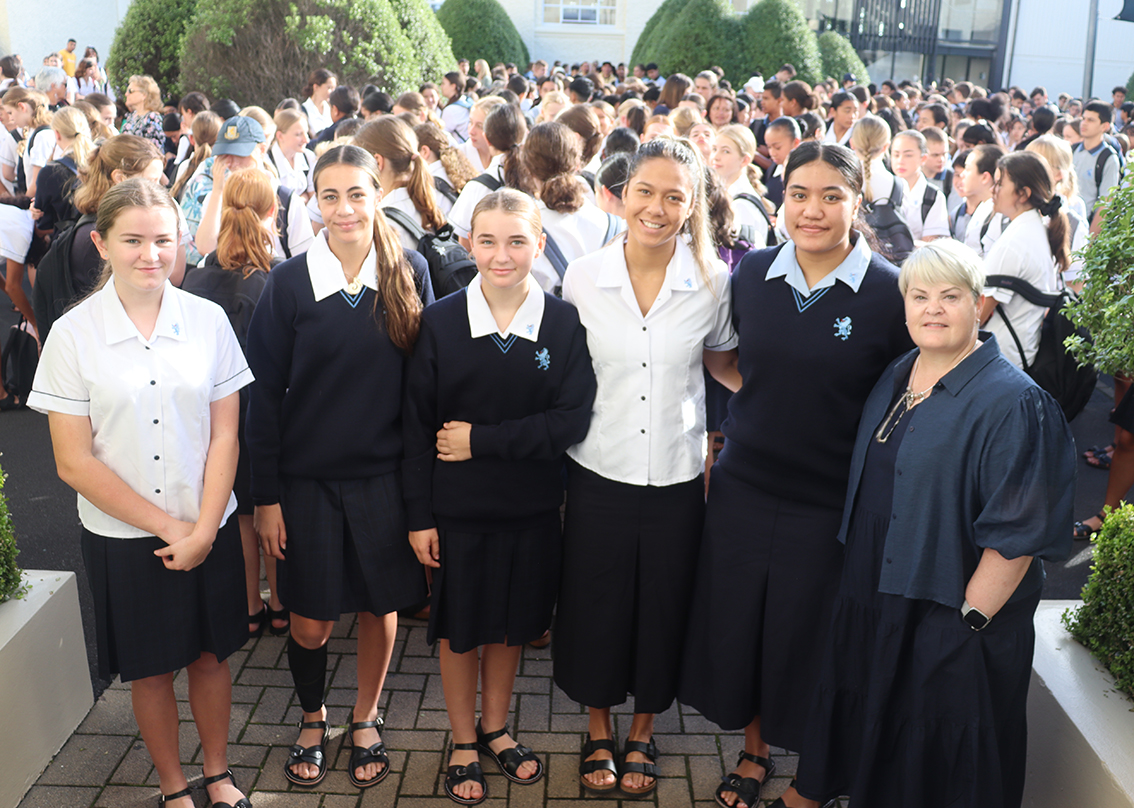 Centennial House manager Karen Kidd with boarders, including Years 9s waiting to start their first day.
About 700 excited Year 9s had their first day at MAGS on February 7 as the school year finally got underway.
The Year 9s gathered in the Albertian Quad before entering the F.W. Gamble Hall and being greeted with a haka by Te Puna o Wairaka students as part of a pōhiri led by Matua Pete Walters.
Teacher Leti Maupese, who is starting in the PE and Health Department this year, spoke on behalf of the new staff, while Dave Murdoch (brother of former Deputy Principal Tom Murdoch) spoke on behalf of parents. He has a daughter who started as a Year 9 that day.
Headmaster Mr Drumm welcomed the new staff  and students, saying everyone was excited about beginning a new school year and building on the strong traditions of the first 100 years of  MAGS.
After they were assigned mentor classes, Peer Support leaders helped them to get to know each other and guided them around the school grounds.
Before lunchtime, the Year 9s had their first assembly where they were informed of MAGS' values and guided through the school hymn by Albertian Tali Meavale. They were also introduced to Year 9 Deans Chris D'Souza and Jignesh Keshoor, and Deputy Principals Sarah Hayes and Toby Powell, who are responsible for the Junior School.
Following lunch, the Year 9s rejoined their Peer Support Leaders for more orientation.