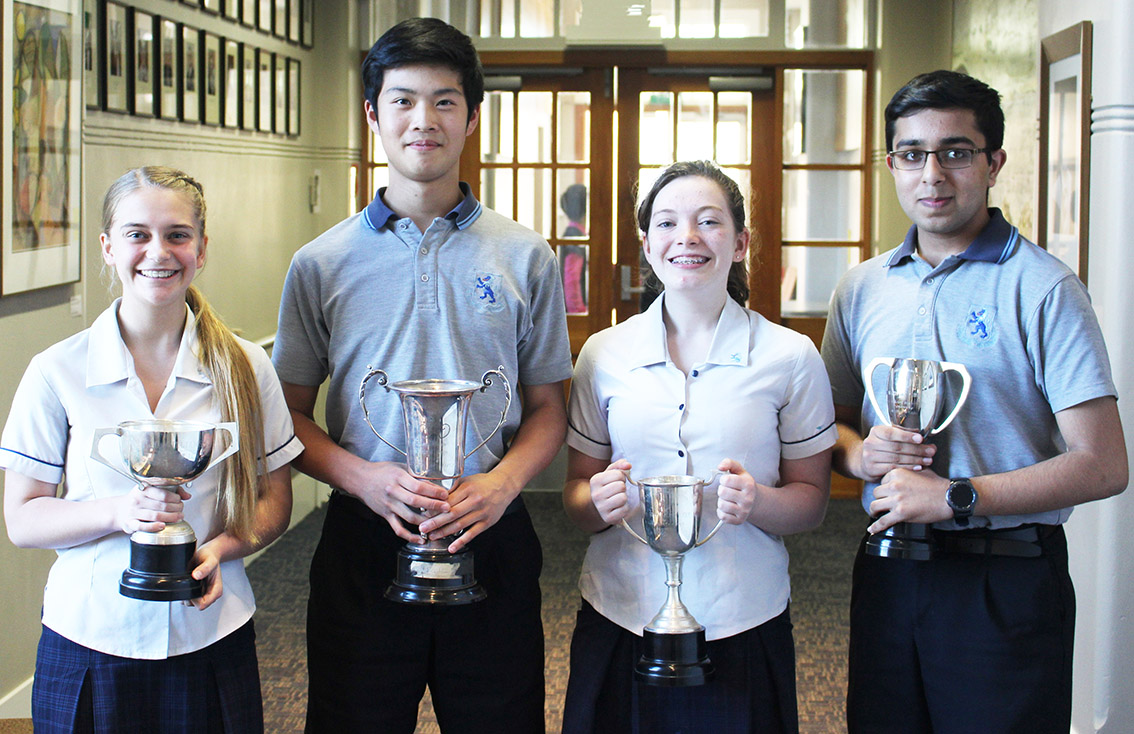 Top Year 11 students (from left to right): Bethany Fletcher, Eric Shen, Eloise Muir and Vaibhav Nayyar.
Eloise Muir and Vaibhav Nayyar won the top awards at the Year 11 Prizegiving, held in the F.W. Gamble Hall on October 26.
They were named the Best All-Round Girl and Boy, winning The Brian Murphy Cup and The Warwick Gibbs Cup respectively.
The two other top prizes for Year 11 were won by Bethany Fletcher (The Jo Williams Cup for Diligence) and Eric Shen (The Robert Willmott Memorial Prize for Quality of Effort). Eric also delighted guests at the prizegiving with a Beethoven piano sonata – one of the event's musical interludes.
Before the ceremony (MC'ed byDeputy Head Girl Rosarina Pillissi and Deputy Head Boy Billy McColl), Head Boy Isaac Munro and Head Girl Hannah Houghton were presented with korowai by the Gallagher-Sullivan whanau. The korowai will be handed on to their successors.
Isaac and Hannah addressed the guests at the prizegiving, which was also treated to a rendition of the Ed Sheeran hit Perfect by Tuiaki Fiuloi and Milan Stevenson.
Year 11 students were also honoured with certificates or for coming first in a subject.
When it came to the big awards, Eloise won Best All-Round Girl, having already achieved NCEA Level One with an Endorsement of Excellence. She has attained 90 credits at Excellence level – 70 at Level One, 18 at Level Two and 10 at Level Three.  She has no single grade below a Merit.
He extra-curricular activities include a Silver Duke of Edinburgh Award, MUNA, the Environmental Club and Relay for Life.
She is part of the school orchestra, a confident debater and was a participant in the Sheilah Winn Shakespeare Festival.  She has also represented the school in fencing.
Vaibhav, as Best All-Round Boy, has already achieved NCEA Level 1 and is currently only two credits shy of achieving Level 2.
He has provided service to others in many ways including acting as a volunteer on Motutapu Island, and has taken on the roles of Digital and Technology leader as well as being a school librarian, a member of the Interact club and involved in the Student Academic Council.
He is a member of the MAGS Robotics team, represented the school in Orienteering and is currently completing his Silver Duke of Edinburgh award. He has taken part in MAGS Spoken Word, represented the school in the Brain Bee challenge as well as an Engineering competition and the North Island Secondary Schools Science Bowl Tournament where his team reached the semi-finals. He is also a member of the MAGS Premier Junior Debating team, which recently won the Auckland competition.
Bethany was awarded The Jo Williams Cup for Diligence, having gained her Endorsement of Excellence for NCEA Level 1 at the end of Term 2 this year.
For her service to the arts, she was awarded the Junior Arts Award and the Junior Academic Dance Trophy last year and this year is First in Y12 Dance. She has also completed her Duke Of Edinburgh Bronze award.
This year, she danced in the Polyfest Samoan group and was considered by the leaders as one of the most graceful dancers of the Siva Samoa. In the school production The Green Room she played the part of a self-assured Matilda, again showing her natural talent for drama and theatre performance.
Eric wonThe Robert Willmott Memorial Prize for Quality of Effort, having  consistently achieved Excellence grades, and for a love for learning evident in the range of his subjects, which are not only varied in their nature but also include some at Level 3.
He is a member of many school groups including the Robotics team, MAGS Spoken Word and is working towards completion of his Silver Duke of Edinburgh award. He represented MAGS at the Brain Bee competition and has proven himself to be an excellent debater, being a member of MAGS' recently crowned Auckland Premier Junior Debating team. He is a highly talented musician and his prowess is enjoyed at assemblies where he plays the piano.
For a full list of Year 11 prizes and certificates, click here