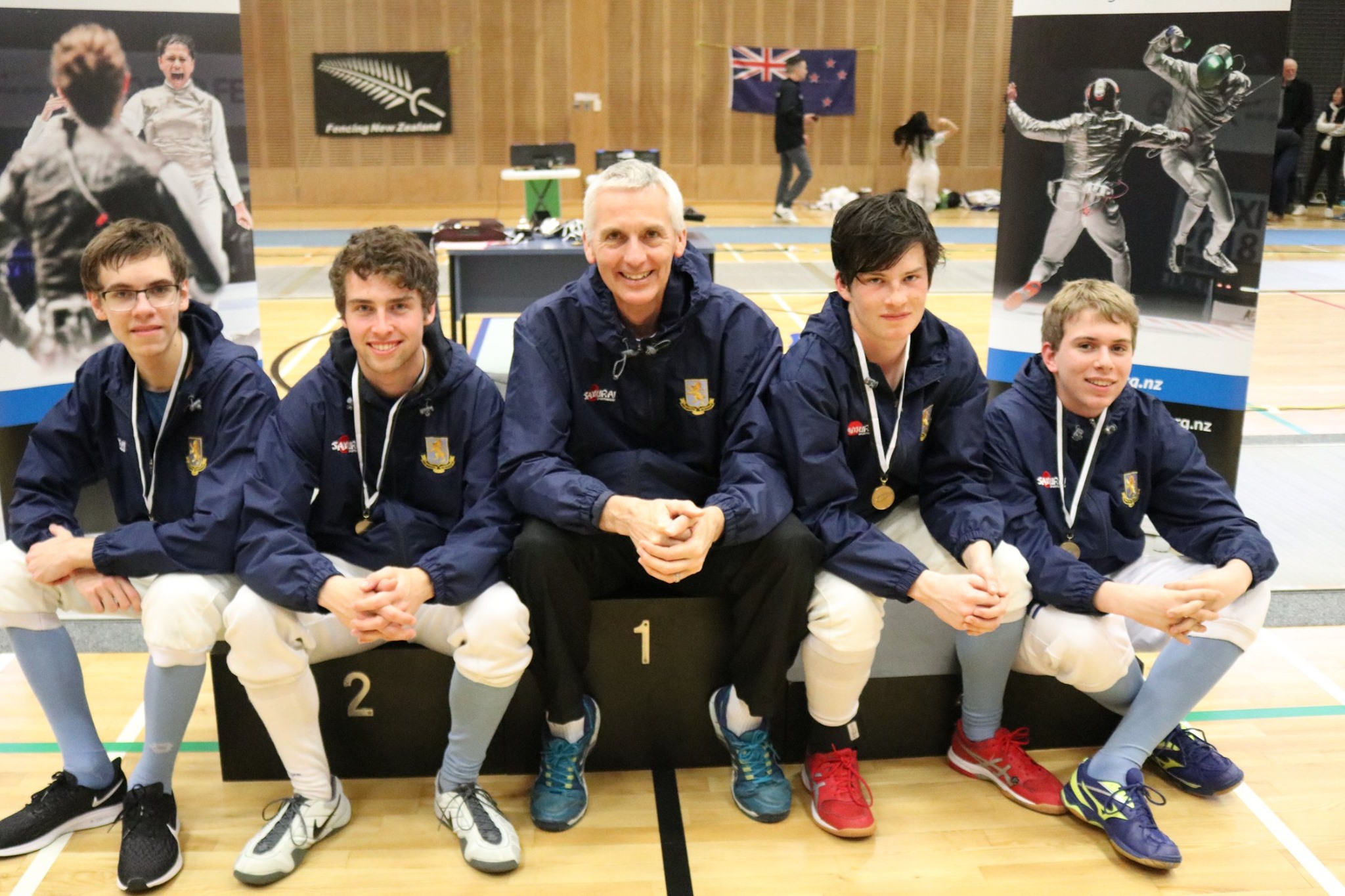 Many thanks to the staff, parents, family members and Albertians who have coached, managed and/or supported MAGS teams throughout Winter Tournament Week.
More than 200 students participated in various sports throughout the country during the week and it wouldn't be possible without all the helpers behind the scenes.
Sunday, September 8
An outstanding effort from the MAGS Fencing team to win the Girls and Boys Epee Teams events as well as Charlie Bioletti being the NZSS Individual Epee Champion, with James Butler Runner-up and Gio Aguilar 3rd equal – a MAGS trifecta.
On top of that, Amey Smith won Bronze in the Womens' Individual Epee.
The Boys A Team (pictured above with coach Kyle Macdonald) won the Epee Teams event in dramatic fashion with Charlie winning the last point when both teams were tied on 44 points (45 points to win it).
Special thanks to MAGS Coach Kyle Macdonald for championing the event at MAGS and his commitment to coaching the team.
Lacrosse also wrapped up on Sunday, with the Premier girls finishing 6th in their tournament at Pulman Park.
Saturday, September 7
Basketball finished up today, with the Premier Boys team qualifying for Nationals in Palmerston North later in the year by finishing 6th. Unfortunately the Girls missed out on going through after a close game against Massey.
Friday, September 6
A big effort from the Hockey Boys 1st XI, who beat Rotorua Boys High 3-2 in their last game today to finish third at their tournament in Whangarei.
In Christchurch, the Football Girls 1st XI were also in a playoff for 3rd/4th but went down 1-0 to Epsom Girls Grammar.
The Rugby U15s rounded off their tournament with a good win – 31-19 over Westlake Boys High – in Napier.
Also in Napier, the Football Boys 1st XI lost their final game 1-3 to Tauranga Boys High to finish 6th.
Our Netball Premiers lost their last game today – to Baradene College – to finish 8th at UNISS.
In Curling, the four-person Mixed Team of Bryn Williams, Jack Millar, Lily Hardy and Hashmita Singh were runners up in the NISS competition in their debut season.
The team was approached by one of the Auckland Curling Association international representatives who is keen to do some coaching with them next season.
Thursday, September 5
Both the Football Girls 1st XI and the Hockey Boys Premier 1st XI had tough semifinals teams. Both teams gave it their all as the games ended in a draw and went to penalty shootouts. Neither team were successful but showed great effort and determination. The final games for 3rd/4th will be played on Friday.
Most of the tournaments wrap up with their final games on Friday but Premier Basketball, Lacrosse (both at Pulman Park) and Fencing (at MAGS) continue into the weekend.
Wednesday, September 4
The Football Girls First XI won today to progress to the semi-finals on Thursday.
Unfortunately, the Football Boys First XI just missed out after a 1-2 loss to a strong South Island team in King's High School.
The Premier Netball side is through to the Top 8 round on Thursday, with a close loss to Avondale this morning followed by a convincing win tonight against One Tree Hill.
The Hockey Boys First XI won again today and go to a semi-final match on Thursday. The Hockey Girls First XI was unsuccessful today but are playing good hockey and improving every game.
The Curling team has made it through to the mixed final on Thursday night, and the U15 Rugby came through right at the end to win 26-20 over Christchurch Boys High.
Basketball has started strong today with both Premier teams playing at Pulman Park Stadium, with the Boys having two wins and the Girls a loss followed by a win.
Lacrosse is also due to start at Pulman Park from Friday, and there is NZSS Fencing starting at MAGS on Friday and continuing over the weekend.
Tuesday, September 3
Congratulations to the Junior Premier Basketball Girls, who finished runners-up in the Schick AA Regional tournament to Westlake Girls High.
Well done to all the basketball teams who have wrapped up today at the junior tournament. The Premier tournament starts tomorrow at Pulman Park.
In Football, both the Boys and Girls First XIs are through to the top 8, going through their pools undefeated and winning their top 16 games this afternoon. Quarter-finals tomorrow for both teams.
Premier Netball and Hockey Boys First XI  remain unbeaten in soggy conditions on the North Shore and in Whangarei respectively as they head into their crossovers on Wednesday
The Hockey Girls First XI has battled in tough conditions today, and the U15 Rugby team had a close win over Tauranga Boys High.
For full results, visit the fixtures and results page here