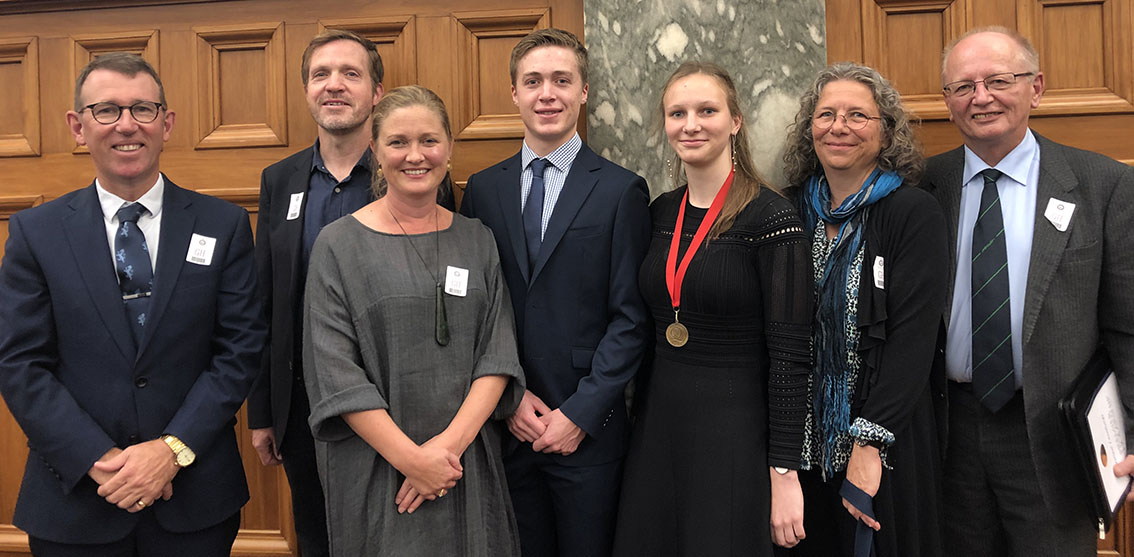 Jonathan De Pledge and Miriam Leonhardt, at centre, with their proud parents alongside – Stephen and Heather, and Beatrix and Rainer, respectively – and Headmaster Patrick Drumm at the Top Scholar Awards.
Miriam Leonhardt and Jonathan De Pledge were officially recognised as being among the country's most gifted academic students at the 2018 New Zealand Scholarship Top Scholar Awards held at Parliament today.
At the Wellington ceremony, Miriam was congratulated on being a Premier Scholar and the top female secondary school scholar in the country. Miriam, the Girls Dux of 2018, is one of only 11 Premier Scholars in the country, with the other 10 all being male. She achieved Scholarships in seven subjects: Biology, Calculus, Chemistry, Earth and Space Science (Outstanding), German, Physics (O) and Statistics (O).
Premier Scholars receive $10,000 per year for three years towards their studies. The last time MAGS had a Premier Scholar was in 2006.
Jonathan, who was Boys Proxime Accessit in 2018, was named a Top Subject Scholar at the awards with the best mark in Physics in the country. And he was only one mark shy of being the top scholar in Calculus as well. Jonathan is also an Outstanding Scholar, with Scholarships in Calculus (O), Chemistry (O), Earth and Space Science, Physics (O) and Statistics. For this, he gained $5000 per year for three years of study.
Miriam is enrolled for a Bachelor of Science degree with a double major in Physics and Mathematics at the University of Auckland, while Jonathan is also studying a BSc at Auckland in Physics and Mathematics.