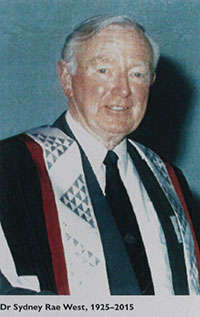 Dr Sydney Rae West
MBChB, DipObst, DipProfEthics, FRCGP, FRNZCGP (Hons), FAFPHM.
Dr West was widely known as Rae. He was at Mount Albert Grammar School from 1939-1942 and was in top classes all the way, winning High Merit Certificates most years. He was in the Rifle, Camera and Chess and Draughts Clubs, was a surf lifesaver, senior soccer player, tennis player, rower, boxer and Houseboy, his family home being in Waiuku. Rae was a top all-round boy.
On leaving MAGS Rae studied medicine at the University of Otago where he was a rowing blue in 1947. He graduated in 1948. After the usual stint at several hospitals he returned to Waiuku in 1951 and remained there for 22 years.
The Post, a community newspaper, noted that:
"… He was active in the Camera Club, the Waiuku Yacht Club and also had a strong interest in the history of the Franklin District." It went on to say that he had a close relationship with ambulance services and district nurses. As well as being a country GP who made home visits, he had an extensive obstetric practice and served on National GP bodies.
He was awarded a Nuffield Travelling Fellowship in 1971 to study in London (the base of the Nuffield Foundation) followed by study in Europe and the United States.
Following this, in 1972, he and his family moved to Dunedin where he took up a senior lectureship in the Department of Preventative and Social Medicine at the University of Otago.
In 1977 the family moved back to Auckland where Dr West had been appointed an Associated Professor in the Department of General Practice at The University of Auckland.
Dr West was active in many fields. A eulogy in the Journal of the Royal New Zealand College of General Practitioners points out that he was active in the establishment of the College. He was also the Editor of New Zealand Family Physician.
Always a family man, he wrote and illustrated A Guide to the Trees of New Zealand. The book was initially for his children but reached a wider audience. Trees were identified by their leaves – a simple and effective method. He used his own original classification, and each of the true-size leaf drawings were by Rae.
The Post eulogy mentioned that he "maintained a strong interest in ecology and sustainability in the natural world. Latterly, he was a member in his local U3A Ecology group. Rae was able to draw well and he carved wooden and bone figures as a hobby.
He was an avid reader of diverse authors, loved poetry and maintained a strong interest in science throughout his life."
An aphorism attributed to Abraham Lincoln goes:
"And in the end it is not the years in your life that count. It's the life in your years."
Sydney Rae West had a great deal of life in his years. He passed away in 2016.