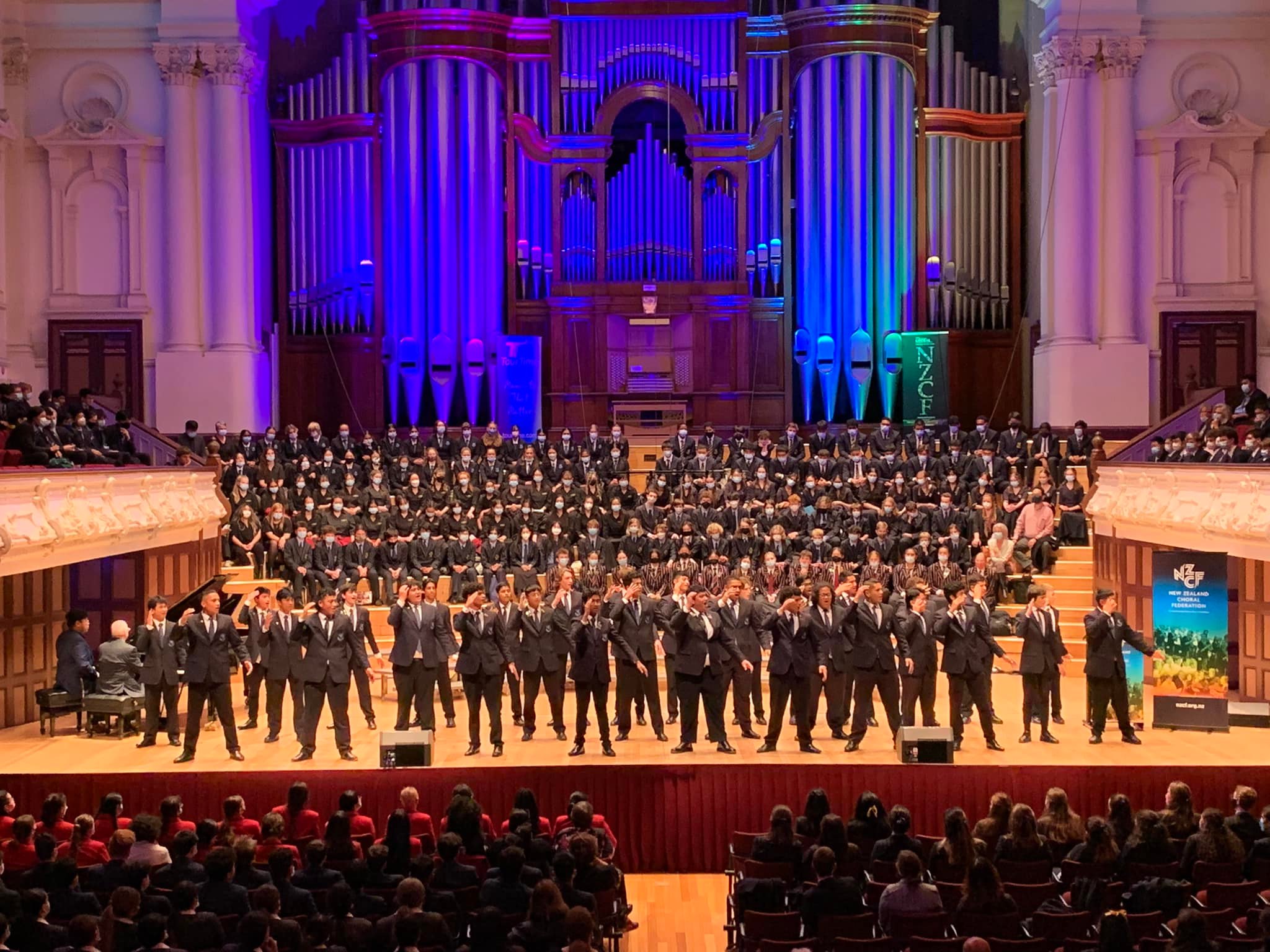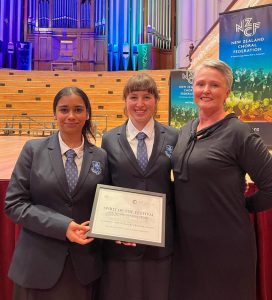 Terrific performances by MAGS Boys and Girls choirs – The Centennial Choir and Gloriana – saw them both pick up major awards at the NZCF The Big Sing on Wednesday at the Auckland Town Hall.
Gloriana sang before an appreciative crowd and was the proud recipient of the Spirit of the Festival – Youth Ambassadors Award. This $500 award is sponsored by the Ministry of Youth Development.
Choir Director Catherine Oxenham said, "Since its launch in 2021, Gloriana has given its members individual purpose, a shared goal and the experience of the collective power of authentic choral music."
She said that she and Associate Choir Director Ruth Pearson couldn't be more proud of the choir's achievement, and its renditions of
Hine e Hine
and
I Sing Because I'm Happy.

"This particular award recognises the special character of this group and its student leaders Lara Grozev and Sanskriti Roy (pictured right with Mrs Oxenham).
Receiving this award will allow Gloriana to continue to develop technical choral skills and purchase new, exciting repertoire.
The 35-strong Centennial Choir, directed by Terence Maskell, sang
Linstead Market
and
Te Aroha
as part of their repertoire.
Linstead Market
was a crowd favourite and many enjoyed the upbeat sound from the boys.
Te Aroha
was also well-received, with audience members being moved by the wairua and mana from the boys, and it had the biggest standing ovation of the night. This performance won the choir the Te Tohu Waiata Award for An Excellent Performance of a Work Using Maori Text
Both choirs await results from the Auckland Regionals to see if they go on to the National Finale or regional Cadenza competitions. They will also perform in the end-of-term music concert.