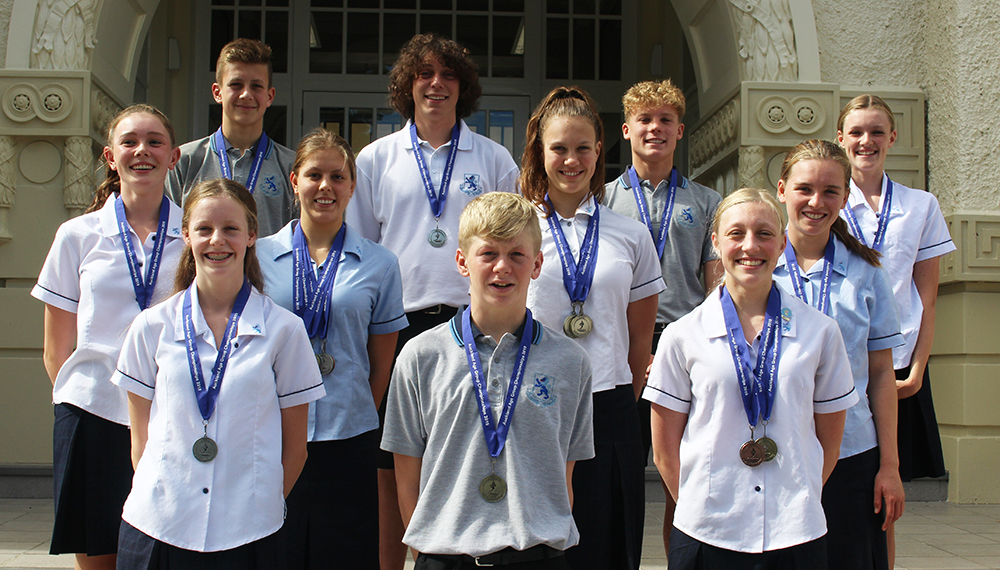 Auckland Age Group Championships medallists pictured above are (at back from left to right): Bowen Crawford, Bede Aitu, Michael Chapman, Amber George. At middle: Edie Ancell, Vasilina Shipilova, Brearna Crawford, Ella Speight. At front: Isla Marsh, Hunter Dobson, Lucy Woodall.
MAGS swimmers achieved outstanding results at the Auckland Age Group Championships held at West Wave Aquatic Centre last weekend.
Talented MAGS student Brearna Crawford was outstanding in her nine-Gold medal haul. Brearna rewrote the record book and broke five Auckland 16yrs Girls records, two of which had stood for 27 years. Brearna swam under the World Junior Championship Qualifying time in the 200m Breaststroke.
Auckland Age Group Champions from the MAGS Aquatic Academy program are as follows: Hunter Dobson, Lucy Woodall, Bowen Crawford, Edie Ancell, Vasilina Shipilova, Lara Grozev and Brearna Crawford.
The swimmers will now prepare for the Champion of Champions and NZ Age Group Championships in five weeks.
Medal Results
Name
Age
Events
Key
Team
Brearna Crawford
16yrs
9 Gold 200 IM *50 Fly

*100 Fly 50 Fr 400 IM *50 Br  *#200 Br 50m Bk
*100 Br

*5 Auckland Records

#1x World Jr Champions

MAGS
Hunter Dobson
13yrs
2 Gold 100 200 Bk

1 Silver 50 Bk

MAGS
Lucy Woodall
15yrs
1 Gold 200 IM

1 Silver 100m Br

1 Bronze 50 Bk

MAGS
Vasilina Shipilova
17yrs+
3 Gold 200 IM 400 IM 200 Br

1 Bronze 200 Bk

MAGS
Edie Ancell
14yrs
1 Gold 50 Fr

1 Silver 100 Fr

MAGS
Bowen Crawford
14yrs
1 Gold Bowen Crawford

1 Bronze 200 Br

MAGS
Lara Grozev
14yrs
1 Gold 400 IM

2 Bronze 200 IM 100 Bk

CCY
Bede Aitu
17yrs+
3 Bronze 200 Bk 100 Bk 50 Bk
CCY
Isla Marsh
14yrs
1 Silver 200 Fly
CCY
Ella Speight
17yrs+
1 Bronze 100m Fly
CCY
Michael Chapman
15yr
1 Silver 50m Fly
MTE