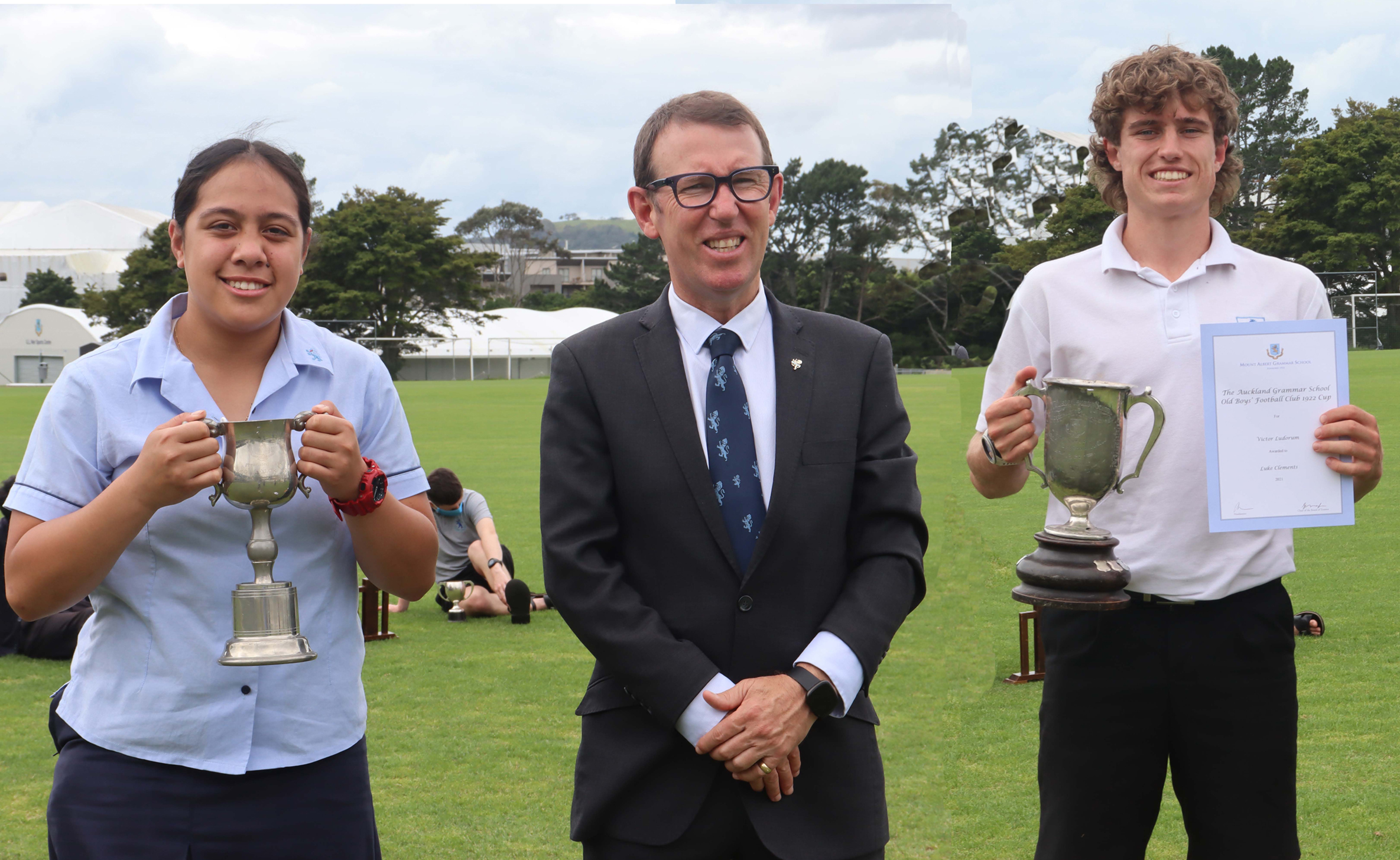 Sylvia Brunt and Luke Clements (pictured above) were named Victrix Ludorum and Victor Ludorum respectively in the 2021 Sports Awards.
Due to Covid restrictions, the format for this year's awards was somewhat different to past years – held outdoors for ventilation, and with masks and social distancing.
Award recipients assembled in the Albertian Quad to be presented with trophies and certificates before being photographed and moving on to the fields for more photos and the announcement and presentation of the four top awards: Victor and Victrix Ludorum, and Outstanding Sporting Achievement (Boys and Girls).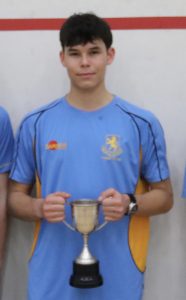 Luke Clements was named Victor Ludorum for his achievements as the Boys Captain of MAGS Athletics, which he has been a member of since Year 9, earning his five years of service to Premier sport this year.
He is the New Zealand Secondary Schools and Auckland Secondary Schools open Steeplechase champion and has been named MAGS Senior Athletics Champion.
Luke was also a member of the winning 4x 400m Senior Boys relay team. He is also co-captain of the Boys 1st XI Hockey team, having also played in this team for all his five years at MAGS.
Luke has been MAGS Senior Boys Cross-country Champion the last three years as well as competing for the Champion Boys Orienteering team and representing NZSS in the Orienteering World Champs  in Estonia as a Junior.
Sylvia was named Victrix Ludorum for her achievements as Captain of the Rugby Girls 1st XV, who were named Auckland Champions this year. Sylvia also played for the inaugural Blues Women's Team, the Farah Palmer Cup Auckland Storm team and attended the Black Ferns Development camp.She has played in the NZ Condor 7s team, which also won the World 7s tournament. Sylvia has won the MAGS Girls Player of the Year trophy and the Player with the Highest Representative Honours trophy, both for Rugby.
Tarin Love (pictured right) won the Olympic Cup for Outstanding Boys Achievement in Sport.
Tarin is Captain of the Premier Boys Squash team that won the Premier Auckland season as well as the Auckland Champs tournament. He was a member of the MAGS team that has won two national titles and was selected for the NZSS  team to compete in 2020 and 2021. Tarin also won the MAGS Senior Squash Champion trophy this year and received his certificate for five years of service to a Premier team.
Hannah Adye won the Te Aroha Keenan Cup for Outstanding Girls' Achievement in Sport.
Hannah is Girls Captain of the MAGS Athletics Team. She is the current NZSS Open Women's Pole Vault Champion, the Auckland Secondary Open Girls Champion and the New Zealand Junior Women's Champion.
For all the other winners click here