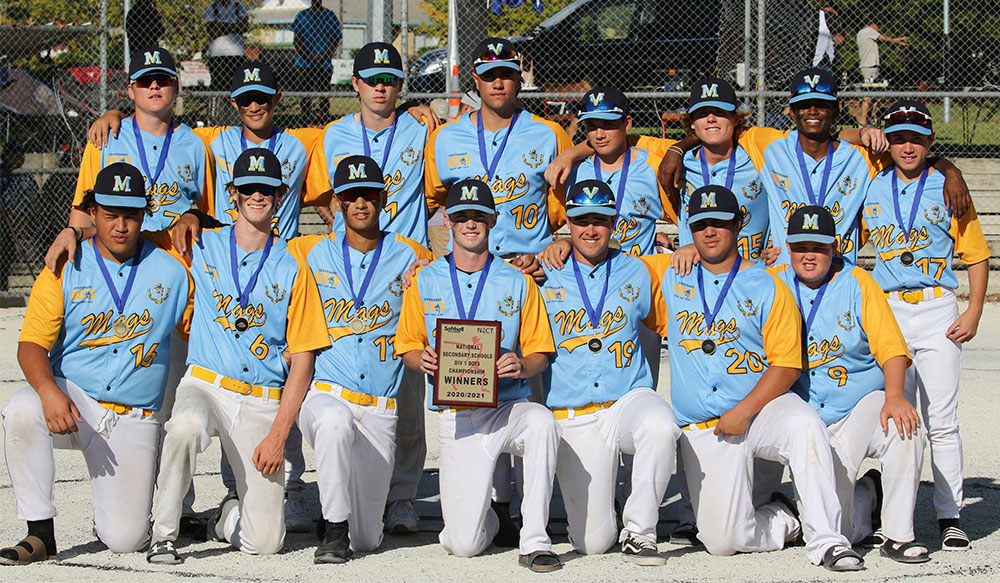 Congratulations to our Softball Boys Premiers, who won their eighth straight NZ title on March 25 with an 11-4 win over Rosehill College at Papakura's Prince Edward Park.
After winning all their games during the four-day NZSS tournament, Captain Ryan Earley and the boys came out for the final with one mission on their mind: to win nationals.
Rosehill College had a great game and managed to score two automatic home runs, however our boys were relentless and took the win in the bottom of the 5th innings by 11-4 and took home the national title for the eighth consecutive time.
The following players were named in the Tournament Team: Brendan Kopu-Lowerson (Tournament MVP, Top Catcher, co-Top Batter), Cole Joyce (co-Top Batter), Luke Roberts (Top Pitcher), Maclain Roberts, Ford Henare, Caden Cloete, Gabreyl Tahi Tahi and Kinah George-Koteka.
And a big thanks and congratulations to MAGS' Coach Kelvin Roberts and Manager Megan Earley, who not only steered MAGS to another national title but were also named to oversee the Tournament Team.
The Softball Girls Premiers also played out at Prince Edward Park and had some mixed results to finish fourth. They lost both games on the Wednesday, which had them playing off for 3rd/4th v Westlake Girls' High School, who took the win.
Well done to Gabby Murare (Top Catcher), Lizzy Robins, Waimarie Tawera and Aaliyah Henare, who were named in the Tournament Team.