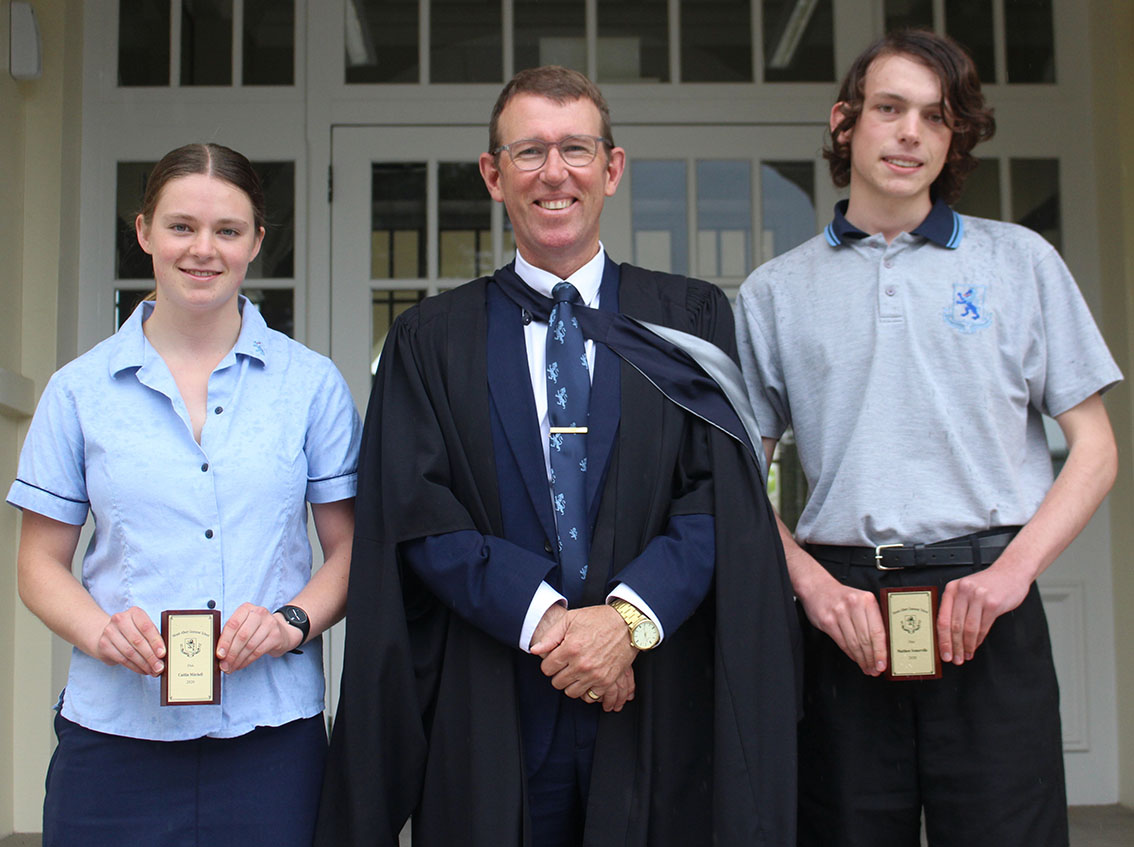 History was made today when Matthew Somerville (above right) became the first Year 12 student to be named Dux at Mount Albert Grammar School.
He was the Top Boys Academic alongside Caitlin Mitchell (above left), who was named Girls Dux during the Senior Prizegiving ceremony held in the FW Gamble Hall.
As Academic Dean Mr Gibbs said of Matthew, "This year's boys' dux is a quite remarkable young man with great talent in every subject he studies. Not once has he gained anything less than excellence in any NCEA standard: 268 excellence credits out of 268. No-one has done that in our school before."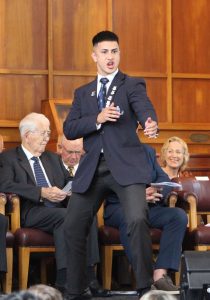 Mr Gibbs said of Caitlin, "This year's girls' dux is a science-mathematics specialist with highly developed skills in foreign language and Geography. She has passed all three levels of NCEA with excellence with 92 excellence credits out of 92 at Level Three."
Both Matthew and Caitlin won a slew of other awards on the day, which you can see along with all the other prize-winners, scholarship recipients and certificate awardees here 
Proxime Accessits were Bailey Bennett and Head Boy Eric Shen, who was also named Best All-Round Boy in Year 13, while his counterpart, Head Girl Megan Williams, picked up the award for Best All-Round Girl in Year 13.
The pair were also awarded Chris Liddell Scholarships, which are each worth $5000 per year for three years and are granted to students who show strong academic potential and are also good all-rounders. They were presented by Alberitan Chris Liddell's brother John Liddell.
Alexander Pullen won the prestigious Woolf Fisher Scholarship, which his father had also won in 1990.
The only Gold Lion awarded – for gaining Lions in Academia, Arts, Sport and Service – went to Andre Pickering, who has had an incredible year, being named Victor Ludorum, Best All-Round Maori Student, and picking up a University of Auckland Scholarship.
Head Prefects Eric Shen and Megan Williams, who MC'ed the ceremony, gave their farewell speeches, thanking staff and their parents – and remarking on the strong bonds they have formed with their peers.
The top teaching awards were also presented. Science teacher Pat Barrett received the Herb Towers Travel Prize for a professional development trip overseas. Chris Liddell also awards Teacher Scholarships worth $10,000 each for excellence in teaching and contribution to the school, and these went to Waimirirangi Paul (Head of Te Puna o Wairaka) and Simone Connell (Specialist Classroom Teacher). Ms Paul was visibly moved by a haka performed in her honour by her students.
Oliver Bulman and Lucy Woodall were named Best All Round Year 12 Boy and Girl respectively, while Calvin Pooley and Nishera Gnanendra received the equivalent awards for Year 11.
The prizegiving also featured the Boys Choir singing Dream a Little Dream of Me, under the guidance of Tali Afele, who reappeared later to reinforce his special talents by singing It's Beginning to Look a Lot Like Christmas backed by Eric Shen on Piano.