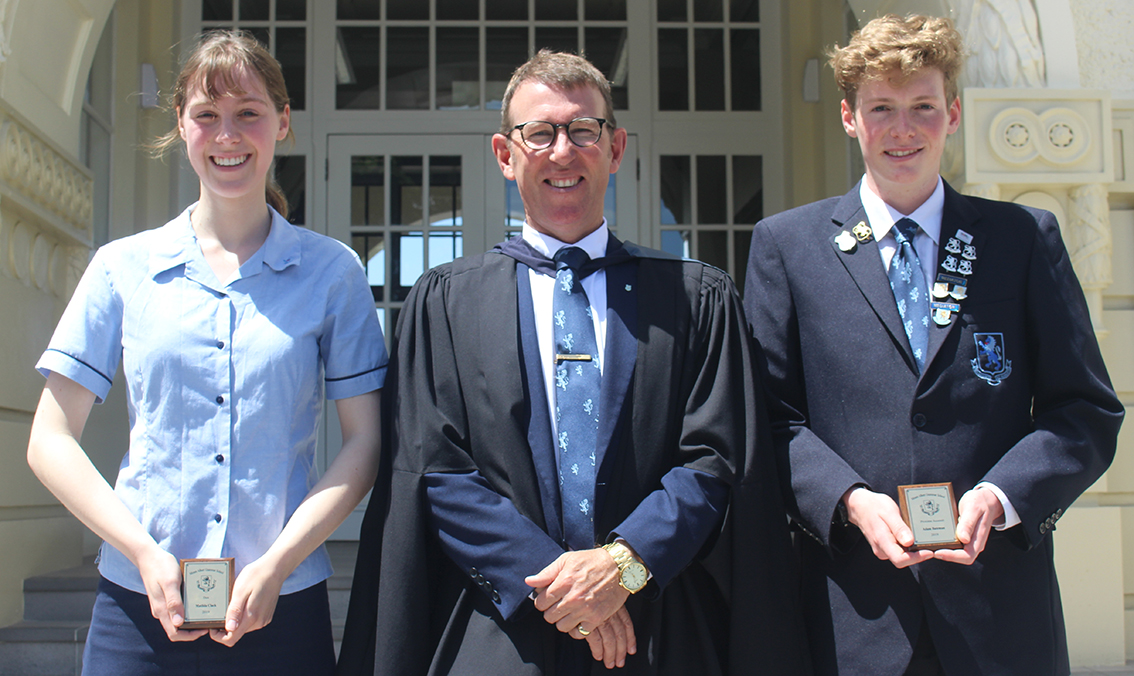 MAGS Dux for 2019 Matilda Clack is pictured above with Headmaster Patrick Drumm and Proxime Accesit Adam Bateman.
The Mount Albert Grammar School Dux for 2019 is Matilda Clack, with Adam Bateman named Proxime Accesit.
Both were also awarded Chris Liddell Scholarships at Senior Prizegiving in the F.W. Gamble Hall on October 31. The Chris Liddell Scholarships are each worth $5000 per year for three years and are granted to students who show strong academic potential and are also good all-rounders. They were presented by Chris Liddell's sister Dr Hilary Liddell, with brother John Liddell also in attendance at prizegiving.
Adam also won The FW Gamble Memorial Cup for Best All-Round Boy in Year 13 and was awarded a Gold Lion. Head Girl Takunda Muzondiwa won the Prefects' Cup for Best All-Round Girl in Year 13, and was re-awarded a Gold Lion.
Head Prefects Takunda Muzondiwa and Germain Hellriegel-White, who MC'ed the ceremony, gave their farewell speeches, thanking staff, peers and parents – and providing some humorous insights into life at MAGS.
The top teaching awards were also presented. Year 13 Boys Dean Andy Belson received the Herb Towers Travel Prize for a professional development trip overseas. Chris Liddell also awards Teacher Scholarships worth $10,000 each for excellence in teaching and contribution to the school, and these went to Haana Bovaird (Year 10 Girls Dean) and Carissa Calvert (Assistant HOF English).
Eric Shen and Megan Williams were named Best All Round Year 12 Boy and Girl respectively, while Oliver Bulman and Rosa Jack received the equivalent awards for Year 11.
The prizegiving also featured a Spoken Word performance from Takunda, and Germain Hellriegel-White, Kanhaiya Naidu, Tali Afele and DaRhys Simone singing an a cappella version of Jingle Bells.
For a full list of prizes and certificates, click here