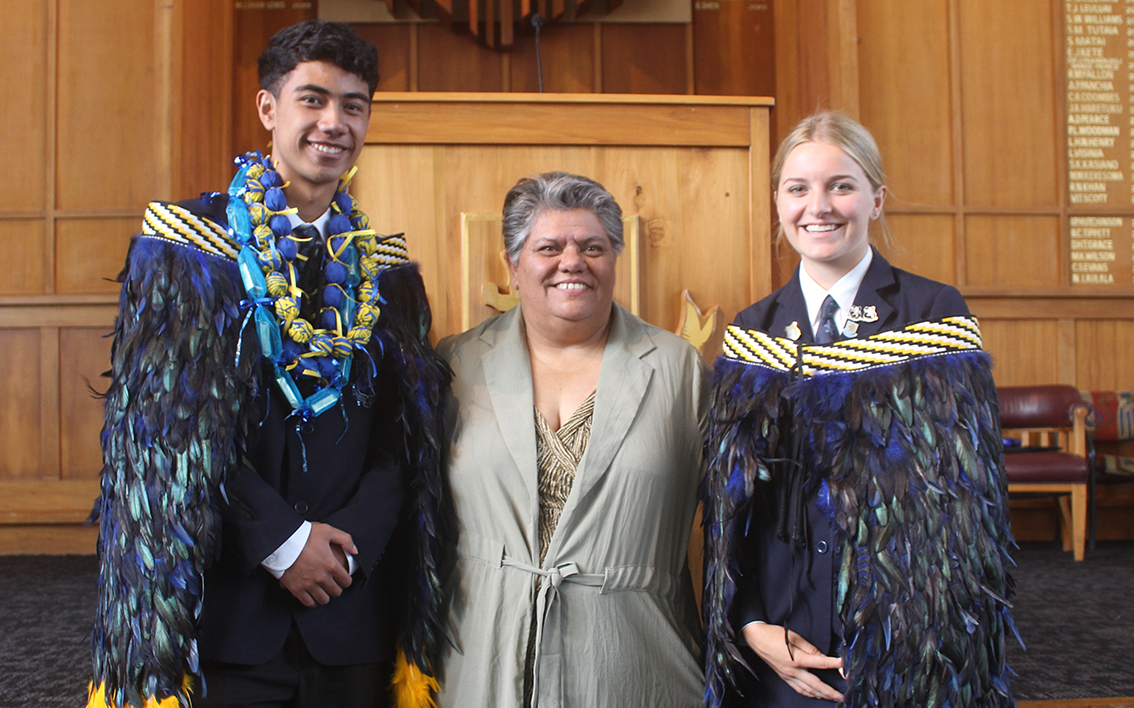 Whaea Tui Gallagher with Head Boy Marcus Savelio and Head Girl Hana Hilson after presenting them with their korowai.
Following the postponement of the Leadership Assembly earlier in the year due to the latest lockdown in Auckland, the 2021 Prefects were finally recognised and congratulated at today's Headmaster's Assembly for Year 13s.
Whaea Tui Gallagher, our Board of Trustees Deputy Chair, fitted Head Boy Marcus Savelio and Head Girl Hana Hilson with their korowai, which have been donated to the school by the Gallagher-Sullivan whanau and are a symbol of leadership.
Marcus and Hana then read out their fellow Prefects' names as they took to the stage to be congratulated by Headmaster Patrick Drumm.
2021 Prefects:
Hannah Adye, Tali Afele, Morgan Aiono, Edie Ancell, Matthew Batcheler, William Bell-Purchas, Henri Blakeley, Emeline Bloomfield, Maria Boow, Samara Brain, Sylvia Brunt, Oliver Bulman, Amelia Caltaux, Nate Carroll, Mingi Cho, Luke Clements, Matthew Denby, Grace Duan, Angus Edwards, Leilani Ginnen, Nofolisi Hala, Justin Hemara, Hana Hilson, Stanley Iongi, Humeera Imran, Rosa Jack, Char'lee Jones, Reet Kamra, Anna Kozawa, Lance Law, Jovis Meredith, Nicole Muir, Keertivaasan Prakash, Xander Pritchard, Marcus Savelio, Genevieve Taua, Boston Tofa, Pasilika Ulugia-Pua, Ullrich Von Reiche, Ella Vuetilovoni, Breanna Waka, Lucy Woodall.