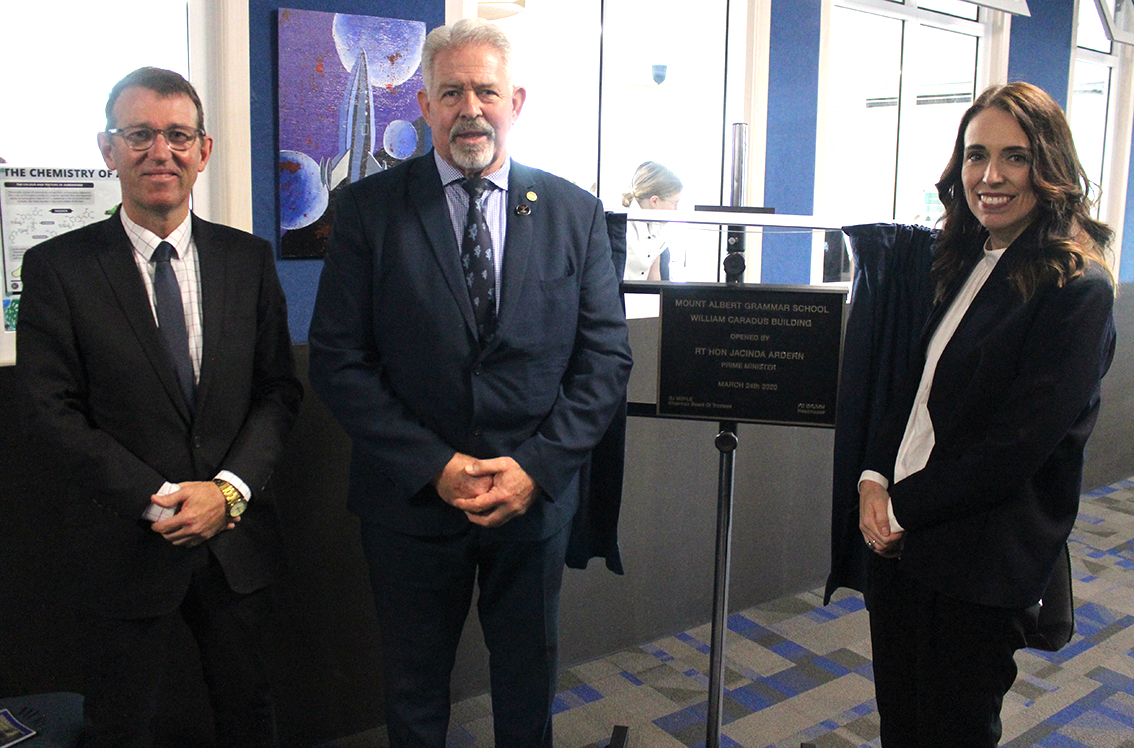 Prime Minister Jacinda Ardern officially opened the William Caradus Building today and toured the new Science block, talking to students and teachers.
Ms Ardern was scheduled to open the building, which has been in service since the beginning of the year, on March 24 but that was put on hold due to the COVID-19 pandemic.
At the ceremony today, Head Boy Eric Shen and Head Girl Megan Williams MC'ed proceedings, with Megan speaking about William Caradus, MAGS second Headmaster (from 1947-1954).
William Caradus, who fought in World War I and World War II, was a foundation master in 1922, Head of Science 1922-46, and Deputy Headmaster 1934-46. He was a teacher of Chemistry and Physics, and held a Master of Science – Chemistry 1st Class Honours.
Among the guests today were two former headmasters in attendance – Maurice Hall and Greg Taylor – as well as members of the Board of Trustees, MAGS Foundation Chairman Peter Thorp and National MP Melissa Lee.
In his speech, Headmaster Patrick Drumm said it was fitting that the building be named after William Caradus, who had contributed so much to MAGS in his tenure.
Mr Drumm also pointed out that the plaque, which he unveiled along with Ms Ardern and Board of Trustees Chair Greg Moyle, still had the date of the official opening as March 24 – a piece of history in itself – and this would be a talking point down through the years.
Ms Ardern spoke about the importance of Science in all walks of life, and the importance of buildings such as the Science block, which were inspirational in themselves.
Following the unveiling, the Boys Choir, under the guidance of choir director Terence Maskell, delighted Ms Ardern and the guests with their Gallipoli-infused version of the National Anthem in honour of William Caradus.
At the conclusion of the ceremony, Ms Ardern, who has an upcoming birthday, was presented with a birthday cake by Eric Shen.
She then enjoyed refreshments with the guests in the Science Block, and chatted to the Head Prefect team before taking a tour of the William Caradus Building and talking to staff and students.
She told a class of girls that New Zealand needed more scientists as they had been invaluable in advising her on two of the biggest challenges the country had faced recently: the Whakaari /White Island tragedy and aftermath, and the COVID-19 pandemic.