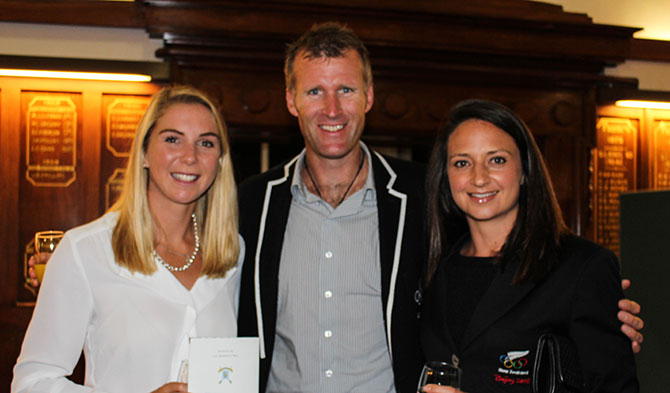 Olympic Gold medallist Mahe Drysdale with, left, World Champion Zoe Stephenson and Olympic Bronze medallist Juliette Drysdale (nee Haigh).
A Golden Night of Rowing on Friday, 25 September, 2015, was a star studded affair, as Olympic and Albertian rowers gathered from New Zealand and overseas to help launch a new scholarship fund.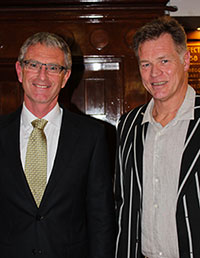 Olympic Gold medallist Mahe Drysdale and Albertian Shane O'Brien (pictured with Headmaster Mr Dale Burden), who won Gold at the 1984 Olympics, were guests of honour at the launch of the Kerry Ashby Rowing Endowment Fund, named in honour of the late MAGS rower, national champion, Empire Games Silver medallist, coach and patron. Mr Ashby was instrumental in restarting rowing at MAGS six years ago, and the fund will benefit students who have the talent but not the financial circumstances to take up the sport.
Mr Drysdale and Mr O'Brien were joined by a number of other Olympic and New Zealand rowers, and Albertians from rowing's heyday at the school in the 1950s and 1960s reunited in the FW Gamble Hall.
Radio Sport host and Albertian Mr Mark Watson was MC, and interviewed the Olympic rowers on stage throughout the evening.
Also in attendance were Headmaster Mr Dale Burden, Chairman of the MAGS Board of Trustees Mr Greg Moyle, Chairman of the MAGS Foundation Mr Peter Thorp, MAGSROW parents, rowers and supporters.
A charity auction led by Ms Marian Tolich of Barfoot & Thompson rounded out a successful night, which will see the Endowment Fund launch with a strong base with which to assist Mount Albert Grammar School's young rowers of the future.