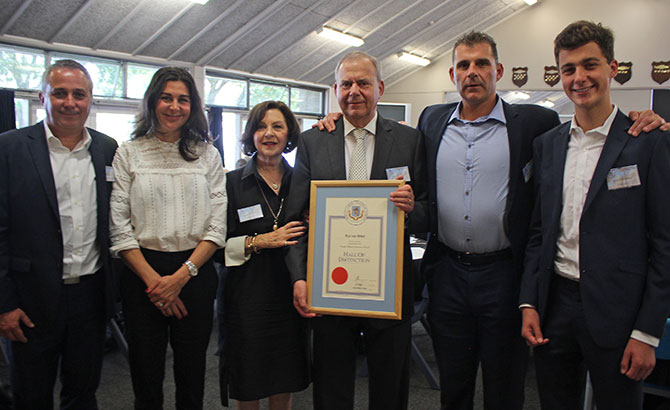 Mr van Arkel with members of his family after receiving his charter, from left, son in law David Roberton, daughter Lisa, wife Wendy, son Simon and grandson Samuel Roberton.
Albertian Mr Ted van Arkel a respected business leader and professional director, was inducted into the Mount Albert Grammar School Hall of Distinction on Thursday, 1 December, 2016.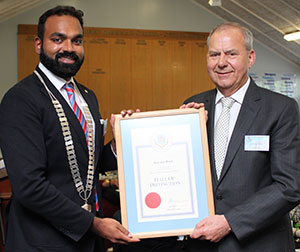 The ceremony fittingly took place at a gathering of Albertians for a special Christmas Luncheon and the AGM, also attended by the Chairman of the Board of Trustees, Mr Greg Moyle, President of the Albertians' Association Mr Aftab Moosa (pictured left with Mr van Arkel), and former Headmaster Mr Greg Taylor.
Mr van Arkel, who attended MAGS from 1957-1958, was accompanied by his wife Wendy and members of their family and friends.

His citation was read by his longtime friend and colleague, Mr Tim Cook, who spoke of Mr van Arkel's rise from a 15-year-old on the shop floor at Woolworths to become a leader of companies employing thousands of staff and turning over billions of dollars each year. Mr Cook said Mr van Arkel was known among those he worked with not only for his business acumen, but also for his caring nature and ability to engage with his staff.
In his speech, Mr van Arkel recalled his enjoyment of spending time in the MAGS library, and presented the book he was given when he was awarded the Junior Librarians Prize in 1958. He read from his school reports that he had kept from his time here, and recalled leaving school at 15 to help support his family, delivering newspapers, mowing lawns and selling ice-creams at the Embassy Theatre. His first full-time job was on the shop floor at Woolworths in the CBD.
"I had thought I'd become a teacher or a minister, but I became excited by the commercial nature of retail, in the days when people used to dress up to come shopping in Queen Street on a Friday night."
Mr van Arkel said his long career had been through many highs and lows, and he thanked his wife Wendy and his mentors for their support throughout.
"I am truly humbled to receive this recognition from my old school."