Professor Sir Graeme Davies
At School 1950 – 1954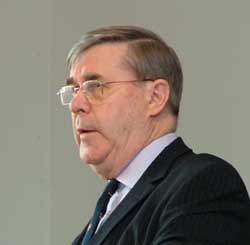 Sir Graeme Davies addresses the School
Friday 3 April, 2009
Graeme John Davies had an outstanding career at Mount Albert Grammar School. He was in the top classes every year, was most interested in mathematics and physical sciences and was dux of the School in 1954.
Headmaster, Murray Nairn noted in his testimonial:
… He has also taken a full part in outside activities. He has played Soccer for school teams each year and in his last two years has been in the 1st Association XI. After playing Cricket for two years he changed to Softball and has been in the 1st IX the last two years. Other activities include successes in Swimming events and Life Saving, Choir work, and progress in the Cadet Battalion to the position of Regimental Quarter Master Serjeant….
From School he studied at the School of Engineering at The University of Auckland where he graduated BE in Aeronautical Engineering and PhD in Materials Science.
He left New Zealand for the United Kingdom and was, for 16 years, Lecturer in Metallurgy and Materials Science at the University of Cambridge where he was also a Fellow of St Catherine?s College and graduated MA and ScD.
In 1978 he was appointed Professor of Metallurgy at the University of Sheffield and while there he was active in other ways such as being a member of the Sheffield City Council Advance Trade Mission to China.
The appointment, in 1986, as Vice-Chancellor of the University of Liverpool saw a move to University administration at the highest level. While at Liverpool he was also involved in no fewer than 28 committees. They show an extraordinary breadth, and  include the Council of the Liverpool School of Tropical Medicine, the Merseyside Buildings Preservation Trust and the Drugwatch Trust.
Between 1991 and 1995, he was Chief Executive of what became known as the Higher Education Funding Council for England, which is a full-time position as principal adviser to the Government for the allocation of funds to individual universities and colleges. This is a highly complex task demanding advanced diplomatic skills.
Professor Davies returned to university administration with his appointment, in 1995, as Principal and Vice-Chancellor of the University of Glasgow, where, once again, he was involved in an eclectic group of activities including the Newbattle Abbey Trust, the Chairmanship of the University of Glasgow Non-Academic Staff Pensions Scheme and a Directorship of Harmworth Publishing Ltd.
While at Glasgow, in 1996, he was created Knight Bachelor in the New Year Honours List.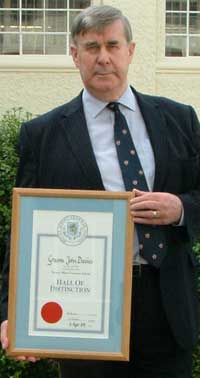 Sir Graeme with his charter for
the hall of Distinction
In 2003 Sir Graeme travelled south to take up the appointment of Vice-Chancellor of the University of London. London is an enormous federal University made up of 19 separate university institutions and 11 research institutes all over Greater London.
It is far and away the biggest university in the United Kingdom with 135,000 campus-based students and 40,000 external students. Sir Graeme is responsible for the central and federal activities of the University.
Currently he is Chairman of the Higher Education Policy Institute. He has held Visiting Professorships in New Zealand, Brazil, China, Argentina, South Africa, Israel and India.
He is a Fellow of the Royal Academy of Engineering and a Fellow of the Royal Society of Edinburgh. He holds Honorary Degrees from Liverpool, Sheffield, Nottingham, Manchester Metropolitan, Strathclyde, Auckland, Edinburgh, Glasgow, Paisley, Ulster and London South Bank Universities and is an Honorary Fellow of the Royal Society of New Zealand, of Trinity College of Music, London, of the Royal College of Physicians and Surgeons of Glasgow and of the Chartered Institute of Purchasing and Supply.
Sir Graeme has presented research lectures or papers in Argentina, Australia, Brazil, Canada, China, Denmark, Finland, the Netherlands, Germany, Israel, New Zealand, Japan, Poland, South Africa, Spain, Sweden, United Kingdom, United States and Zimbabwe.
Among his many current positions he is the Governor of the Glasgow College of Art, the President of the Council of Military Education Committees and a Member of the Court of the Worshipful Company of Ironmongers.
He is the author or co-author of six books and 125 scientific and technical papers in learned journals and Conference Proceedings dealing with mechanical properties of metals and materials, forming processes, welding, solidification and casting.
Sir Graeme John Davies, engineer, metallurgist, academic, teacher, university and civic administrator, Albertian, Member of the Mount Albert Grammar School Hall of Distinction.
Mr David Griffin, former President of the Albertians Association, presented Sir Graeme with his charter and Sir Graeme addressed the assembly.

Classmates 1950-1954, together again on Friday 3 April, 2009
Graham Wrigley, Graeme Davies, John Willmott, Ted Meyer