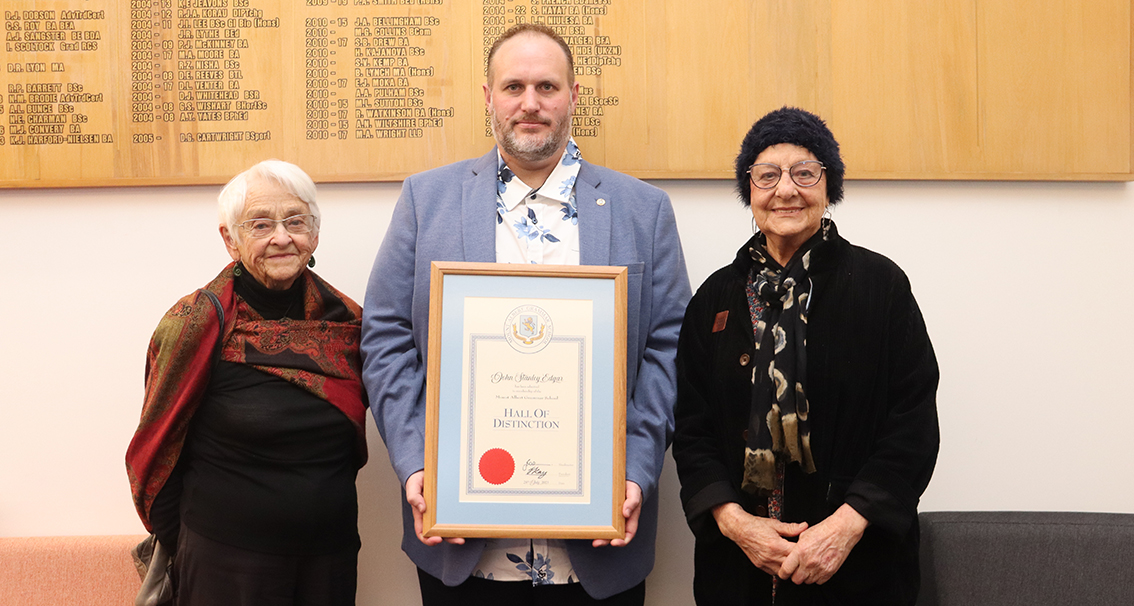 Albertians Association President John Kay, with John Edgar's induction certificate, is flanked by John's mother Rae Edgar, at left, and John's partner Ann Robinson, who accepted the certificate on John's behalf.
Five prominent and celebrated Albertian artists were inducted to the Hall of Distinction on July 28.
Albertians Association President John Kay welcomed inductees, their families and guests to the event in the W.O.H. Gibbs Room, and the citations for the inductees were read by Mr Gibbs himself.
Board of Trustees member Greg Moyle said he was delighted that Mount Albert Grammar School was able to recognise such prominent Albertians, who had each produced significant bodies of work and inspired others.
The five inductees were:
John Puiatau Pule ONZM (1974-1975)
For services to art and literature – Accepted on behalf by Greg Moyle
Stanley Arthur Palmer ONZM (1950-1953)
For services to painting and printmaking
Stephen Bambury (1968-1969) – Accepted on behalf by wife Jan Bambury
For services to painting
Billy Apple ONZM NZ Icon (1948-1951) – Accepted on behalf by partner Mary Morrison
For services to pop art
John Stanley Edgar ONZM (1964-1968) – Accepted on behalf by partner Ann Robinson
For services to sculpture
You can read the citations for the five new Hall of Distinction inductees here
The Hall of Distinction was established in 1997 as part of the 75th Jubilee celebrations. Membership of the Hall is an honour for past masters of the School who have significantly contributed to the spirit of the School and for Albertians in recognition of their efforts and achievements in the community.
You can see the full list of inductees here