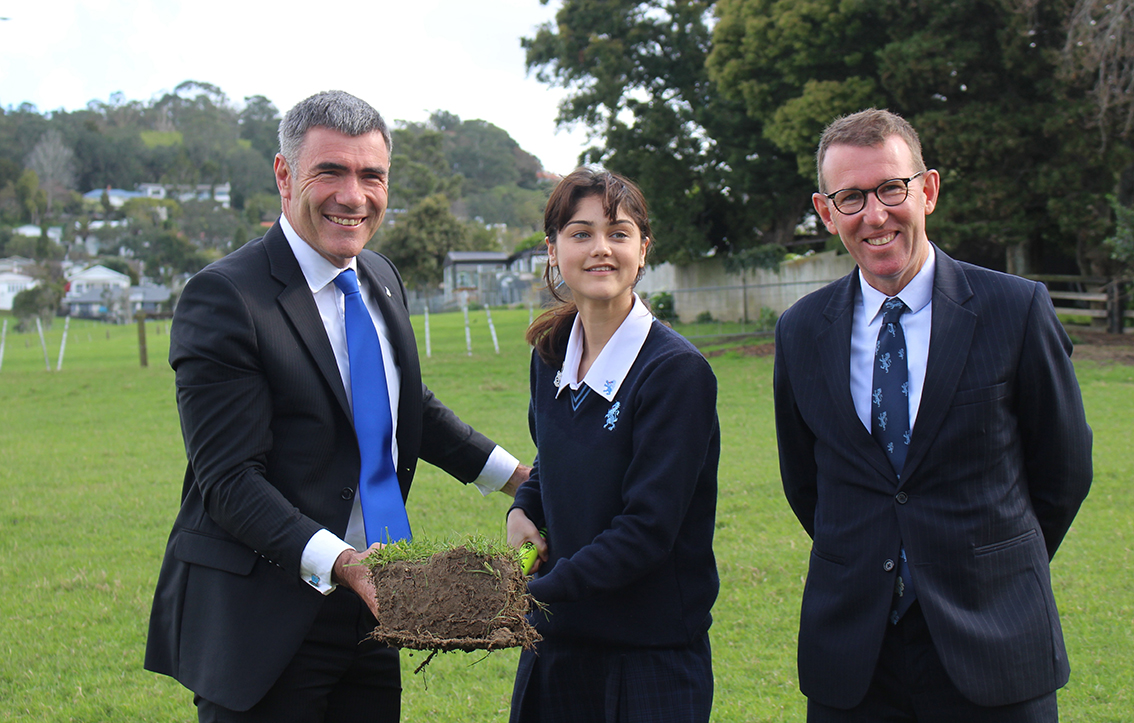 The Minister of Primary Industries, Mr Nathan Guy, with AgriBusiness student Fatima Imran and Headmaster Mr Patrick Drumm after turning the first soil for the ASB MAGS Farm's Experience Centre.
Read the stuff.co.nz story here
Read the NZ Herald story here
The Minister of Primary Industries Mr Nathan Guy helped to begin a new chapter in the development of the ASB MAGS Farm on Friday, September 8.
To celebrate the granting of resource consent for the teaching facility and experience centre, the Minister officially turned the first soil at the farm for the development.
The world-class teaching facility and experience centre will demonstrate the innovation, science and environmental best practices used on farms across New Zealand. It will be a driver to substantially increase the number of students studying agriculture, and attract young people to work in primary industries.
Mr Guy said the sector faced a challenge to attract 50,000 more employees over the next 10 years, and he saw the Experience Centre as a "game changer" to reach that target.
"This centre will help showcase the most innovative developments in primary industries to students from across Auckland, and help close the divide between urban students and awareness of the exciting careers open to them in the primary sector."
A number of industry representatives and local MPs attended, including the Director General of the Ministry of Primary Industries Mr Martyn Dunne, KPMG's Global Head of AgriBusiness Mr Ian Proudfoot, and ASB's General Manager Rural Mr Richard Hegan (right). Chairman of the MAGS Foundation Mr Peter Thorp explained what the centre would contain and its design.
Headmaster Mr Patrick Drumm said MAGS' students were at the centre of the story, with the centre lifting teaching capacity in Agricultural and Horticultural Science and AgriBusiness from 160 currently, to 500.
"We see the Experience Centre as an new chapter in the history of the ASB MAGS Farm, which was established in 1932 with the same purpose – to set urban students on a path to careers in the primary sector and so help support this key pillar of New Zealand's economy."
Click here to find out more about the farm development project