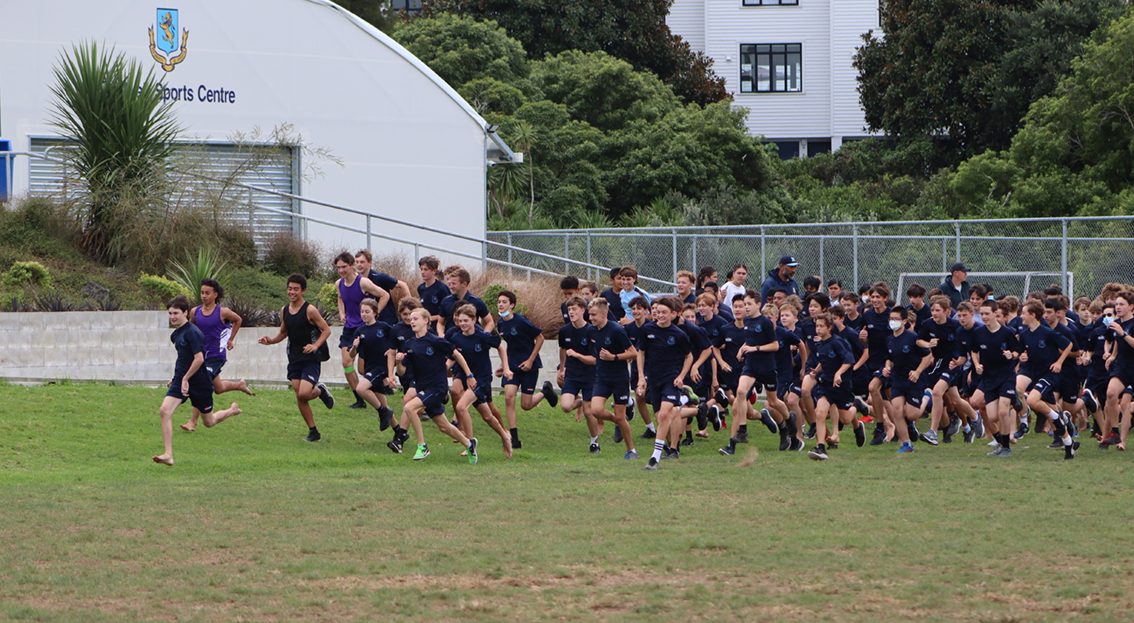 The annual school cross country took place on April 11 (Year 9 Girls, Year 10 Girls, Year 11 PE Classes and Senior students) and April 12 (Year 9 and Year 10 Boys).
The course requires the students to run around our lower fields, Alberton Avenue, and the school farm before finishing back on the lower fields.  The distance is slightly over 3km for the junior students and the seniors do one extra lap.
With pleasant running conditions over both days, the standard of running was high with interform points on offer for Year 9 and 10 students.  Year 11 PE students do the run as part of their course assessment.
Highlights over the two days included Nina Chalmers continuing her good distance running form from athletics, winning the Year 10 Girls race by over a minute with a time of 12:11. Peggy Taylor won the Year 9 Girls race by 36 seconds and completed the course in 12:09.
Ben Hori-Elliot won a competitive Year 10 Boys race, finishing in a time of 10:48.
Myles Kelly continues to show he is a promising distance runner and carried on his strong form from athletics,  winning the Year 9 Boys race in a time of 11 minutes flat.
In the Year 11 races, last year's Year 10 champion Maia Lythe continued her strong showing in the school cross country, winning the Year 11 Girls section by a comfortable margin. Jesse Burge ran strongly to finish first in the Year 11 Boys category.
The Senior Girls section was won by Emily Rednall, completing the Senior Girls 5.3 km course in a time of 23:46.
The Senior Boys category was won by Ben Mitchell completing the 5.6km course in 23:11 and winning by 51 seconds. Ben has won the Senior Boys 1500m, 3000m and Cross Country this year.
Assistant Director of Sport Mr Crossan said, "Thanks to the senior classes who assisting with marshalling.  A big thanks to all the staff that ran the course with the students and that assisted with the organisation of the two days."
Placings:
Year 9 Girls: 1st Peggy Taylor, 2nd Macy Hains, 3rd Isabel Spreitzer. Year 9 Boys: 1st Myles Kelly, 2nd William Wood, 3rd Blake Climo. Year 10 Girls: 1st Nina Chalmers, 2nd Eternity Williams, 3rd Anna Batcheler. Year 10 Boys: 1st Ben Hori-Elliot, 2nd Oliver Sutton, 3rd James Milne. Year 11 Girls: 1st Maia Lythe, 2nd Sophie Rednall, 3rd Amelie Kelly. Year 11 Boys: 1st Jesse Burge, 2nd Gianni Kingstone, 3rd Sam Carryer. Senior Girls: 1st Emily Rednall, 2nd Bella Houghton. Senior Boys: 1st Ben Mitchell, 2nd Callum Wishart, 3rd Daniel Wood.