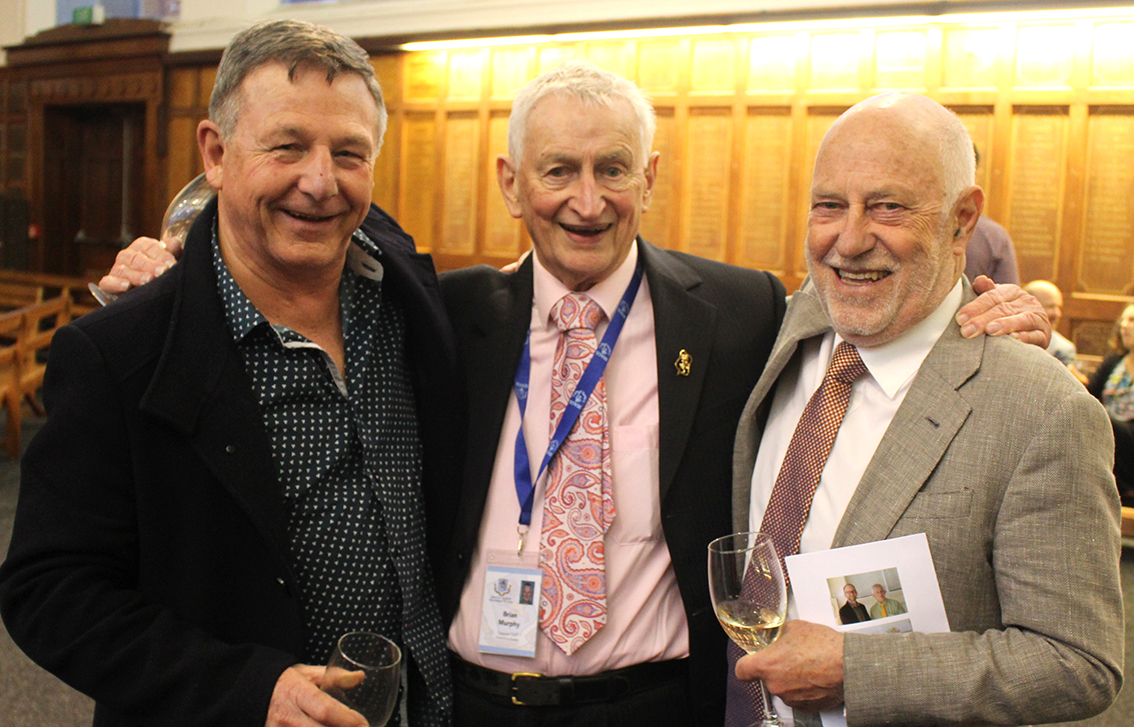 Friends, colleagues and Albertians gathered in the F.W. Gamble Hall on October 16 to celebrate Brian Murphy's 60 years of service to Mount Albert Grammar School.
Mr Murphy started at MAGS as a Science and Biology teacher in 1960 and over the years he has taught Chemistry, been responsible for Junior Science, a teacher-librarian, and a school counsellor before becoming the school's Archivist in 1999 – a role he continues to this day.
During those years, he has served under five headmasters, beginning with Murray Nairn (1954-69). Four of those headmasters were present on the evening to celebrate My Murphy's 60 years of service: Maurice Hall (1970-1988), Greg Taylor (1988-2006), Dale Burden (2006-2015) and current Headmaster Patrick Drumm. Also in attendance were Board of Trustees Chairman Greg Moyle and MAGS Foundation Chairman Peter Thorp.
Mr Murphy was presented with a Gold Lion lapel pin to recognise his dedication to the school, and unveiled a commemorative plaque to be placed under a puriri tree planted in his honour outside the Student Centre.
Named Albertian of the Year in 2009 (his 50th year of service), Mr Murphy was the first recipient of this honour not to have attended MAGS – giving an indication of the esteem in which he is held.
A proud and loyal staff member, Mr Murphy has proved himself a true gentleman over the years and has always been prepared to go the extra mile for Albertians and their families.
Mr Drumm said there was a visual demonstration of Eugene Brian Murphy's legacy at the school in the hall, with his name on an honours board in one corner of the hall that preceded rows of subsequent honours boards that wrapped right around the hall walls.
He added that Mr Murphy had been an invaluable and enduring asset to the school having filled so many different roles with distinction. His contribution was being celebrated throughout the week, with Mr Murphy appearing at daily assemblies so students could hear about and appreciate his service.
Mr Hall said when he started at MAGS as a teacher in the 1960s he taught a sixth form class with Mr Murphy, who always impressed him with his organisation and commitment. That included his dedication to getting The Albertian magazine out on time and organising photos of every Albertian casualty of war for Anzac Day.
Associate Academic Dean Greg Cave, who boasts 51 years at MAGS –46 as a teacher and five as a student, said Mr Murphy had a wide-ranging knowledge and an almost photographic memory – "the only problem with that is once you get him onto a subject, he can't stop".
Mr Cave said that Mr Murphy had now overtaken Herb Towers as the longest-serving staff member – a fact he was broadcasting despite Mr Murphy not wanting it circulated.
He added that Mr Murphy's contribution to the school was immense and not just in his teaching and counselling roles. Mr Murphy had established and built a comprehensive school archive "from nothing" and it was now a rich resource that staff, students and the wider public could enjoy.
For his part, Mr Murphy thanked all the guests for attending the celebration and said he was overwhelmed by all the fuss – and the attention he had received during the week.