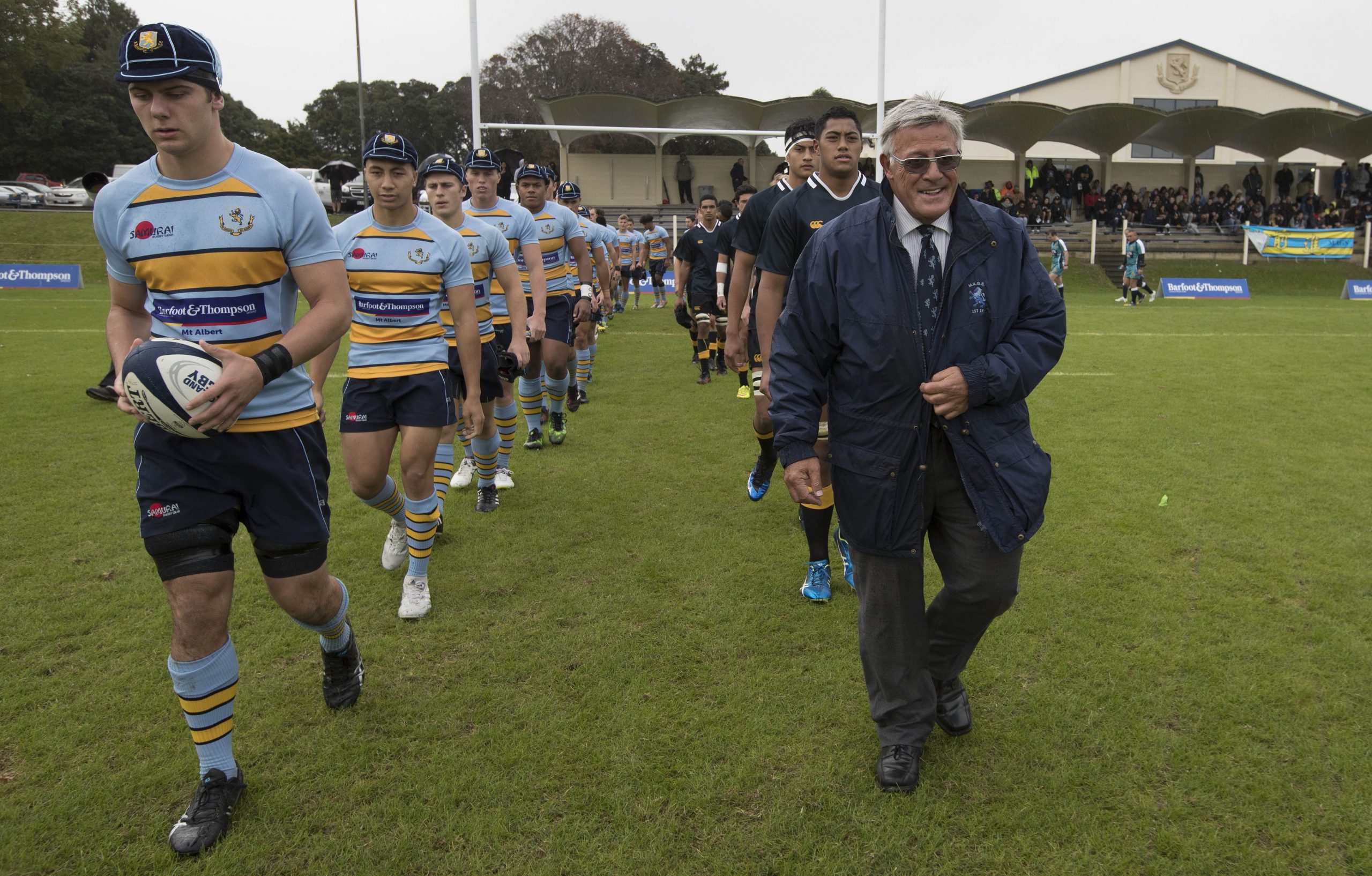 BG Williams leads the MAGS and Auckland Grammar First XV teams onto the field named in his honour. Photo courtesy of Brett Phibbs/NZ Herald.
The legacy of Albertian All Black Bryan 'BG' Williams was honoured in the naming of the school's number 1 rugby ground the BG Williams Field at an event at School House on Saturday, 20 May.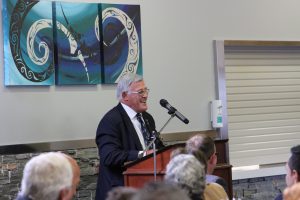 The luncheon was organised by the MAGS Foundation and attended by some of the top names in New Zealand rugby, including former All Black coach Sir Graham Henry and All Blacks Ant Strachan, Mark Brooke-Cowden, Dylan Mika, Ofisa Tonu'u, Keith Nelson, Lawrie Knight, Brad Johnstone, Ron Williams and Ron Urlich.
Guest speakers included the Chairman of the NZ Rugby Union Brent Impey, sports writer Phil Gifford, the Managing Director of MAGS' First XV sponsor Barfoot & Thompson, Peter Thompson, Headmaster Mr Patrick Drumm and, of course, Bryan Williams. The MC was Albertian sports radio host Mark Watson.
Representatives from Auckland Rugby, the Ponsonby Rugby Club, Barbarians Club, New Zealand Rugby Union, Manu Samoa and the New Zealand Rugby Foundation also featured on the guest list – a reflection of Bryan Williams' illustrious rugby career. Members of Mr Williams' family, the families of MAGS' Director of Rugby Geoff Moon and current First XV players, and a number of Albertians and community supporters also attended.
Mr Williams was a student at MAGS from 1963-1967, and was a Prefect and Victor Ludorum in his final year. Following a stellar career with the All Blacks, and qualifying as a lawyer, he served as President of the NZ Rugby Union, was Director of Rugby at MAGS and is still involved with the Ponsonby Rugby Club.
Each speaker commended Mr Williams not only for his playing prowess, but also for giving back to the sport at a national and community level through his administrative and voluntary work.
Mr Drumm said that in recognising Mr Williams' contribution, the school was reinforcing the values it teaches students.  "We impress on our students that leadership is achieved through service – this is what strengthens our young people, our school culture and our community. In that way Bryan Williams is a role model for the students who have come after him, on and off the playing field."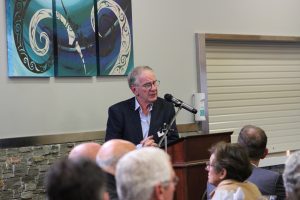 Mr Impey (right) said Mr Williams set an example not only in what he had done for the game in New Zealand, but in the way he went about his work. "You have given so much with dignity, humility and kindness. You are a true gentleman, and very deserving of this honour today."
Mr Thompson said Mr Williams' stood out because he was a 'doer', exemplified by his lifelong commitment to the Ponsonby Rugby Club. "Bryan was once quoted as saying 'Clubs are about community, they're about participation, they're about volunteer effort, people putting up their hands and doing things for the common good, and I think that's pretty special.' To me, that sums up Bryan Williams."
Mr Williams spoke about his time at MAGS, how much he enjoyed competing with the Cricket First XI, in Athletics, where he was a sprint and field champion, and in the First XV under legendary coach Eugene Cheriton. Academically he benefited from outstanding teachers, acknowledging the attendance at the lunch of Alan Burton, who collectively prepared Mr Williams for a career as a lawyer.
"I went to a 50 year reunion of my class of 1967 a little while ago, and many of us agreed that the school had done a marvellous job in preparing us for life."
Mark Watson read out a number of messages sent by people who could not attend, including Auckland Rugby player and administrator Maurice Trapp, and All Black selector Grant Fox, who spoke of Mr Williams' "wisdom, support and guidance" when he was starting out as an All Black in the 1980s.
At the end of the luncheon Mr Williams presented the MAGS' First XV with their jerseys, before leading them onto the newly named BG Williams Field to take on Auckland Grammar School. Although MAGS lost this encounter 12-21, Mr Drumm said later the day was about much bigger things. "It was an honour to host Bryan and so many distinguished guests for an event that will see our number 1 rugby ground forever known as the BG Williams Field."