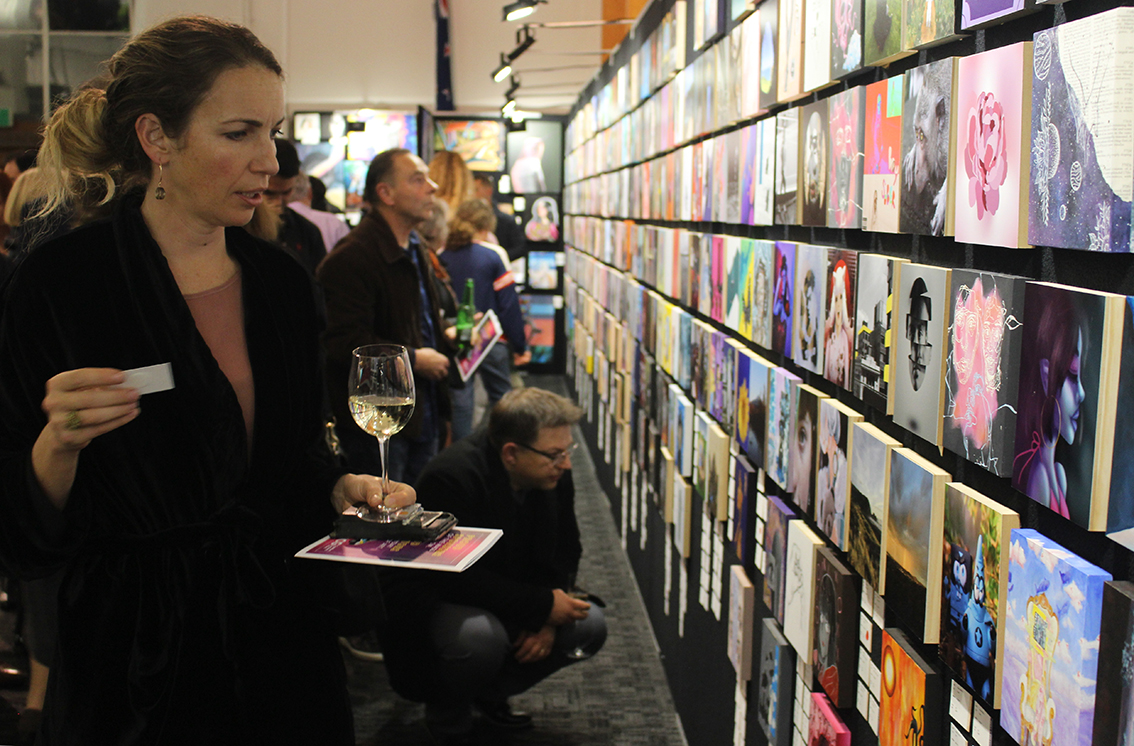 If you didn't attend last weekend's MAGS Art Show you missed out on a great opportunity to purchase some amazing art from established and student artists.
The show was kicked off with a sold-out Gala Evening on Friday night, with guests having the first opportunity to view and purchase art while enjoying drinks and canapes. Guests were greeted by a string quartet on entry and entertained by the Jazz Band through the night.
During the weekend the show was open to the public and there were performances from the MAGS Junior Dance group, singer and musician Tuiaki Fiuloi, Ella Brislen and Marcus Savelio doing a drama skit, pianist Ken Naidu, singer and winner of Junior MAGS Idol Tahlia Petersen, and the Cook Island group.
Art Show Committee chair Sandra Fischer said, "A massive thanks to the Art Department staff: Bryn Corkery and Jacqui Cesan, and the Arts Prefects and Leaders: Isaac Young-Montgomerie, Jade Chambers and Ella Rowe for all their work helping the committee to get the show up and running this year.  Mr Corkery and Deputy Principal John Stradwick were even seen helping with the pack down late on Sunday.
"Over $225,000 of art was sold and a massive 185 pieces of student art was bought. The curator this year, Colleen Pugh, was very impressed – not only with the number of student works but also with the quality of work. When the final results are known we can share how much was raised for the school. The show only retains a percentage of the art sold and the students get to keep their profits.
"The 2019 Art Show Committee is very grateful for the support of the community in sponsoring boards and also our major sponsors, ICG and Fuji/Xerox."
Art Show committee member Anne Williams said, "Thank you to Watershed for sponsoring our popular People's Choice Award, to Peek Exhibition Design and Display who provided and installed our Art Display Panels, and to our local businesses who chose to sponsor each panel: Active Building Management (2 panels), Caterplus Services, Creative Arch Ltd, National Art Supplies and French Art Shop, oneplan for retirement, Recreational Services Ltd, The Moosa family, Premium House Washing, Four Kauri Family Medical Centre, Construction Management Group, Thompson Dental, Worthingtons, Sanderson Weir Ltd, St Lukes Veterinary Centre, NZ Office Supplies, Furnware, Anytime Fitness.  Your significant support for our Art Show helps to cover some of the expenses incurred in bringing it together and allows us to return more of the proceeds to the school."
Money raised from the Art Show will go back into the school, supporting the Artist in Residence programme and funding school facilities.
– Additional photos from student photographer Christina Liu