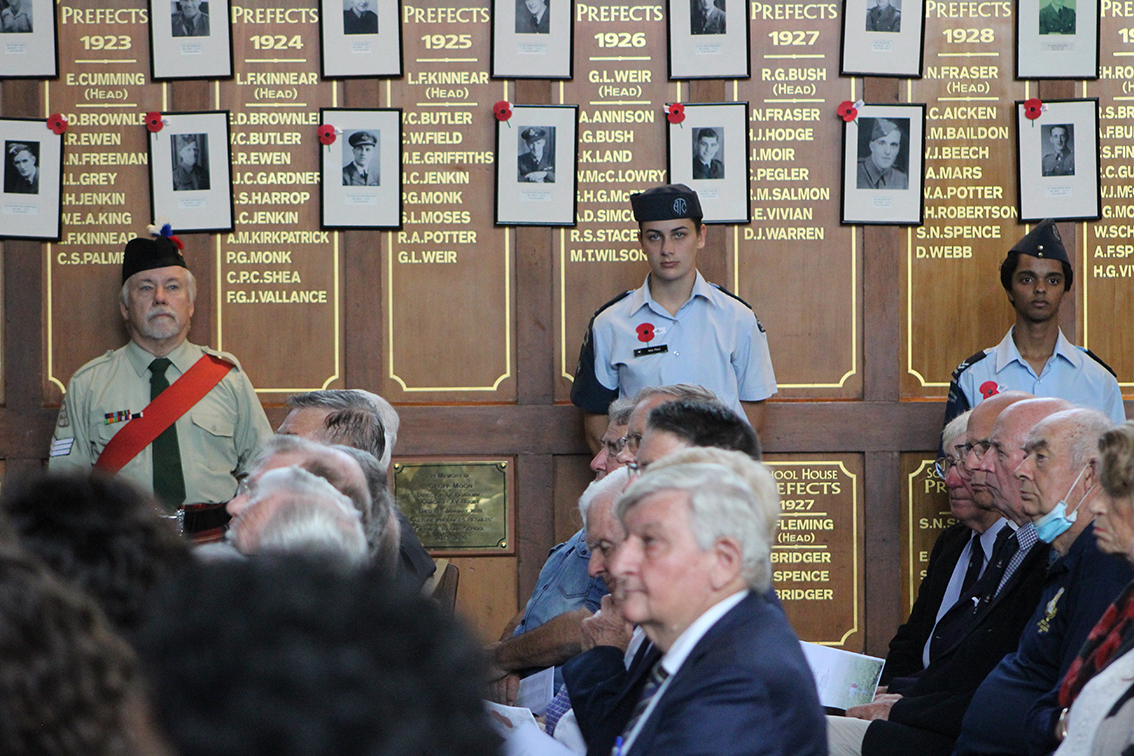 MAGS' 201 fallen Albertians were remembered today at a stirring ceremony that began with a karanga and piper Andrew Wilkie escorting guests and Air Training Corps cadets into the FW Gamble Hall.
Hokioramai Dunn performed the whaikōrero at this year's Anzac Service Assembly, before The Boys Choir, conducted by Deputy Head Prefect Tali Afele, sang Sons of Gallipoli, and Year 13 History students Henri Blakely and Sophie Grimes spoke about our fallen Albertians.
This year's service was attended by Year 9 students, Headmaster Patrick Drumm, Chairman of the Board of Trustees Greg Moyle, Major John Liddell and Pt Chev RSA representative Bill Ashdown, with guests on the mezzanine floor.
As at every ANZAC Service, the names of fallen Albertians were read aloud, the Ode of Remembrance was read, and a laying of wreaths was performed during the Last Post and Reveille, played by student Oliver Bulman from the mezzanine floor, as the school flag was lowered and raised.
Following the service, Albertians adjourned for lunch, hosted at School House, where they were treated to another rendition of Sons of Gallipoli.
At the function, Mr Drumm spoke about the academic success that MAGS had enjoyed this past year, and introduced our medal-winning rowers from the Maadi Cup and thanked Alice Denyer, our Director of Rowing.
He also spoke about the ongoing development and refurbishment of the school to cope with its growth and to improve its facilities.
Centenary Committee chair Dale Griffiths briefed Albertians about the upcoming Centenary Celebrations and preparations for informing them about Centenary events and helping them to connect with each other.
He also reminded attendees that the photos of fallen Albertians that lined the walls of the FW Gamble Hall during today's service had been donated by their families –  a huge privilege for the school as they were sometimes the only photos that the families had of their servicemen in uniform, and so were a taonga that MAGS should cherish and protect.