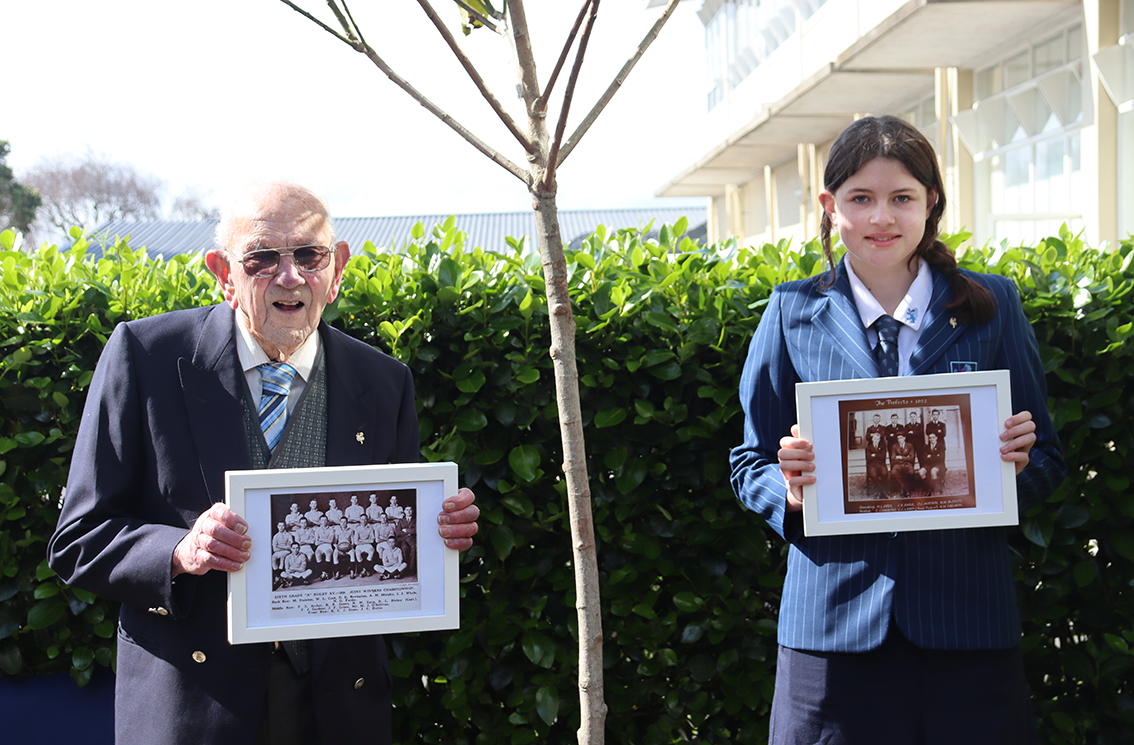 It was a privilege to have Albertians return to MAGS on September 28 for a day that was all about 'Change and Tradition', as our newly released Centenary book is titled.
The day began with a School Tour, which allowed Albertians to see the changes that had happened to the school campus since they were here, and also reacquaint themselves with traditional elements such as the F.W. Gamble Hall and its Honours Boards. The tours were led by staff and History students around the main buildings and culminated in the new staffroom – the W.O.H. Gibbs Room – for refreshments and a catch-up.
A Centenary Tree planting then took place and was conducted by one of our oldest Albertians, Professor Russell Stone (the co-author of MAGS' 75th Jubilee book Tradition and Change) and Year 12 student Jessica Lamb, who is a relative of our first Head Prefect in 1922, C.C. Lamb. After the planting ceremony, Mr Stone, aged 99, held a photo of his rugby team from 1938 that won the Sixth Grade Championship, while Jessica held a photo of the 1922 Prefects featuring her great-great-grand-uncle C.C. Lamb.
Following the ceremony, there was a special assembly for Year 13s with Albertians in attendance and former Headmaster Maurice Hall, aged 93, as guest speaker. Mr Hall, who was headmaster from 1970-88, spoke movingly of his time at MAGS and how much school life had meant to him.
Our Centennial Choir, under the direction of Terence Maskell, also performed, and there was a haka in honour of Mr Hall.
Guests then adjourned to the W.O.H. Gibbs Room for the Albertians Centenary Luncheon, which was MC'ed by Frosty James and featured Dr Peter Phillips, an Emeritus Professor at Yale, who was Dux at MAGS in 1965.
Before he was introduced, Mr Drumm thanked Dr Phillips for donating trophies for our Girls and Boys Dux. As Mr Drumm observed, MAGS presents a multitude of cups at the end of the year but has never in its history had a cup for our Duxes. He said it was fitting that was rectified and that they would be presented during our Centenary year celebrations.
Mr Drumm also pointed out that Professor Stone was a part of MAGS history, having had a relationship with all seven of MAGS' headmasters. He also thanked Debbie Dunsford, the author of Change and Tradition, which focuses primarily on the last 25 years of MAGS life, for her contribution to the rich history of the school.
Our Centennial Choir performed another item before Dr Phillips spoke about how his early life and his time at MAGS had shaped him and put him on the path to becoming a leading academic and econometrician.
He spoke fondly of his time at MAGS and how his exacting, and sometimes eccentric, teachers had left a lasting impression on him and had helped to steer him into a career he loved.
The Luncheon concluded with Head Prefects Wesley Donald and Lucy Taylor cutting the Centenary Cake.