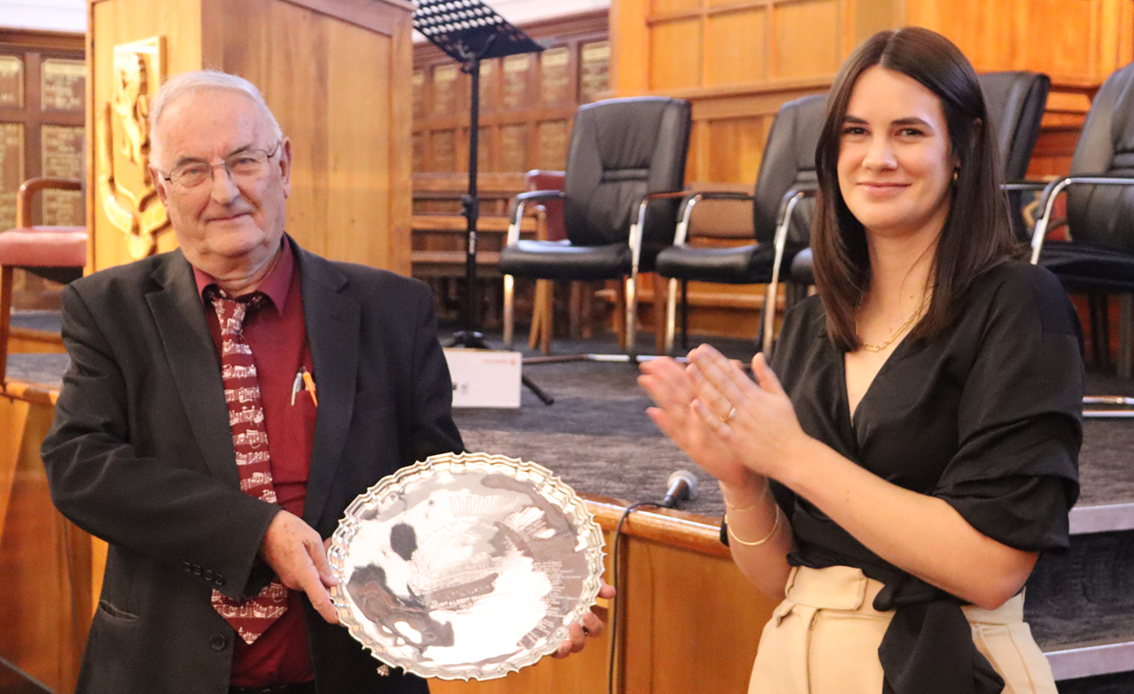 Mr Gibbs is presented with the Albertian of the Year plate by Albertians Association President Lisa Oakden.
On May 5, our Academic Dean Mr Gibbs was honoured as Albertian of the Year 2021 for his 50 years of outstanding service to MAGS across its Four Pillars.
At a ceremony hosted by the Albertians Association in the FW Gamble Hall, tributes flowed for Mr Gibbs, who has taught fulltime for all those 50 years as well as making an immense contribution in all areas of school life.
Mr Gibbs' long-time colleague Mr Cave had the tough task of summarising Mr Gibb's achievements and contributions over that time.
He spoke of Mr Gibbs' huge influence across Academia, Arts, Service and Sport.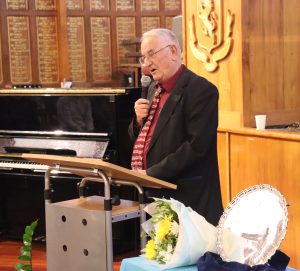 Mr Gibbs, who began as an English and Junior French teacher in 1972, has been a driving force in the Languages Department – establishing German for Juniors as well as overseeing the introduction of Te Reo, Chinese and Japanese in his 30 years as HOD Languages.
In the sporting realm, Mr Gibbs has coached or managed cricket, rugby and golf over the years.
He has been the school pianist ("the piano man" as at least one student knew him) since the 70s, playing at assemblies and supporting musical productions.
Mr Cave said, "For as long as I have known him, Warwick has been prepared to give his own time to his students, and to the students of others as well. He is still often found before and after school, giving extra lessons to students to improve their grades and to help students who started German late to catch up."
In his speech, Mr Gibbs said it was the relationships he had built with his students that had kept him in the classroom at MAGS for 50 years. He had no desire to chase promotion, and didn't even have a CV.
His philosophy about teaching was summed up when he won a 2018 ASG National Excellence in Teaching Award: "Time with the young is never wasted. In a world where adults (including teachers) are so busy with their jobs and paperwork, one-on-one communication across the generations is reducing.
"I spend every interval and lunch with the students. At least the students take some time off and they are ever ready for discussion. My office is full of students wanting to share new things, discuss current affairs or talk about history, sport or anything they fancy. It becomes a place where they are out of the elements and also safe. You realise what it means when they and/or their parents write to you to say how much they appreciate it."
Fittingly, Mr Gibbs rounded out the evening by playing piano accompaniment as guests sang the School Hymn.