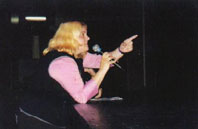 In Memory of Lynnette Summers
Both staff and students were greatly affected when Lynnette Summers, our Head of Drama, passed away suddenly on August 18, 2003. Lynnette was truly loved by many because she also showed such concern for others and worked incredibly hard to give students so many opportunities in drama and dance.
Her first major production was the musical The Outsiders in June 2001. This was the second year of girls at MAGS and it was wonderful to see our school being able to produce a show completely by ourselves (but mainly by Lynnette!)and in our own school hall. Some of her cast had obviously had previous experience, but Lynnette had found new faces to play some of the leads. She gave these students confidence and opportunities for self-expression.
In my 24 years at MAGS, musical productions had always been off-site. Lynnette was determined that our productions would be on our campus. She dreamed of a boutique theatre that would double as a teaching space.
Later that year we were treated to a wonderful evening watching Skungpoomery in the Drama Room. On that night it was a pleasure to watch our students giving such polished performances. They were learning their craft well from their mentor. Kayleigh Haworth was a sensation.
In March 2002, we had our first Summer Shakespeare season of Romeo and Juliet I remember vividly the wonderful costumes and Mark Taliaula's passionate performance. Lynnette's production showed a true love of Shakespeare.
In August 2002 our students wrote and performed a satirical musical called Alien Wars: Attack of the Colognes. The costuming was "out of this world" (bad pun) and the music suite venue was only just big enough. Every night was Standing Room Only.
The weather forced A Midsummer Night's Dream inside earlier this year. It played to full houses each night. In the space of two years Lynnette had created a new MAGS tradition. Two months later, there was more creativity with the We Can! Stage Challenge.
And then there was the work I did not have the opportunity to see such as the Year 10 Drama assessments, the performances for NCEA Drama and Dance and the successes in the Sheilah Winn Festival of Shakespeare in Schools, culminating in Dayan de Alwis being selected to go to the Globe Theatre.
Lynnette achieved so much in a remarkable two and a half years.
Elise Goddard