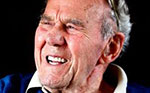 A.F. (Fred) Tucker OBE DFC (1935-1939)
Born 1922, died 17 April, 2015, aged 93
Fred Tucker was in the First XV and the Rowing First VIII from 1938-1939, and was a Prefect in 1939.
He had a distinguished career in the Royal New Zealand Air Force from 1941-1976. A celebrated World War II pilot, Captain Fred Tucker died just eight days out from Anzac Day this year.
His awards included a military OBE from 1975, a Distinguished Flying Cross for air
operations in Malaya in 1958, a 1945 Pacific Air Operations Medal, and others.
He signed up with the Air Force in 1941 to join World War II and did not retire from it until 1973, by which time he was Group Captain and second in charge of the Defence Force.
He was shot down in the sea off Bougainville in April 1944, then spent hours in the water thinking he was being circled by sharks.
He survived the incident, and the war, and then another seven decades, including serving in Malaya in the late 1950s.
Following his military career he was Executive officer of the IHC from 1976-1981, National Co-ordinator of Counterstroke NZ 1981-1989, President of the Stroke Foundation, and Chairman of the Friends of RNZAF Museum (Wellington branch).
He was married to the late Yvonne for 55 years, with whom he had three children, seven grandchildren and six great-granchildren.