Dr Hal Harding and John Goulding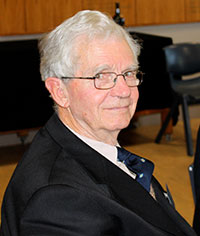 MAGS 1938-1942. Dux, Head Prefect of MAGS and School House, Captain First XV, also competed in Athletics and Boxing. Became a Medical Doctor.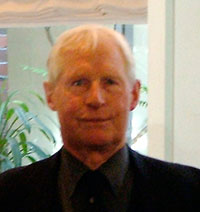 MAGS 1937-1941. Coxswain of First VIII. Became a Lawyer.
The death of John Goulding on 9 August followed Hal Harding's death earlier this year on 23 May. Their passing marked the loss of two men who made a major contribution to the success of Mount Albert Grammar School's Golden Jubilee celebrations in 1972, and who continued to provide great support to the School and the Old Boys until their health limited their ability to do so.
Headmaster Murray Nairn had suggested to the Old Boys Association that the Jubilee project should be the Honours Board at the head of the Hall. Hal Harding and John Goulding were members of the planning committee with Hal selected as Chairman. It was his drive and his personal effort to contact a large number of Old Boys personally that encouraged donations to the Jubilee project and achieved an over-run of the actual costs. A further aim was added to the project – to establish a Trust Fund that would support staff in professional training around New Zealand and overseas, and this was achieved.
John Goulding prepared the Trust Deed and, following the success of the fundraising, assisted in the selection of a suitable residential property as the Trust's first investment. This property was replaced with a multi-unit investment and later an industrial unit. Staff gained the advantage of annual contributions to selected teachers for suitable training. All the legal work throughout was done pro bono by John as was any other legal work required by the School.
In the early 1970s Hal was elected by the parents of the school to be a member of the Auckland Grammar School Board which governed the two boys' schools – AGS and MAGS – and the two girls' schools – Auckland Girls Grammar and Epsom Girls Grammar.
John was asked by the Board to be one of the two members the Board was able to add to the elected members. Both men gave great support to MAGS as members of this Board of Governors.
For many years at the end of term luncheons John keptthe Old Boys up to date with news of others. He had a knack of ferreting out information and presenting it in an interesting way.
Hal was made a member of the Mount Albert Grammar School Hall of Distinction.
John's son Tim is also involved in the Albertians Association and is on the board of the MAGS Foundation.
Maurice Hall, former Headmaster