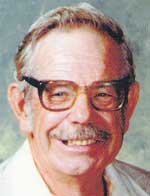 Claude Ronald "Ron" Hemus passed away on Sunday 17 August 2008 at the age of 89,  77 years after he first arrived at the school.
When he retired in 1983, Brian Murphy wrote the following valedictory to Ron Hemus in the Albertian.
He started young – in Junior 3A in 1931, but a serious bout of pneumonia in 1932 kept him back. From then on it was top classes all the way. He was into everything: first in the steeplechase and other events, leader of the Jazz Band, an NCO in the Vickers platoon, a member of the 1st Cricket XI and of the 1st XV and a prefect.
Illness plagued him again in 1938 and he left university to spend two years at what was then called Training College. However, he was able to continue playing cricket and rugby (Auckland 3rd grade rep.) until run over by a tram! (in New North Road on his way to visit his future wife).
Prevented from serving overseas in World War II, he was in the Home Guard Intelligence Section. After teaching for two and a half years at Dargaville he was war appointed to Ngunguru, Morrinsville, Towai and back to Dargaville where he captained a local cricket team and was at times chairman of the Northern Wairoa rugby, cricket and swimming associations, involved in teacher politics and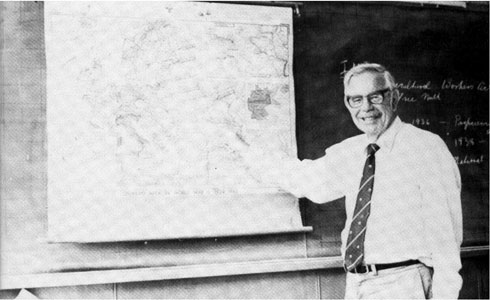 commissioned into the Cadet Corps.
He arrived back here in 1952 to serve an apprenticeship with the less motivated classes. He motivated them. He was soon given a senior position and on the retirement of Harry Calder was made Head of History and Social Studies. He was the School's first PR 4 and its first senior master. Professionally he was involved in revision of both School Certificate and University Entrance History syllabuses.
Coach of the 5A cricket team for eight years when they lost just two games, he also coached junior rugby before graduating to the 1st XV in 1957. He continued with rugby administration right up to when he retired in 1983 and was for four years chairman of 'the Auckland Secondary Schools' Rugby Union.
The list goes on: PPTA Conference delegate, mainstay of ASSMA, longtime Old Boy Association committee member and sometime President, Officer Commanding the School Cadet Corps with the rank of Major, Adjutant at National NCO courses,. mastermind of the KL South Pacific schoolboy cruises and – his most significant role – Senior Housemaster for thirteen years. . .
The Houseboys of the '60s thought that Ron Hemus was a pretty tough customer. They were right. But he drove himself as hard as he drove them. He operated on the"'the price of freedom from trouble is constant vigilance" principle. Trouble there was, but many transgressors taking the long walk up the corridor to meet the nasty piece of work in the front office were unable to fathom how he found them out.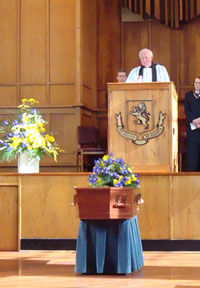 Yet under the carapace was a liberal struggling to get out. He inherited an establishment easily recognised by the Companies of Stalky and Harry Walton and whittled its traditional practices away to the ease of small boys and the pouting indignation of the Flashmans who thought that they knew where the real power lay.
The Housemaster worked long hours at mind-numbing tasks. He even kept a penny-by-penny record of doled pocket money for each boy and typed all the House outward correspondence himself. There was no secretarial help from the School and anyway, he'd had practice; he was secretary of the Correspondence Club in 1936.
There have been longer-serving staff members, but none more colourful. Ron Hemus is a life-lover. A generous host. A bit of a boyo. He had his ups and downs, but he remained his own man. There are dozens of Hemus stories told and retold with laughter and affection wherever his old pupils or colleagues gather. And this is his real contribution: not to the dusty routines of institutions, but to folklore.
It was fitting that Ron's funeral took place in the FW Gamble Memorial Hall on Friday 22 August. Few others have enjoyed such a long and impressive association with the school.  His casket was brought into the FW Gamble Hall by current "house boys" from Towers Hall.  The Reverend Tony Ross, himself a former housemaster, officiated and gave one of the tributes. Tributes were given also by Alan Burton, on behalf of the school and by his daughter Christine on behalf of the family.
Current house boys provided a final farewell in the form of a stirring haka as Ron's casket was brought down the front steps by houseboys from the Hemus era.