Alan Esmond Bollard CNZM, PhD, LLD, FRSNZ (1964-1968)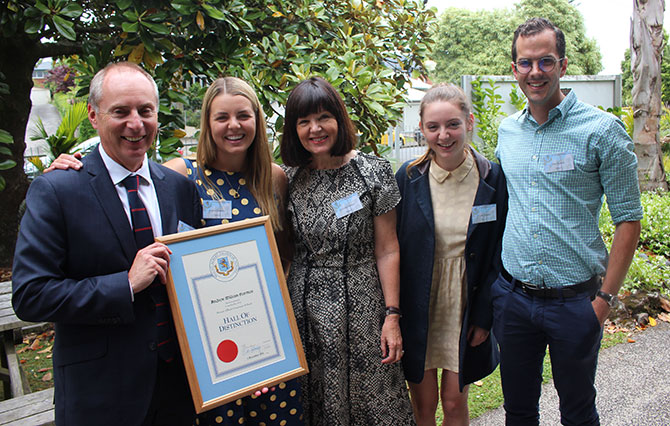 Mr Andrew Harmos after his induction with his wife Sheridan, daughters Sophie and Phoebe, and Sophie's partner John Burnett.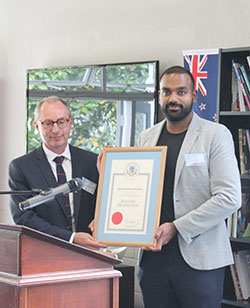 Albertian Mr Andrew Harmos, a leading corporate lawyer who until recently was also Chairman of the New Zealand Stock Exchange, was inducted into the Mount Albert Grammar School Hall of Distinction on Wednesday, 2 December.
The ceremony fittingly took place at a gathering of Albertians for a special Christmas Luncheon and the AGM, also attended by the Chairman of the Board of Trustees, Mr Greg Moyle, outgoing President of the Albertians' Association Mr Ben Stallworthy, incoming President Mr Aftab Moosa (pictured right), Headmaster Mr Dale Burden and Chairman of the MAGS Foundation Mr Peter Thorp. Mr Pat Drumm, who will start his tenure as Headmaster from Term 1, 2016, was also there, along with former Headmasters Mr Greg Taylor and Mr Maurice Hall.
Mr Harmos was accompanied by his wife Sheridan, daughters Sophie and Phoebe, and Sophie's partner John Burnett. A number of Mr Harmos's friends and colleagues also attended.
His citation was read by his lifetime friend, Albertian Dr Charles Ng, who spoke of Mr Harmos' academic and sporting success, his outstanding career so far, and his advocacy for retaining New Zealand ownership of strong New Zealand businesses.
In his speech, Mr Harmos paid tribute to his father, Mr Andrew Harmos Snr, who passed away this year. His parents escaped Hungary in 1956 following the invasion by the Soviet Union, and, after settling in New Zealand, his father became a teacher. Mr Harmos Snr went on to become Head of Commerce at Mount Albert Grammar. His son attended the school from 1972-1975.
"My parents embedded in me their qualities of curiosity and hard work, and I would like to dedicate this award to my father," said Mr Harmos. "He ended his life saying that coming to New Zealand was the best decision he ever made, and he died a proud New Zealander. This country is great because everyone contributes to it in their own way – my way has been through corporate law and helping save the stock exchange from being taken over by its Australian counterpart. I'm a big believer in New Zealand companies retaining their independence, and their New Zealand workers."
Mr Harmos also acknowledged the teachers of Mount Albert Grammar, including some long time members of staff in attendance – Mr Warwick Gibbs, Mr Evan Gray and Mr Brian Murphy.
"What we learned was important, but we also learned how to learn, how to relate to people with respect, and how people responded when they were treated the way they wished to be. Those learnings have stood me in good stead throughout my life.
"I am very humbled and honoured to be conferred with this distinction."