Inductees – 17 October 2008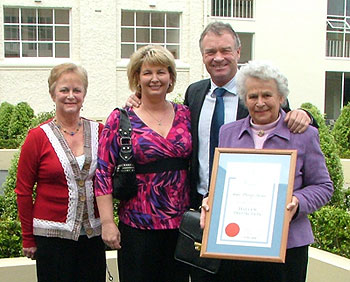 At School 1930
Dr Maelen Tagelagi, President of the Albertians Association, presented Mr Wallace's charter to his wife, Mrs Yvonne Wallace. Mrs Wallace's son-in-law, Grant Fox gave a short address.
WM Wallace was known as Merv, a short form of his middle name. Merv attended Mount Albert Grammar School for only one year and during this time he played cricket and was an Auckland Junior Cricket representative. He left school at 13 to become a clerk and delivery boy at LD Nathan & Co. However, while he was at school, his talent for cricket soon revealed itself and he was sent for coaching to Eden Park, where he came under the attention of the English professionals Ted Bowley and Jim Parks. As a young man, Merv Wallace appeared such of prodigy that the New Zealand press did not scruple to make allusions to Don Bradman. While no one has been able to sustain that comparison, there was never any question of Wallace's extraordinary natural ability.
Merv Wallace was short in stature but quick on his feet; he was an elegant and fluent stroke player who timed his shots beautifully and, without being reckless, always looked to attack the bowling. In addition, he was a brilliant fielder at cover point. His teammates called him "Flip", apparently because it was the strongest expletive he ever uttered. He played for the Point Chevalier Cricket Club and made the Auckland Under 20 side. From the 1932-33 season, while only 16, Wallace became a key member of the Parnell Cricket Club side and indeed, in 1959, under his captaincy, would beat the Auckland side that had won the Plunket Shield. Wallace did not play his last game for Parnell until 1968-69. Over a total of 29 seasons, in 233 innings, he scored 10,299 runs for the club at an average of 54.49.
By contrast, his first class career, stretching from 1933 to 1961, was limited to only 122 matches, 52 of which were played in his two tours of England. In his 192 first-class innings he made 7,757 runs at an average of 44.32. He made his Test best score of 66 against England at Christchurch in 1951, and played his last two Tests as captain against the touring South Africans in 1953. Following the end of his Test career, Wallace was appointed New Zealand coach for its 1955 tour to India and Pakistan. Wallace was also the successful coach of New Zealand's first victorious Test team, against the West Indies at Eden Park in 1956. He served as a Test selector from 1945 to 1950, from 1952 to 1954, and from 1964 to 1965. Merv Wallace was one of the best batsmen New Zealand has ever produced; if in his 13 tests he scored only 439 runs at an average of 20.90, it should be remembered he lost his cricketing prime to the Second World War. Former New Zealand captain, John Reid made the following comment: "The most under-rated cricketer to have worn the Silver Fern. This book pays eloquent tribute to a great cricketer."  This quote appears on the front cover of the book, Merv Wallace A Cricket Master, a biography written by Joseph Romanos.  Merv Wallace was named in the 2004 Queen's Birthday New Zealand Honour list for services to cricket when he became a member of the New Zealand Order of Merit (MNZM).
At School 1942-1945
Dr Maelen Tagelagi, President of the Albertians Association, presented Professor Kronfeld's charter to Professor Kronfeld's sister, Mrs Tui Parr. Mrs Parr's daughter, Deirdre Parr, gave a short address on behalf of her mother.
David Kronfeld showed an early affinity with animals when he climbed a Phoenix palm tree to rescue a sparrow impaled on a spike. David excelled as a Latin scholar, even though he was frequently on the Headmaster's detention list at morning assembly and, on hearing his name being read, there would be a loud cheer from the assembled boys.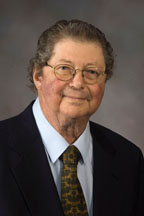 He took part in a wide range of extracurricular activities while at school including: lifesaving, soccer, rugby, boxing, rowing, dancing class, debating and choir. He continued rowing and was in the Auckland University College rowing eight, which in 1948 won the Herberly Shield. David Kronfeld was in the number four seat. However, it was his interest in animals that lead him to pursue a career in veterinary science on leaving school. In 1948, he did his medical intermediate at Auckland University. Kronfeld then headed to the University of Queensland to study veterinary science, where he received his bachelor's and master's degrees. He went on to complete a PhD in comparative physiology from the University of California, Berkeley, and in 1972 was made a Doctor of Science by the University of Queensland.
Kronfeld joined the College of Agriculture and Life Sciences at Virginia Tech, Blacksburg, Virginia, as the Paul Mellon Distinguished Professor of Agriculture in 1988. He was charged with the development of a new pasture-based equine nutrition research programme at the Middleburg Agricultural Research and Extension Center (MARE Center). He also held a professional appointment in the Virginia – Maryland Regional College of Veterinary Medicine's Department of Large Animal Clinical Sciences.
Over the course of his 53-year academic career, Professor David Kronfeld served as a teacher and researcher at four universities. While physiology remained at the foundation of Kronfeld's teaching and research, he expertly blended the arts, literature, and a personal passion for athletic endeavours into all that he pursued. He was a distinguished researcher and scholar of equine nutrition and its impact on the equine industry in not only Virginia, USA, but across the world. During his career, Professor Kronfeld authored and co-authored more than 700 publications in the areas of nutrition and companion research. He received numerous national and international honours and awards, including an honorary master's degree from the University of Pennsylvania for excellence in teaching, and the 2006 Alumni Award for Excellence in Graduate Academic Advising at Virginia Tech.
Professor David Kronfeld used conversational interaction in his teaching to stimulate the interest of students in helping their animals. He was a founding diplomate of the American College of Veterinary Internal Medicine, the American College of Veterinary Nutrition, and the Australian College of Veterinary Scientists. The Virginia Tech Board of Visitors granted him the title 'Professor Emeritus' in 2005.
Professionally, Kronfeld was a nutritionist who studied metabolic diseases in domestic animals. He studied diabetic-like conditions in dairy cattle and sheep, diet and exercise in racing sled dogs, diet and exercise in horses, and most recently looked at pasture-based nutrition of brood mares and their offspring. He spoke of going back to his New Zealand roots – pasture-based farming – to do some of his best work. His lifelong goal was to make life good for those animals pushed by humans to the brink – whether of milk production, fast running, or year-after-year reproduction. He was truly a man who used science to improve the welfare and well-being of animals used for humanity's purposes.
At school 1969 – 1973
MB Taggart, known as Mike, was a serious scholar, finishing first in his class in each of his first four years at school. He was a member of the 1st IX Softball team for two years, played soccer and in his final year at school was a member of the 1st XV and debating club. His leadership skills were recognized and he was appointed a school prefect for his final two years at school.
Taggart left school and headed to the University of Auckland to study Law. He graduated from there in 1977 with a Bachelor of Law, LLB(Hons) degree. In 1976 he was one of two Senior Scholars in Law, he received a Senior Prize in Law in 1977 and in the same year he was the co-winner of the Auckland District Law Society Prize for the best record in Law. He was a Judge's Clerk at the High Court of New Zealand in Auckland from 1977-1979. He then went to Harvard Law School in the USA where he completed his Master of Law degree, LLM, in 1980.  He was supported at Harvard by several scholarships, including a Fulbright Scholarship, New Zealand Postgraduate Scholarship and New Zealand Law Society Centennial Scholarship.
On leaving Harvard, Taggart began his academic teaching career as an Assistant Professor of Law at the University of Western Ontario, in Canada from 1980 to 1982. He returned to the Faculty of Law at the University of Auckland as a Lecturer in 1982 and has taught there ever since, with several research leaves and intensive postgraduate teaching stints at other universities.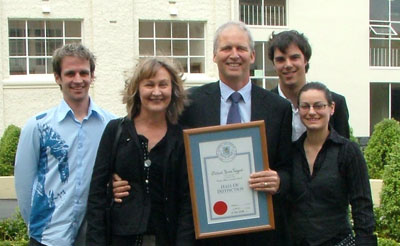 He was appointed a Professor of Law in 1988; at 32 years of age the second youngest Professor of Law ever appointed at the University of Auckland. In 1989 he spent a research leave at the Faculty of Law at Queen's University in Canada. He served as Dean of Law at the University of Auckland from 1992 to 1995. In 1996 he was the Law Foundation of Saskatchewan Visiting Professor in the College of Law at the University of Saskatchewan in Canada. He returned to Canada again in 2001 as a Distinguished Visiting Professor of Law at the University of Toronto.  He has also visited and taught at the University of Cambridge in the United Kingdom, the University of Melbourne in Australia, Paris II in France, and Osgoode Hall Law School in Canada.  From 1988-2004, he held the position of Professor of Law at the University of Auckland and is currently the first holder of the Alexander Turner Chair in Law.
Professor Taggart has received numerous awards for his scholarship and teaching. He was awarded a University of Auckland Distinguished Teaching Medal in 2000, and has recently been elected a Fellow of the New Zealand Academy of the Humanities for distinguished and sustained academic achievement.
His research and published work are too many to list. His teaching subjects include: Administrative Law, Public Law, Contract Law, Privatisation, Freedom of Information Law, and the Internationalisation of Domestic Law. He has served on numerous University Committees including research and postgraduate.
In 2003 he was the Albertian of the Year, awarded by the Mount Albert Grammar School Albertians Association for services to the School and to legal education. Before the advent of Tomorrow's Schools, he was a member of the Mount Albert Grammar School for Boys Board of Governors for two years. It was during this period that the Board appointed Mr. Greg Taylor Headmaster.
In 1980, Taggart was awarded the Cleary Memorial Prize. This prize is awarded by the New Zealand Law Society to the young lawyer who shows the most promise of service to and through the profession: having regard to personal character; qualities of leadership as shown by achievement and service at school and university; reliability; enthusiasm; academic attainments; and interest and participation in general activities. In the years since, Professor Taggart has fulfilled that promise.