Inductee – 20 August 2012
Gregory James Moyle ED, JP, MCom(Hons) LLB, AFA, CFP cm , CLU cm , ACA, ACIS, CMA (1968-1972)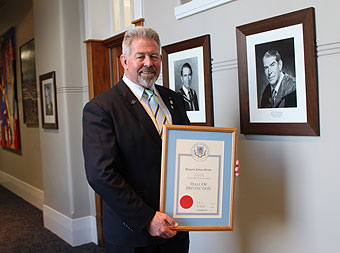 Greg Moyle was a true all-rounder during his five years at Mount Albert Grammar School. He was in top academic classes every year. In his first year, he played the cornet and was, for some years, a librarian. He was also a sportsman, being a weightlifter, a winner in both shot put and discus, a rower for the Intermediate VIII and a member of the First XV rugby team for three years. In 1970, Greg managed the schools first Rugby League Team for an inter school tournament. In his final year, Greg was selected for the Auckland Secondary School and Under 18 representative rugby teams. He was a prefect in both 1971 and 1972 and was also on the Ball Committee.
During his time at the school, he came under the influence of the late Arnold Wilson, head of art, who inspired him to a life-long love of art and he has been a significant collector for many years. Almost all the artworks that are displayed in the administration corridor and in other areas around the school are on loan from his extensive collection.
Greg studied commerce at university and graduated with a BCom in 1976, followed by a Master of Commerce, with honours, two years later. In 1980, he entered the Police College and graduated top in his class from 175 recruits before embarking on a four year career in the New Zealand Police Force. During his time in the NZ Police he returned to university studies and graduated with a degree in law in 1985. Greg also holds a long list of professional accounting qualifications and has worked in a number of firms as an accountant.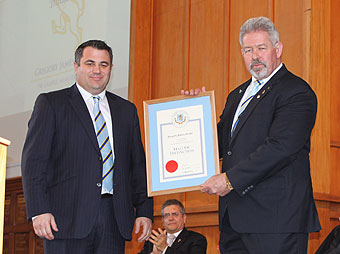 In 1974, Greg joined the Territorial Force of the NZ Army, first with the Royal New Zealand Military Police and, later, with the Royal New Zealand Infantry Regiment where he was Commanding Officer of a Combat company. He has had two, five-month, military deployments. Firstly, as Senior National Officer and Deputy Commander to the Solomon Islands as part of New Zealands commitment to assisting the Solomon Islands to maintain law and order and secondly, as a United Nations Military Liaison Officer, in Timor Leste providing information to the UN regarding the security situation in Dili. He has a number of long-service and campaign medals and awards.
Since 1985, he has been a part-time lecturer at The University of Auckland, teaching in the Department of Accounting, the Law School, the School of Engineering (teaching Engineering Economics) and now, in the Continuing Education Department. He has also worked for the Department of Justice in the Corporate Fraud Unit of the Commercial Affairs Division, prior to embarking on a new career in 1987 as a personal financial advisor.
In 1992, he founded New Zealand Financial Planning Company Ltd a leading financial advising business providing personal financial planning advice to New Zealanders either in retirement or planning for retirement. Greg is currently joint Managing Director and Senior Advisor of this firm.
Greg has been active in community affairs for many years. He was Chairman of the Western Bays Community Board, from 1989 to 1991, and an Auckland City Councillor, from 2007 to 2010, chairing the Arts, Culture and Recreation Committee. He is now an elected member of the Waitemata Local Board.
He is a past Master of Lodge United Service No 10 and a past President of the Rotary Club of Downtown. Currently he is an Assistant Governor of Rotary District 9920, a Trustee of both the Leukaemia and Blood Cancer Foundation and Ranfurly Veterans Home as well as a Director of Radio Lollipop.
He is also a committee member of the Auckland Branch of the Institute of Financial Advisers, the Chairman of the Mount Albert Grammar School Board of Trustees and a past president of the Mount Albert Grammar School Old Boys Association.
Since retiring with the Rank of Major in 2011, after 36 years service in the Territorial Force of the NZ Army, Greg is now involved as the Chair and Trustee of a Trust to establish a NZ War Memorial Museum in Le Quensoy, France.
Gregory James Moyle, scholar, sportsman, soldier, patron of the arts, civic leader, Albertian, Member of the Mount Albert Grammar School Hall of Distinction.