First XV Captain for 2018 Terrell Peita was selected for the New Zealand Under-18 Maori Rugby team to play the NZ School Barbarians in Palmerston North and the Tonga Schools team in Porirua in October, 2017.
A total of 14 MAGS rugby players were selected for the Auckland Blues Under 17 and Under 18 Development squads to undertake training camps.
Six MAGS boys were chosen for the Under 18 squad – Deputy Head Boy and First XV Captain Jack Casey-Pickering, John Latu, Harley Maynard, Patrick Pati, Terrell Peita and Oliver Shepherd. They took part in a five-day camp at MAGS and the Blues High Performance Centre at Cornwall Park over the July holidays.
MAGS' Head of Rugby, Mr Geoff Moon, said the boys were fully integrated with the Blues team to give them a taste of life as a professional player. They received position-specific advice from regional coaches, and education in technique, tactics, mental skills, nutrition, and the responsibilities of being a professional athlete in areas such as social media.
At the end of the week they played the Waikato Chiefs' Under 18 side, winning 41-17.
Four MAGS players were chosen for the Blues Under 17 squad in July – Tommy Baker, Kahurangi Morehu, Damien Naufahu and Soane Vikena. They attended a one-day training session. In October, Joel Cobb, Luka Klubien, Dylan Moon and Soane Vikena were selected for the Blues 17s Development Squad from players from throughout Auckland, North Harbour and Northland.
The boys attended training camps in December 2017 and January 2018 at the Blues base in Epsom.
v King's College
1 July, 2017, at MAGS
MAGS wins 13-12
A very good First XV from King's College, coached by Tasesa Lavea, were playing for their season and came to MAGS to get a positive result.
At the jersey presentation before the match, Auckland ITM Cup players Taleni Seu and MAGS legend Michael 'Fats' Fatialofa inspired the boys. The MAGS team was determined to secure their third win in a row
King's started well and was the best team in the first half. Their rush defence, which was allowed to leave early, meant the MAGS team could make no progress going forward.
A change of tactics at half time made the difference. Captain Noah Foster drove standards and forwards leader Terrell Peita pushed his players to the limit.
A try scored after 45 phases by the forward pack was a highlight, as was the 60-metre pick and go, run in the worst weather conditions so far this year.
Olly Shepherd and John Latu were immense in this game – John with his physicality which dominated the opposition, and Olly with his skills, class and understanding of the game.
Olly kicked the winning goal to see MAGS finish 13-12 up, and keep our season alive.
_________________________________________________________
v Aorere College
24 June, 2017, at MAGS
MAGS wins 19-15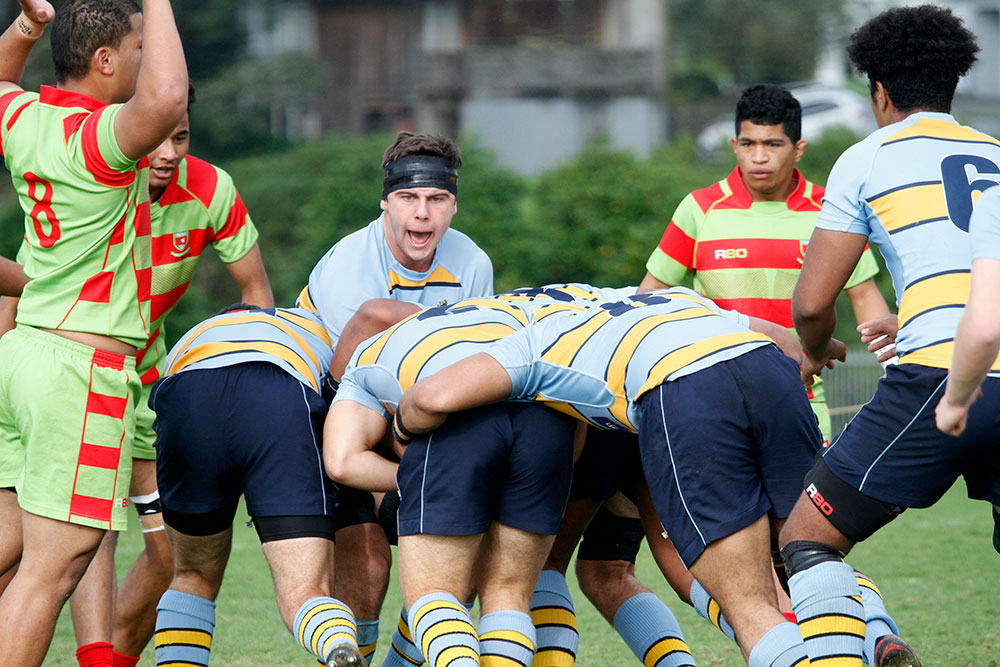 A tough and committed Aorere turned up to play on Saturday, and an early intercept try to them in the first five minutes got their tails up.
MAGS worked hard to get back into the game and scored three well-taken set play tries to Joel Cobb, Katene Clarke and Olly Shepherd.
This was a physical game in which the MAGS boys had to fight to find a way over the line. The team will need to improve to beat King's College next week.
_________________________________________________________
v Liston College
17 June, 2017, at MAGS
MAGS wins 38-3
Liston College came to play MAGS in a local derby which was their opportunity to get one up on big brother, as MAGS had been struggling to get their season moving after returning from the Sanix Secondary Schools World Cup.
With more energy in their legs and a real determination to play well for their school, the MAGS boys went about their work with a tempo and confidence that was a good sign they were getting back to their best.
MAGS stuck to their game plan and scored six tries along the way. Sam Milo in the midfield had a standout game, and John Latu, back from injury at number 8, had a barnstorming match where he was almost impossible for the opposition to contain.
Kayne Mave at halfback looked lively and James Strickland on the wing showed an ability to finish. The MAGS lineout continued to work well with hooker Olly Shepherd combining well with his jumpers.
The team will be looking to improve again against Aorere next week, and start to build some mid-season momentum.
_________________________________________________________
v Sacred Heart College
10 June, 2017, at MAGS
Sacred Heart wins 16-3
Sacred Heart travelled to Mount Albert Grammar in what promised to be a tough 1A First XV game against one of our key rivals.
The match, however, became an error-ridden display that lacked both flow and continuity.
A penalty to 15-year-old fullback Dylan Moon put MAGS in front early. Sacred Heart responded late in the first half with a try to lead 5-3 at half time.
The second half saw MAGS on the end of a heavy penalty count which kept the home side pinned in its own half. MAGS did have a few chances to score tries, but a lack of vision at certain times spoilt those opportunities. Sacred scored on the final whistle to win 16-3 .
It was a game Sacred Heart deserved to win but a more clinical MAGS team would have had enough opportunities to take the victory.
Oliver Shepherd's lineout throwing was outstanding all game, as was the MAGS lineout led by Tomislav Baker.
The team is working hard to get better as they have struggled for rhythm since returning from Japan. They are looking forward to hosting Liston next Saturday.
_________________________________________________________
v St Peter's College
27 May, 2017, at St Peter's
St Peter's wins 0-19
A battered MAGS First XV lined up to play a very good St Peter's team in the cage. MAGS, after finishing runners up at the world tournament in Japan four weeks ago, have not yet registered a win in the Auckland 1A Competition for 2017.
This first half hung at 0-0 until the last 30 seconds, when a mistake by MAGS in the lineout allowed St Peter's to muscle over for a converted try.
A slow start after the break saw the much bigger St Peter's forwards flex their muscle. In the space of five minutes the MAGS team found themselves down 0-19.
The last 30 minutes MAGS fought hard and showed character to restrict St Peter's from scoring any more points for the remainder of the match.
The player of the day was hooker Oliver Shepherd, who hit the tail of the lineout 10 times with his throwing.
The Queen's Birthday holiday break will be a blessing for these boys as they look to welcome back some injured players and reload to face Sacred Heart College at home.
_________________________________________________________
v Auckland Grammar School
20 May, 2017, at MAGS
Auckland Grammar wins 12-21
Saturday, 20 May, marked the opening of the BG Williams Field. The game was important for both teams, with valuable 1A points up for grabs.
The first half started with MAGS playing into the wind, trying to keep the ball tight and close to its hard-working forward pack. The game started with a good intensity but both teams were guilty of too many mistakes.
Dylan Moon showed good composure to kick 3 out 3 penalties in the first half to give MAGS 9 points. Auckland Grammar scored two well taken tries, exposing MAGS' poor defence, to collect 14 points by the break.
With the wind behind them in the second half, MAGS struggled to tactically get their game going. Another penalty to Dylan Moon and another try to Auckland Grammar saw the score settle at 12-21.
Up front, forwards Oliver Shepherd, Lachlan Douglas and Jack Casey-Pickering worked hard. In the backs, Kahurangi Morehu had his best game in a MAGS First XV jersey in what was his capping match.
Congratulations to Ben Young and Chay Mackwood for playing in their 10th capping game. The team is  looking forward to playing St Peter's College next week at the Cage.
Mount Albert Grammar School's First XV won the silver medal at the Sanix Secondary Schools Rugby World Cup in Japan.
The team lost to France 3-9 in a tense final, but on their way to the top 2 passed teams from Russia, Japan, South Africa, Fiji, England, Chinese Taipei and Korea.
MAGS earned the privilege of representing New Zealand by winning the NZSS Championship last year.
MAGS' Director of Rugby Mr Geoff Moon said the boys were a credit to the school and New Zealand. "They were great sportsmen and carried themselves well on and off the field. They played their hearts out and I could not be more proud of them."
Headmaster Mr Patrick Drumm joined the team and squad of parent supporters for the end of the tournament.
Mr Moon said the trip was aimed at building character and team unity for the season ahead, as well as representing New Zealand on the world stage.
Albertian and Blues member Sonny Bill Williams congratulated the MAGS team after their win of the Blues 10s.
In Term 1, 2017, MAGS won the Blues 10s Tournament for 3rd consecutive year.
Held at QBE Stadium in Albany, MAGS defeated De La Salle College 13-5 in the final, which was played as a curtain-raiser to the Super Rugby match between the Blues and the Bulls. Albertian and Blues member Sonny-Bill Williams congratulated the team after their win.
MAGS was Captained by Jack Casey-Pickering. Vice-Captain Noah Foster was named Player of the Tournament.
Results: v Kelston Boys High School: won by default; v Whangarei Boys High School: won 54-0; v Rangitoto College: won 70-0; semi-final v Westlake Boys High School: won 15-7; final v De La Salle College: won 13-5
Read the Stuff.co.nz story on Niven Longopoa and the MAGS players here
Both NZSS Rugby teams won all their games against Australia and Fiji in the last week of the holidays, helped by five members from Mount Albert Grammar.
MAGS Captain Waimana Riedlinger-Kapa, Caleb Clarke, Robert Cobb and Paul Roache were selected for the NZSS team, while Niven Longopoa played for the Barbarians.
In the first games on Monday, 3 October, hosted by MAGS, the Barbarians beat Australia 28-17, followed by an NZSS victory over a feisty Fiji side 45-19, including a try by Caleb Clarke.
On Saturday, 8 October, the two sides swapped opponents at Auckland Grammar School. NZSS beat Australia 32-22 and the Barbarians defeated Fiji 46-20.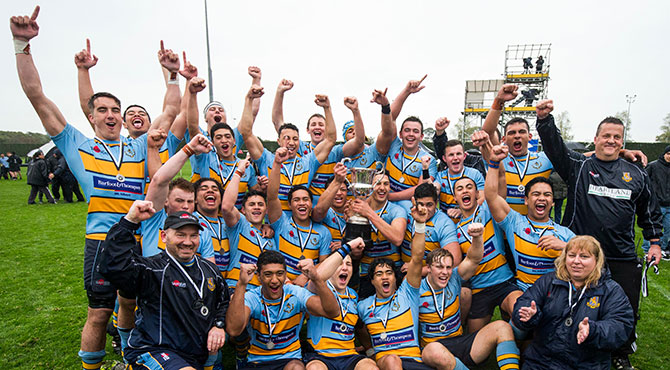 Read the NZ Herald story here

Read the Stuff.co.nz story here

Watch the TV One News preview story here (scroll forward to 34.12)
MAGS' First XV have won the NZSS Rugby Championship, beating Hastings Boys High School 14-13 in a nailbiting final in Palmerston North on Sunday, 4 September.
The win tops an outstanding season in which we won the Auckland 1A Championship and the Auckland Regional title. Both of those finals were also tense affairs, but our team's character showed through in beating Sacred Heart 15-13 in the 1A Final at Eden Park, and Westlake Boys 13-8 at MAGS.
Our national win was topped off when Year 13 player Isaiah Papali'i, who scored MAGS' only try of the Final, was named New Zealand First XV Player of the Year. Isaiah is pictured at left between Captain Waimana Riedlinger-Kapa (far left) and Vice-Captain Caleb Clarke.
Head of Rugby Mr Geoff Moon said the game was the culmination of a season in which the team had improved every week.
"Our magic is in our culture," said Mr Moon. "Our culture lifts our talent so that when the game gets tight the boys know how to find a way to get over the line."
The day before the final, the team went to see the film Chasing Great, in which All Black Captain Richie McCaw talks about helping his team find mechanisms to win matches when the going got tough, and his desire to finish his career by winning his second World Cup.
"We talked a lot after watching that film about all the parallels, and our Year 13s reiterated that they wanted to finish their career at MAGS by winning the New Zealand Championship. Our senior leaders, led by our Captain Waimana, set a benchmark not reached by any other school."
The Year 13s leaving on a high are Waimana, Isaiah, Kahu Boyd, Michael Palmer, Thomas Barlow, Salyn Tonu'u, Paul Roache, Caleb Clarke, Niven Longopoa and Christian Prescott.
As New Zealand Champions, the MAGS team will represent the country at the Secondary Schools World Cup in Japan in 2017. Although our Year 13 players will have moved on, Mr Moon thinks our 2017 First XV will be just as good as this year's. It will include many of this year's Second XV, which also won their Auckland competition.
Mr Moon extended his thanks to fellow coaches Mr James Hantz and Mr Kerry Baker. "They have been magnificent in their total commitment to the coaching of this team." He also gave huge thanks team manager Mrs Angelica Shepherd for her great administrative support through the past 10 months.
"Travelling home on the bus after the final, there was such pride among the boys, coaches and parents. We've all helped create a culture they will never forget."
MAGS' First XV are the Auckland Blues Schools Champions after defeating Westlake Boys High School 13-8 at MAGS on Saturday, 27 August.
The squad will travel to Palmerston North to compete for the NZSS Rugby Championship from 1-4 September.
In another tense match similar to the 1A Final at Eden Park last week, the MAGS team had plenty of possession but were frustrated in a number of their attempts to score. However, Niven Longopoa and Patrick Pati managed to charge over the line on two occasions. Westlake fought hard but MAGS' defence held them out.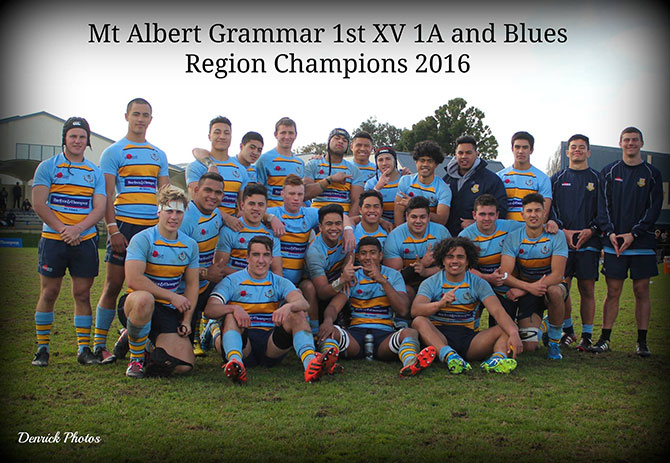 Saturday, 20 August, at Eden Park
MAGS wins 15-13

For the first time in six years, Mount Albert Grammar School has won the prestigious Auckland 1A Rugby Championship, defeating Sacred Heart College 15-13 in a tense final at Eden Park on Saturday, 20 August.
Isaiah Papali'i was named Man of the Match after scoring a try and putting up some fearsome defence. Captain Waimana Riedlinger-Kapa scored our other try.
The game was tightly fought and saw MAGS trailing for at least half the match. But their overall dominance in territory, possession, ongoing attack and solid defence saw them prevail. A late attempt at a runaway try by Sacred Heart was closed down by Niven Longopoa, who also kicked well throughout the game.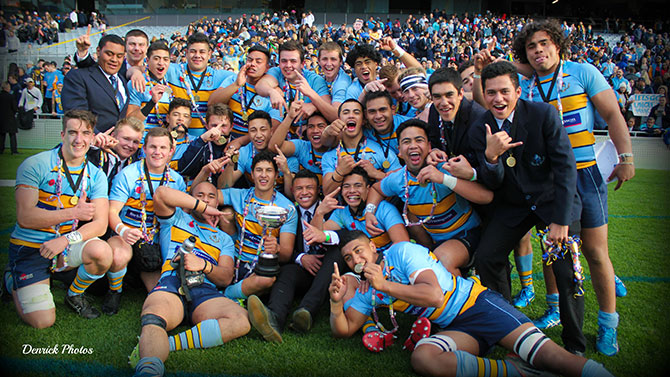 The eight First XV players selected for the Auckland Blues Under 18 squad are featured in today's Central Leader and on the www.stuff.co.nz website.
Fairfax reporter Mr Hugh Collins visited the boys at training this week and interviewed Vice Captain Caleb Clarke, and Head of Rugby Mr Geoff Moon about the team's unbeaten season so far, and the value of the boys attending the Blues Under 18 programme during the school holidays.